The Viking Song appears in the Children's book, Hiccup: The Viking Who Was Seasick, by Cressida Cowell.
History
Hiccup is a small child in Hiccup, the Viking Who Was Seasick and afraid of many things, including going to sea. He tells his father, Stoick the Vast, but Stoick only replies that Vikings don't get scared, and sings the Viking Song.
Later, Stoick sings the Viking song at a storm at sea (presumably to bolster his mood), "but the storm took no notice."
Lyrics
I've blacked 1,000 eyes
Of 1,000 angry gales
Watch me knock the cockles off
The biggest bluest whales
I've given a walrus nightmares
Who thought that were strong
I've marooned a huge typho-o-on
Off an island off Hong Kong
Oh, ancient prawny tails
Of the never ending sea,
Mess with squirmy jellyfish
But DO NOT MESS WITH ME!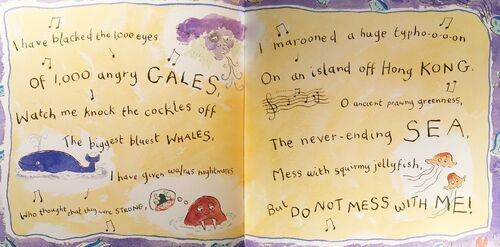 Community content is available under
CC-BY-SA
unless otherwise noted.