'How to Train Your Dragon' Lore: Valka's Bewilderbeast
| | | |
| --- | --- | --- |
| " | Every nest has its queen, but THIS is the King of all Dragons. With his icy breath, this graceful giant built our nest. A safe haven for dragons everywhere. We all live under his care and his command. [src] | " |
|   | — Valka explaining the Bewilderbeast's nature to Hiccup. |   |
Valka's Bewilderbeast is a male Bewilderbeast who first appeared in How to Train Your Dragon 2.
Biography
Valka's Bewilderbeast has been noble and diligent long enough to create a fine kingdom of his own to provide a heavenly sanctuary to local dragons. At some point in the past (15 years before the first film), this Bewilderbeast came across Valka. It is unclear whether their first encounter was prior to the creation of the nest. If Valka met the dragon before the nest was created, it means that she could have contributed in assisting the great dragon in doing so.
This Bewilderbeast had also been helping Valka save dragons from Drago's hand (one of the saved dragons is Gruff the Hobblegrunt), and this means that this dragon was also holding personal history and conflicts with the antagonist.
He was last seen fighting Drago's Bewilderbeast, who gained the upper hand and bowled him over before piercing his underside with his horns, killing him. After the Alpha's death, Drago's Bewilderbeast briefly takes his place as the new alpha. However, the former Alpha was avenged by Toothless who then defeated the other Bewilderbeast and took that title back for good.
Profile
This Bewilderbeast is the master of the Dragon Den where Valka has lived for 20 years. In fact, Valka bows to him as a sign of respect, and even
Cloudjumper
plays second fiddle to him. Unlike the rule of the
Red Death
,
Toothless
also lowers his head, not out of fear, but out of willing submission by seeing the mightiness of the kind king. Because Toothless is the only dragon who opposed the rule of the Red Death, this Bewilderbeast's solemnity is enough to make the
Night Fury
 bow to the noble, rightful, and respectable king.
The most notable features above all is that this individual is so warm in heart and compassionate to smaller races (dragons and humans), it is thus an ideal king to all. Under his monarchy, every dragon seemingly spends a peaceful life, even baby dragons are not afraid of playing on the face of the giant dragon and are very attached to him. This Bewilderbeast also welcomes new faces (dragon refugees saved by Valka) to his nest without hesitation or hostility.
It is confirmed that the ice caves and glaciers/icebergs functioning as camouflages and strongholds to protect the dragons' sanctuary were created with the help of this Bewilderbeast (or simply by himself). The king wisely chose a spot and utilized his knowledge and capabilities through careful considerations to create an ideal oasis for giant reptiles.
Personality
This snowy-white Bewilderbeast seems calm and very gentle, enough to let baby Scuttleclaws play around his face when relaxing. In addition, he seems to not hold any ill emotions towards human beings and will be helpful to friendly humans and other dragons of the nest. Also, this Bewilderbeast is rather playful (best seen when he uses a tiny portion of his ice breath to blow a cloud of frost at Hiccup upon first meeting him) and may have a sense of duty to aid any allies in danger.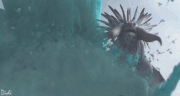 The fact that this Bewilderbeast doesn't hypnotize and forcibly control smaller dragons to obey him, despite being able to do so, may indicate this individual has a high level of morality, gaining the loyalty and obedience of his subjects not through fear or force, but instead through a benevolent, well-earned respect. He also rules others very impartially and warmly. Saving other dragons from Drago and Eret's forces may have also contributed to gain further respect and love from other dragons. He is generous enough to catch fish for all of his subjects, providing them with plentiful food.
He also appears to be an honorable battler, roaring and smacking horns with Drago's Alpha as a final warning before they begin to fight. Unfortunately, this proves to be his undoing, as the dark Alpha underhands him, pinning his neck from below without warning, which ultimately led to his demise at the hands of his opponent.
Relationships
Not much is known about the history of these two, but they have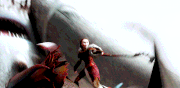 established a good friendship and socialize at least on a daily basis. The Bewilderbeast trusts Valka enough to aid her on wars. When the Bewilderbeast fell against
Drago's Bewilderbeast
, Valka was devastated.
Cloudjumper deeply respects this Bewilderbeast as he bows to the king with reverence. He has also been served as an adjutant for long, as Valka's comment "he must have thought I belonged here" indicates that Cloudjumper has been under the Bewilderbeast since in prior to his first meeting with his future rider.
| | | |
| --- | --- | --- |
| " | Ha ha. He likes you. | " |
|   | — Valka to Hiccup |   |
Despite the young pair and the Bewilderbeast only meeting once, the Bewilderbeast seems to approve of them. Even the mighty and fearless Night Fury cannot help but bow to this graceful titan. The Dragon used a little ice breath on Hiccup, in order to show his approval. It is possible he knows that Hiccup is Valka's son, given that dragons have a keen sense of smell.
Hiccup and Toothless were shocked when the Bewilderbeast has fallen by Drago's own Bewilderbeast. But later, Toothless avenged the noble Bewilderbeast's defeat by breaking off the deranged Bewilderbeast's left horn and succeeded him as the new Alpha Dragon.
Appearances
Trivia
It is unclear how this Bewilderbeast spent his daily life aside from catering to the needs of the other dragons and helping them get food.
According to Pierre-Oliver Vincent, this Bewilderbeast is "pure and beautiful, like a polar bear" contrasting to the dark Bewilderbeast's misfortune under Drago's control, depicted as a neurotic, abused, and corrupted creature.
Scenes of appearances of the two Bewilderbeasts to the battlefield are also counterparts to each other. Valka's Bewilderbeast literally appears from the 'sky' proudly while Drago's Bewilderbeast emerges from under waves menacingly. Both Valka and Drago use similar methods with rods identical to each other to call the dragons. Additionally, the battle between the Bewilderbeasts runs at the same time as a battle between Drago and Stoick, and end with similar results, though Stoick was killed at Drago's command rather than directly by Drago as Valka's Bewilderbeast was killed by its opponent.
In the tie-in children's books, the white Bewilderbeast is "defeated" by Drago's instead of explicitly killed, likely due to violence issues targeted to a younger audience.
When Drago's Bewilderbeast pulls out its horns from Valka's Bewilderbeast, there is no blood on them to prevent depiction of violence.
Like the counterpart, this Bewilderbeast has resemblances of Stoick the Vast: his facial and personal characteristics, and being allied with Valka for so long. Both characters were also killed in the same fight by Drago's Bewilderbeast (Valka's Bewilderbeast was directly killed by it while Stoick was killed by Toothless who was under its control).
In Dragons: Rise of Berk, a Bewilderbeast is added to the game, along with other Legendary dragons. Despite having the same coloring as Valka's, it is unlikely to be the same one, being deceased at this point.
Valka's Bewilderbeast is similar to Mufasa from The Lion King, as he is a kind and peaceful ruler (with the ice fortress being similar to Pride Rock) who is usurped and killed by an evil new king (Scar/Drago's Bewilderbeast) who is later avenged by a successor (Simba/Toothless).
Despite being killed, Valka's Bewilderbeast's body wasn't seen in sequences after the battle.
Another Bewilderbeast which as previously mentioned, appears in the game Dragons: Rise of Berk, could very well be the one Valka picked up in the episode, "King of Dragons, Part 2" of the show Dragons: Race to the Edge. The game features a Bewilderbeast emerging out of the ocean near a lot of icebergs floating around him as part of his introduction into the game.
Dragon Characters of

Deathgripper: Dreadgripper • Fenrir's Eviscereaper • Glaivedriver • Grim Hornettle • Grimmel's Deathgrippers • Marshland Deathgripper • Miasmic Deathgripper • Sappheral • Slaughterdijk


Light Fury: Light Fury
Night Fury: Toothless
Skrill: Brute Skrill • Defender Skrill • Dynamojo • Frozen Skrill • Fryrir • Helpful Skrill • Hide-Fryer • Hunterbolt • Icebane • Joltalon • Marshland Skrill • Revenger • Shadow Skrill • Shrill Boltbeak • Sleigher • Spark Guard • Sparkheart • Viggo's Skrill
Snow Wraith: Coldreign • Frostfang • Frostfright's Big Bro • Frostfright's Lil Sis • Furtive Fleetsleet • Glazier • Gothi's Frostfright • Injured Snow Wraith • Skrill Chiller • Wild Wraith • Wood Wraith
Triple Stryke: Champion Triple Stryke • Eclipser • Marooned Manstinger • Nikora's Triple Stryke • Rosethorn • Sleuther • Starstreak • Syringaca • Thorntail • Triple Strype
Woolly Howl: Defender Woolly Howl • Frostfire • Fuzzbucket • Infected Woolly Howls • Wise Wind • Woodwind

Fireworm: Defender Fireworm • Ghostglow • Flashfright • Royal Fireworm • Snotlout's Fireworm Queen • Solar Flare


Flame Whipper: Baby Flame Whipper
Gobsucker: Dijester • Gobstinker • Muddlehunt • Sparklestank
Green Death: Crimson Death • Violet Death
Hobblegrunt: Borealis • Defender Hobblegrunt • Gruff • Primal Hobblegrunt
Hobgobbler: Dreadgobbler • Droog • Rescued Hobgobbler • Smitten Hobgobbler
Moldruffle: Exotic Moldruffle • Greenkeep • Dirt-Hurler • Jewelbilant • Rhinestorm • Turfraider
Monstrous Nightmare: Astrid's Monstrous Nightmare • Blazewing • Blazing Phoenixfire • Brisket, Saddle, Chuck, Rump, Loin, Scrag, Cutlet, Ham Hock, Sausages, Offal, Knuckle, and Pot Roast • Burlystorm • Cagecruncher • Cawmour • Charsoul • Defender Monstrous Nightmare • Dread Nightmare • Exiled Monstrous Nightmare • Fanghook • Fangmaster • Firescrapes • Flick • Girl Hookfang • Hookblazefang • Hookfang • Hookfang's Mate • Hookfang's Nemesis • Hookfang's Offspring • Hookfire • Liberated Whip-Wreck • Merciful Nightmare • Mountain Nightmare • Nidhogg • Stormfly's Adopted Monstrous Nightmare • Sven's Nightmare • Valka's Mercy • Viggo's Savior • Whip-Slash
Night Terror: Brood-blossom • Darkvarg • Hotshot • Nightwatch • Peggy • Sacred Terror • Seedling Night Terror • Smidvarg • Tarred Night Terror
Shadow Wing: Dawnstar • Grim Gamper • Marooned Greezer • Smog-bomber • Snogglewing
Singetail: Ambered Singetail • Captured Singetail • Deathlout • Flamelout • Forest Singetail • Heatlout • Hotbelly Singetail • Hotlout • Infernier • Krogan's Singetail • Mother Singetail • Scorch • Sear • Stoick • Winterwick
Small Shadow: Baited Breath • Spring's Shadow • Shimmerwing
Terrible Terror: Butt and Head • Defender Terrible Terror • Gothi's Pet • Iggy • Kick-off Terrors • Leopold • Nibbles • Pain • Sharpshot • Smudgeon • Sneaky • Stormfly's Adopted Terrible Terror • Valka's Hatchling Terrors
Threadtail: Almondine • Duskgust • Foliander • Mildew's Strain • Sunsoak
Typhoomerang: Defender Typhoomerang • Forest Typhoomerang • Helpful Typhoomerang • Primal Broadguard • Pyre-Flier • Radiant Skyglow • Skyfire • Tense Typhoomerang • That • Torch • Torch's Mother • Torch's Siblings • Trap-phoomerang • Viggo's Typhoomerangs

Bewilderbeast: Berserker Bewilderbeast • Drago's Bewilderbeast • Valka's Bewilderbeast


Luminous Krayfin: Lumie
Ripwrecker: Bargemine • Exotic Ripwrecker • Gloomlurker • Rogue Submaripper • Seashine • Sinker-Claws
Sand Wraith: Claytrapper • Helpful Sand Wraith • Seedling Sand Wraith
Scauldron: Bonecrusher's Conquest • Bumble • Captured Scauldron • Defender Scauldron • Exotic Scauldron • Grim Sizzle • Mea • Mildew's Misery • Scauldy • Snorre's Scauldrons • Steam-spewer • Thunderfish
Seashocker: Bolt & Float • Covecharger • Defender Seashocker • Nikora's Seashocker • Rane & Shyne • Soaky and Wetty • Valka's Seashockers • Viggo's Seashockers • Wavewight
Shellfire: Viggo's Titan Wing Shellfire
Shockjaw: Boltbite • Deepfreeze • Defender Shockjaw • Exotic Shockjaw • Snappy-Zappy-Sand-Zapper • Snazzolt
Sliquifier: Defender Sliquifier • Exotic Sliquifier • Grazefall • Marooned Seaslick • Splashspout • Surflurker
Submaripper: Belchfast • Deepkeeper • Mariner's Myth • Mopey-Slick • Primal Aquabeast • Shipsbane
Thunderdrum: Bam • Bing • Bludcrest • Boom • Champerone • Defender Thunderdrum • Earsplitter • Eret's Thunderdrum • Lil Lullaby • Reef Thunderdrum • Shifty Murklurker • Stormfly's Adopted Thunderdrum • Tectonic Thunderdrum • Thornado • Warcry • Waveshaker • Whirlwing • Wingburst
Tide Glider: Defender Tide Glider • Exotic Tide Glider • Grim Slipsmolder • Lake Skater • Mistmenace
Windwalker: Galeguard • Seasail • Skykarver

Catastrophic Quaken: Aurum • Blawberry • Captured Quaken • Champion Catastrophic Quaken • Enslaved Quakens • Four-Man • Liberated Trolboulder • Melonquarry • Tormentor • Trained Catastrophic Quaken • Spikeback


Crimson Goregutter: Bulwark • Dread Goregutter • Eir's Crimson Goregutter • Grainfield Goregutter • Gruff Goregutter • Magnanimous Martyrium • Rescued Crimson Goregutter • Wapititan
Eruptodon: Coaldron • Great Protector • Helpful Eruptodon • Kilnkin • Magmadon • New Protector
Grapple Grounder: Defender Grapple Grounder • Exotic Grapple Grounder • Fierce Piercer • Floeshot • Lurchador • Sour Grapple
Groncicle: Defender Groncicle • Primal Bewilderbreath • Rubeus • Sweetcicle
Gronckle: Book Wyrm • Cheesemonger • Crubble • Defender Gronckle • Diamondgnaw • Dread Gronckle • Exiled Gronckle • Fishmeat • Gary • Gothi's Gronckle • Grove Gronckle • Injured Gronckle • Junior Tuffnut • Junior Tuffnut Junior • Meatlug • Meatlug's Cousin • Meatlug's Mate • Meatlug's Offspring • Molten Magmannette • Obsurdian • Phlegma's Gronckle • Shattermaster • Slug • Snoggletog Dragon Tactics Gronckles • Stormfly's Adopted Gronckles • Thaw Fleet • Tuffnut Junior • Yawnckle
Hotburple: Basket Case • Beachcomber • Bedrock Terror • Blistering Belcher • Bush-Wacker • Chartooth • Defender Hotburple • Eir's Titan Wing Hotburple • Emberock • Floe Hotburple • Grump • Hearty Hotburple
Screaming Death: Screaming Death • Trained Screaming Death
Sentinel: Bizarregoyle • Brute Timbertoast • Cinder • Dreadel • Elder Sentinel • Halcyard • Mossguard • Silent Knight
Shovelhelm: Clawlifter • Damsail • Exotic Shovelhelm • Gnawhelm • Guslout
Snafflefang: Brute-Wurst • Defender Snafflefang • Eggfang • Fendmender • Frosty Sparguard • Irontooth • Lump • Primal Snafflefang • Slough Snafflefang • Spitelout's Snafflefang • Stocky Snafflefang • Yakstacker
Thunderpede: Colorcrunch • Defender Thunderpede • Exotic Thunderpede • Furnace • Goliam • Sleet-Beater • Stonewall
Whispering Death: Bombwelter • Brisk Whisper • Death Ride • Defender Whispering Death • Exotic Whispering Death • Gravedigger • Gritty Sawmaw • Groundsplitter • Guarded Whisper • Helpful Whispering Deaths • Hiccup's Baby Whispering Death • Mawdrill • Screaming Death's Siblings • Sky-Pirate • Toothless' Nemesis • Trailtwister • Trained Glowing Whispering Death • Trained Titan Wing Whispering Death • Wrylite

Egg Biter: Chompers • Coppertop • Egg Blossom • Exotic Egg Biter • Nipper


Grim Gnasher: Dawnbite • Gnasteeze
Hackatoo: Cloudcarver • Defender Hackatoo • Exotic Hackatoo • Hackagift
Raincutter: Defender Raincutter • Dewdrop • Icecutter • Puddlemuck • Squall-caller • Thump
Razorwhip: Exotic Razorwhip • Fighter Razorwhip • Hailfate • Jade-Blade • Lashbane • Plated Razorwhip • Quarry Razorwhip • Sawtooth • Searing Seethsizzle • Slash-Dasher • Windshear • Wingnut
Scuttleclaw: Budbite • Defender Scuttleclaw • Gressjester • Helpful Scuttleclaw • Meatlug's Cheerleader • Scuttleclaw Hatchlings • Slushclaws
Shivertooth: Exotic Shivertooth • Helpful Shivertooth • Sweet-Tooth
Speed Stinger: Exotic Speed Stinger • Fighter Speed Stinger • Icebreaker • Lead Stinger • Liberated Floutscout • Mala's Speed Stingers • Seedling Speed Stinger • Speedy • Sweet-Sting
Stormcutter: Brute Stormcutter • Cloudjumper • Defender Stormcutter • Dimflight • Eir's Titan Wing Stormcutter • Exiled Stormcutter • Gloomleer • Hurribane • Liberated Duskcutter • Marinecutter • Reignstorm • Serene Stormcutter • Tempestuous Scalestrom • Tripfire • Wingwary • Wonderclap • Woodland Stormcutter
Thornridge: Gloomshadow • Primal Thornridge • Thornshade • Warywing
Timberjack: Axewing • Axewing the Second • Brute Timberjack • Dammen's Timberjack • Defender Timberjack • Driftcleaver • Lithe Loggerjammer • Lonewood • Seedling Saplinger • Soaring Sidekick • Stokehead • Stoneslice • Taxi • Tricky Timberjack • Wetland Timberjack
Windstriker: Boiling Billows • Defender Windstriker • Galesplitter • Retired Windstriker • Snaggletooth • Winged Warden

Armorwing: Bandit • Coldsnap • Fool's-Gold • Goldrush • Gresskarmor • Irongaze • Knocks • Liberated Haulmauler • Twist-Trapper


Boneknapper: Bludgeon Knapper • Bog-Blight • Boneknapper Family • Boneshedder • Brute Boneknapper • Cryptic Collector • Dammen's Boneknapper • Defender Boneknapper • Ghaslit • Gobber's Nemesis • Grave Knapper • Skullcrown • Tomb Thief • Trained Glowing Boneknapper
Buffalord: Auroch King • Beezelord • Big Buff • Big Snuff • Boarcharger • Brute Buffalord • Exotic Buffalord • Frostgnaw • Hearty Buffalord • Maeve's Buffalord • Mosster • Mudgut • Pufferfinch • Thicket Buffalord
Cavern Crasher: Exotic Cavern Crasher • Firecomb Crasher • Schmoozer • Slimeball • Slimeslinger
Changewing: Baby Changewing • Captured Changewing • Chimerical Chamomeleon • Defender Changewing • Edgewing • Hidera • Incognito • Phantom • Snuffnut • Springwing • Stalker Changewing • Tuaterror • Tuffwing • Underwood Changewing
Chimeragon: Patch
Death Song: Exotic Death Song • Garffiljorg • Garff's Adoptive Father • Jestbelter • Sirenade
Dramillion: Bonnefire • Fishlegs' Dramillion • Hurleqast • Marooned Mimiric • Titan Wing Dramillion
Flightmare: Defender Flightmare • Exotic Flightmare • Flaredawn • Hofferson's Bane • Injured Flightmare • Skystreaker • Trancemare • Viggo's Flightmare
Foreverwing: Guardian of the Forest
Hideous Zippleback: Barf and Belch • Defender Hideous Zippleback • Dread Zippleback • Barf and Belch's Mate • Barf and Belch's Offspring • Exiled Hideous Zippleback • Fart & Sniff • Hamfeist • Heel & Brak • Kandy & Kane • Muck and Tumble • Silverslash • Snort and Sniff • Snothead • Sparkle & Sparks • Sparks and Spew • Titan Wing Zippleback • Tricky Two-Heads • Valley Zippleback • Whip and Lash • Zesty Zippleback
Hobgobbler: Dreadgobbler • Droog • Rescued Hobgobbler • Smitten Hobgobbler
Prickleboggle: Helpful Prickleboggle • Krustler • Seedling Prickleboggle • Skypiercer • Thornforce
Sandbuster: Frostbiter • Marooned Mukchucker • Quicksand • Sawduster • Siltsmacker • Snowball • Wild Sandbuster
Silkspanner: Bayana's Silkspanners • Marooned Deathstrand
Slithersong: Bloomsang • Dazzlesing
Slitherwing: Harmhug • Sweet-Stripe • Toksin
Smothering Smokebreath: Defender Smothering Smokebreath • Dustbrawler • Exotic Smothering Smokebreath • Flutter-Fog • Gritpicker • Helpful Smokebreath • Rattling Smokebreath • Smogger
Snaptrapper: Brute Snaptrapper • Death & Chocolates • Death Race Snaptrapper • Defender Snaptrapper • Helpful Snaptrapper • Outsnapper • Snappy •Stormfly's Adopted Snaptrapper
Sweet Death: Defender Sweet Death • Exotic Sweet Death • Helpful Sweet Death • Masked Sweet Death • Seedling Sweet Death • Sqyrm
Sword Stealer: Broken Blade • Chillblade • Defender Sword Stealer • Exotic Sword Stealer • Forgefeist • Gleamer

Deadly Nadder: Ambered Nadder • Baby Nadder • Bork Week Nadders • Brush Nadder • Defender Deadly Nadder • Dread Nadder • Edge Nadder • Fireshrike • Flystorm • Hardychomper • Infected Deadly Nadders • Kingstail • Lethal Lancebeak • Nimble Nadder • Pincher • Scardian • Sick Deadly Nadder • Skyblade • Springshedder • Steelspike • Steeltrap • Stormfly • Stormfly's Adopted Deadly Nadder • Stormfly's Mate • Stormfly's Offspring • Vaynglory


Mudraker: Muddie
Rumblehorn: Arctic Rumblehorn • Defender Rumblehorn • Drago's Rumblehorn • Flank-Tanker • Grimtorn • Krogan's Rumblehorn • Poise the Vast • Rhineblow • Robust Rumblehorn • Rumblehorn Hatchlings • Seedling Rumblehorn • Skullcrusher • Snowcap • Son of Skullcrusher • Valiant Scarbearer
Snifflehunch: Pestbud • Primal Snifflehunch • Runter • Scentinel • Seedling Snifflehunch • Snifflestone
Submaripper: Belchfast • Deepkeeper • Mariner's Myth • Mopey-Slick • Primal Aquabeast • Shipsbane
Thunderclaw: Aurvandil • Bonesnarl • Defender Thunderclaw • Gyllentalon • Liberated Hardcast • Polar Thunderclaw • Rumpus • Sailback • Sturmundrang • Tundra Thunderclaw • Valiant Vingthor
Windgnasher: Auroara • Champion Windgnasher • Gnarley • Gustnudger • Ironhide
Community content is available under
CC-BY-SA
unless otherwise noted.