About me
I am absoballyloutly crazy about Dragons and Redwall. My favorite dragon is a Razorwhip. Duh! :) I have seen both movies, all the shorts, the TV series, read all the books, and am now waiting for season 3.
I really want a toy Razorwhip, (power-dragon or otherwise) so if you know where I can get one, please let me know!
I "patrol" this wiki every day, even if I don't actually edit anything, so be warned: I am watching you!!! >:) XD
I am an artist, (check out my art gallery below) so if you want a dragon drawn, let me know here or here! :)
I am also known as Heather the Berserker on Berk's Grapevine. ;)
My Art
My art gallery is here.
HTTYD things I own
Surprisingly, I have none of the DVDs. XP
Draw-it Dragons book
HTTYD2 memory game
Stormfly power-dragon
Toothless power-dragon
Purple Thunderdrum power-dragon (I named him Boom)
Severly cool Dagur action figure ("I'm Heather, and this is my brother!" *holds up action figure* XD)
Heather armor I am making for myself. (so far I have my arm guards, knee-pads, hood, and am working on my skirt. I almost have my shoulder guards done but I can't figure out how to attach them. :P) I haven't made my axe yet.
Toy baby Toothless (the kind with the big head)
HTTYD2 sheets and pillowcase on my bed (woo-hoo!!!!)
Fanfics
I have a couple fanfiction stories, so if you are interested in reading them, here they are:
Cast Out and Away (short)
Far from Berk (I'm currently working on this one)
Please comment! :)
My Favorite Books
Redwall - Brian Jacques (The best book series in the world!)
Tintin - Herge (I've been reading them since I was like 5!)
Hank the Cowdog - John Erickson (They're soooo hilarious!)
How to Train Your Dragon - Cressida Cowell (Of course!)
Swallows and Amazons - Arthur Ransome (Lots of cool stuff about boats and survival!)
The Hobbit and Lord of the Rings - JRR Tolkien (Who hasn't read those? I've also read The Silmarillion, which everyone is amazed at!)
Nancy Clancy - Jane O'Connor
Hardy Boys - Franklin W. Dixon (Only the old ones, my mom won't let me read the newer ones.)
Nancy Drew - Carolyn Keene (Only the old ones too.)
Mickey Mouse - Floyd Gottfredson (Any Mickey Mouse not by him is just weird.)
Donald Duck & Uncle Scrooge - Carl Barks and Don Rosa (Anything not by one of them is kinda mehh...)
Darkwing Duck - various authors
Ranger's Apprentice by John Flanagan
Brotherband also by John Flanagan
The list just goes on and on forever... XD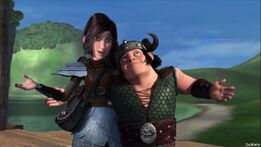 My Favorite Pages
Characters I like to Imitate
Similarities with characters
Heather
We both prefer hand to hand combat, so we can "stare our enemy in the eye". ;)
We both like to be with friends, but usually prefer to do things alone.
We are both very close friends with Astrid.
We both have annoying brothers. (though in different ways lol!)
We both always have our hair in a single braid.
Hiccup
We are both artists, and very creative. (Though I could never invent stuff like he does!)
We have the same hair color. (sorry to disappoint you, but yeah, my hair is really brown!)
We both feel the need to explore, and discover new things, and just... y'know. Like in RttE.
My Favorite Episodes
~ 
Heather the Loner

"If you need a warrior to take care of that dastardly Berserker,

I'm your girl."
~ Heathstrid "Two axes are better than one!"
Pages I have created
Trivia
My hair is about the length of Valka's.
I can't stand peanut butter, even just the smell of it makes me feel sick. >_<
I am scared of almost nothing... except spiders. Evil Trolls, wild dragons, the top of a tree during a storm, NO PROBLEM..... but I'm completely terrified of spiders. Dx
Userboxes
Community content is available under
CC-BY-SA
unless otherwise noted.