Spider-Man: No Way Home Trailer Dropped - The Loop
Play Sound
| | | |
| --- | --- | --- |
| " | This dragon, Snuffnut, shall be my lifelong companion. I shall train him. I shall teach him. I shall share my life with him. My inner thoughts and demons! The spirit of my brother shall always be by my side. | " |
|   | — Ruffnut Thorston |   |
"Snuffnut" is the eleventh episode of Dragons: Race to the Edge, Dragons: Race to the Edge, Season 5. It aired on Netflix on August 25, 2017.
Overview
| | | |
| --- | --- | --- |
| " | Tuff fakes his own death to make room for Throk, but when Ruff tries to train the Changewing that she thinks ate her twin brother, a flock of angry Changewings come for the dragon. | " |
|   | — DreamworksTV[1] |   |
Plot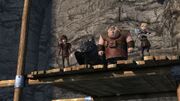 It's Changewing migration season and Tuffnut is disguising himself as a Changewing and enjoys scaring people, but it doesn't work too well on Astrid, or Ruff who punches him when he tries. So he goes to scare Snotlout while he's taking out the garbage. Unfortunately for Snotlout, a real Changewing finds him first. He shows up at the clubhouse later all roughed up, and is then scared by Tuff. Just then a ship's foghorn is heard and Hiccup, Astrid, and Fishlegs run down to the dock to see Throk arriving. He announces that he's come to marry Ruff, which takes Hiccup and Fishlegs by surprise, and makes Astrid mad at his outdated caveman idea of marriage. She goes after Throk with her axe, only to be held back by Hiccup and pulled away so Fishlegs could explain to him Berk's more modernized practice of marriage.
Fishlegs suggests winning Ruff's heart first, maybe by giving her a gift and writing her a poem. So Throk picks a wild shrub, and presents it to her at her and Tuff's hut with a poem. Tuff is disguised inside their stuffed yak and overhears everything as Throk invites her to join him as his permanent guest to the Defenders of the Wing. But when Throk suggests Tuff isn't included, she refuses, saying she's not going anywhere without her twin brother.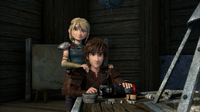 Tuff proudly explains what happened to Hiccup and Astrid later, saying how much Ruff must love him. Astrid asks if he's ever thought of settling down and starting a family with a girl, and when he says 'of course', she asks what would he do if Ruff got in the way? Tuff suddenly realizes what he's doing to his sister's happiness, and decides to make things easier for her by making it look like he has been eaten by a Changewing, so Ruff would have no reason but to go with Throk and get married.
Ruff mourns her brother after finding his clothes in a Changewing's mouth and holds a funeral for him, reading his last will for the other Riders and throwing all his belongings in a pit. Barf and Belch then burn all the items, and Ruff announces she's going to observe the Berkian mourning ritual of Schleibeldorg; locking herself in the dark and eating nothing but sea slugs and toenails for two days. Throk is concerned and confused as he waits for her to come out of her hut. When she finally does, he and Fishlegs inquire after her and she says she's going to see the Changewing who she thinks ate Tuff, seemingly to get revenge. They chase her to the stables to find she's actually painting an image of Tuff on the belly of the Changewing she believes ate him. She names the dragon Snuffnut.
However, right after the "funeral", Toothless finds Tuff camouflaged and hiding in the bushes. Hiccup and Astrid get him to confess what he's doing and convince him that he needs to fix this before someone is eaten for real. But Tuff stalls, enjoying being "dead", until Hiccup finally puts a stop to it.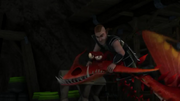 Throk is still heartbroken for Ruff, and now wondering what the Changewing has that he doesn't. Fishlegs is surprised at how much he cares for her after he creates a topiary in her image in his garden. After getting a speech about how twins are a package deal, Throk understands and goes to find Ruff talking to Snuff in the stables. He tries to bond with and train the dragon so the three of them can live in harmony, only to have Snuff go crazy and crash through the roof of the stables and fly off with Throk on his back. Hiccup then arrives on Toothless with Tuff sitting behind him and Ruff at first thinks she's seeing a ghost. But Hiccup convinces them that they need to work together to fix this. So on Barf and Belch, they chase down Snuff and Hiccup saves Throk, while the twins talk about life like they never have before. Since the other Changewings won't accept Snuff as long as he has paint on his belly, they come up with a plan to get rid of it. They fly into the waterfall while having Snuff chase them, and the water washes the paint off. Snuff then rejoins the other Changewings on their migration, and Throk decides to leave Ruff to be with her brother, though he still loves her.
Trivia
Characters
People
Dragons
Animals
Dragon Species
References
List of

Episodes

Season 1: "Dragon Eye of the Beholder, Part 1" • "Dragon Eye of the Beholder, Part 2" • "Imperfect Harmony" • "When Darkness Falls" • "Big Man on Berk" • "Gone Gustav Gone" • "Reign of Fireworms" • "Crushing It" • "Quake, Rattle and Roll" • "Have Dragon Will Travel, Part 1" • "Have Dragon Will Travel, Part 2" • "The Next Big Sting" • "Total Nightmare"
Season 2: "Team Astrid" • "Night of the Hunters, Part 1" • "Night of the Hunters, Part 2" • "Bad Moon Rising" • "Snotlout Gets the Axe" • "The Zippleback Experience" • "Snow Way Out" • "Edge of Disaster, Part 1" • "Edge of Disaster, Part 2" • "Shock and Awe" • "A Time to Skrill" • "Maces and Talons, Part 1" • "Maces and Talons, Part 2"
Season 3: "Enemy of My Enemy" • "Crash Course" • "Follow the Leader" • "Turn and Burn" • "Buffalord Soldier" • "A Grim Retreat" • "To Heather or Not to Heather" • "Stryke Out" • "Tone Death" • "Between a Rock and a Hard Place" • "Family on the Edge" • "Last Auction Heroes" • "Defenders of the Wing, Part 1"
Season 4: "Defenders of the Wing, Part 2" • "Gruff Around the Edges" • "Midnight Scrum" • "Not Lout" • "Saving Shattermaster" • "Dire Straits" • "The Longest Day" • "Gold Rush" • "Out of the Frying Pan" • "Twintuition" • "Blindsided" • "Shell Shocked, Part 1" • "Shell Shocked, Part 2"
Season 5: "Living on the Edge" • "Sandbusted" • "Something Rotten on Berserker Island" • "Snotlout's Angels" • "A Matter of Perspective" • "Return of Thor Bonecrusher" • "Dawn of Destruction" • "The Wings of War, Part 1" • "The Wings of War, Part 2" • "No Dragon Left Behind" • "Snuffnut" • "Searching for Oswald... and Chicken" • "Sins of the Past"
Season 6: "In Plain Sight" • "No Bark, All Bite" • "Chain of Command" • "Loyal Order of Ingerman" •"A Gruff Separation" • "Mi Amore Wing" • "Ruff Transition" • "Triple Cross" • "Family Matters" • "Darkest Night" • "Guardians of Vanaheim" • "King of Dragons, Part 1" • "King of Dragons, Part 2"