Wiki Targeted (Entertainment)
Play Sound
| | | |
| --- | --- | --- |
| " | Look at that magnificent creature, so dangerous, so deadly. I shall name him Sleuther. [src] | " |
|   | — Tuffnut Thorston |   |
Sleuther is Dagur the Deranged's Triple Stryke who first appeared in "Stryke Out".
Official Description
| | | |
| --- | --- | --- |
| " | After Hiccup rescued this Triple Stryke from hunters, it settled amongst the wild Dragons on Dragon's Edge. | " |
|   | — Dragons: Rise of Berk |   |
Biography
"

Hiccup: "Come on, go! You're free!"
Fishlegs: "He's been in captivity for too long, Hiccup. He doesn't know how to be free."

"
 
— Hiccup and Fishlegs
 
Sleuther first appeared in the episode "Stryke Out", in which he was the champion of a Dragon Fighting arena owned by the Dragon Hunters. However, fans got tired of the Triple Stryke's constant quick wins and attendance began to drop. Ryker demanded that the manager find a way to make the fights profitable again, threatening him.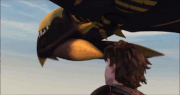 When Hiccup and Toothless were captured in a Dragon Hunter trap and sent to the fight ring, the manager finally found a way to boost attendance, which was to have Toothless battle the Triple Stryke. After a long battle, Toothless won and was about to kill the Triple Stryke, but noticed the pain and sadness in his eyes and allowed the dragon to live.
The Triple then helped Toothless, the Dragon Riders, and the other captured dragons break out of the ring and escape. However, unlike the other dragons, the Triple Stryke had been in captivity for so long, that it didn't know how to be free. However, with encouragement from Toothless, it finally left the ring. Flying back towards Toothless, the Triple Stryke revealed that it wanted to go back to Dragon's Edge with the Riders. Tuffnut named the dragon Sleuther, and they all returned to Dragon's Edge.
"

Hiccup: "Made a new friend, huh?"
Dagur: "Seems so. Don't you just love the tails? And that snapping sound. Whoo! Gives me goosies."

"
 
— Hiccup compliments Dagur on befriending Sleuther
 
Despite his new freedom, Sleuther still displayed hostile behavior towards the Riders. Hiccup and Astrid attempted to train him in "Blindsided", but he continued to attack them. They gave up their efforts so they could prepare for a storm that was approaching the island.
While searching for the dragons that were scattered by the storm, Sleuther found them and attacked again. However, Astrid had been blinded earlier, leaving her vulnerable. Hiccup, Toothless, and Stormfly managed to chase him off for a bit, but he soon returned. Despite her lack of sight, Astrid noticed the clicking sounds the Triple Stryke made during each strike. Using Stormfly's discarded spines and clicking them together, she manages to get close enough to Sleuther to establish trust.
When the Dragon Hunters attacked Dragon's Edge in their latest scheme in "Shell Shocked, Part 2", several of them cornered Sleuther. Dagur and Shattermaster diverted their attention, giving the Triple Stryke an opportunity to escape. However, Shattermaster had been injured in the fight. Sleuther came back to assist Dagur against the Hunters, even letting him ride on his back. Hiccup arrived and told them to take Shattermaster back to the base for treatment.
| | | |
| --- | --- | --- |
| " | Work for me, baby! Work for Daddy! [src] | " |
|   | — Dagur |   |
Dagur rides Sleuther on Berserker Island when he comes to lead the riders to the island's dragon stable in "Something Rotten on Berserker Island".
Dagur rides Sleuther in his quest of searching Oswald in "Searching for Oswald... and Chicken". When they go to Vanaheim and some Grim Gnashers attack a Gronckle, they both defend it against the wild dragons.
When Heather and Windshear are about to drown in "Sins of the Past", Dagur and Sleuther dive in to their rescue, with the Triple Stryke lifting the cage Windshear is trapped in.
| | | |
| --- | --- | --- |
| " | Come on, Strykey! Make me proud! [src] | " |
|   | — Dagur |   |
In "In Plain Sight", Dagur rides Sleuther from Dragon's Edge to Berserker Island, to visit a bully from his childhood, Ansson, in order to reclaim a Dragon Eye lens from him. He takes Sleuther with him while the two search for the legendary Thunderfish. When the bait is taken by a Scauldron, Dagur jumps on Sleuther and the two fight the wild dragon. The Triple Stryke cuts the rod's rope, releasing the Scauldron.
Sleuther then goes with Dagur to the meeting on Caldera Cay in "Chain of Command". When the Riders receive a message from Hiccup that he needs help on Wingmaiden Island, Dagur and Mala jump on Sleuther and go with the Riders. The trio is able to work together and ultimately defeat the Dragon Flyers.
At some point after this, Sleuther and Dagur arrived on Dragon's Edge to help the riders deal with an attacking Triple Stryke that had been infected with Grimoras. Sleuther distracted the Triple Stryke while the player's dragon fired at her feet, scaring the dragon off.
Physical Appearance
Sleuther is typical in appearance for a Triple Stryke; with a sharp-toothed beak, three scorpion-like tail telsons, yellow-tipped horns, and scorpion-like pincers for hands. He also has piercing red eyes with a black, slitted pupil and amber irises. In color, he is brownish-purple and has yellow legs, arms and tails, with his middle tail telson being the same brownish-purple as his body.
Personality
| | | |
| --- | --- | --- |
| " | I guess you can't blame it. The last humans it dealt with forced it to fight other dragons to the death. [src] | " |
|   | — Hiccup |   |
Sleuther was a very aggressive dragon in the dragon fighting arena. He was known to kill other dragons, as Ryker stated "if the Triple Stryke kills that Night Fury." In a fight with Toothless, Sleuther was spared by him as he had won the fight and learned from the Night Fury that dragons don't need to kill other dragons. Sleuther gained a lot of trust in Toothless, as he wanted to live on the Edge, but he showed some uncertainty of leaving the Dragon Fighting Arena as he lived in captivity for a long time. Still, when Toothless gave him encouragement to be free, the Triple Stryke took off with the Dragon Riders. Later, Sleuther begins enjoying the freedom by spinning and flying openly. He then sticks out his tongue like Toothless, showing that he is a playful dragon, not unlike the Night Fury.
Though he was released from the Dragon Arena thanks to the riders, he still showed hostility towards them. This is most likely due to his species' aggressive nature. Even though Sleuther and Toothless had formed a close bond, he didn't hesitate in attacking him. This is likely the result of his time in captivity, where he was forced to partake in many battles to the death, causing him to still be wary of humans and dragons, even those he was close to. It's also possible that Sleuther was defending his territory, and that the riders didn't realize the Triple Stryke had a territory on the Edge. This indicates that the species is very territorial.
However, after Astrid discovered Sleuther responded to clicking sounds, he appears to have calmed down, which made him more susceptible to training. He was quick to assist Dagur after the Berserker saved him, which could mean that Sleuther has made some amends with his past, as he was returning the favor to Dagur.
Sleuther has been shown to understand human language, as he threatened Snotlout when the boy mocked his rider. He also understands Dagur's commands and is very obedient. He seemed to know that Dagur and Mala were in love with each other, being a bit disgusted by the situation and trying to shield his eyes and ears from the pair's sappy actions.
Abilities and Skills
Fighting Skills: According to the Fight Master, Sleuther was the best fighter dragon in the arena, being able to defeat all his opponents in less than five minutes. He was able to hold his ground against Toothless and even gain the upper hand several times, something not many dragons can do. He was shown to easily defeat Grim Gnashers and Dragon Hunters.
Speed and Agility: Being a Strike Class dragon, Sleuther is very fast and agile. He managed to fight many dragons in a small arena and win. He was shown to be able to do flips in the air and fly upside down.
Strength: Sleuther has been shown to be very strong, as he is able to lift Toothless with only one of his tails without any struggle. He can lift a metal cage containing Windshear, with the extra weight of Heather and Dagur, all while being underwater. He can also hold three Dragon Hunters in each of his tails and throw them with full force, while also carrying Mala and Dagur. Sleuther can easily push a Grim Gnasher off a cliff while flying at full speed.
Endurance and Stamina: Sleuther took several shots from Toothless and was pushed against a wall and was still able to fight. He was seen taking direct shots from a Titan Wing Singetail and was still able to fly at the same speed.
Intelligence: Sleuther is a higly intelligent dragon, being able to understand commands from both human and dragons. He appears to understand human language as he was ready to defend Dagur when Snotlout was mocking his name. He also understood that Dagur saved his life and he later returned the favor. Sleuther is very adaptable, as he was able to change his environment, from the Fight Arena to Dragon's Edge and Berserker Island.
Relationships
Toothless first met Sleuther in an arena and they were both forced to fight each other. When Toothless almost defeated Sleuther, he refused to give a final strike in order to give him a chance.
In the arena, Hiccup freed all captive dragons including Sleuther, but he does not know what freedom is yet, since he was captive for a long time.
Astrid trained Sleuther by imitating the tail-clicking sound with Nadder spines, then Sleuther accepted her to be tamed.
When Shattermaster got injured, Sleuther placed Dagur on his back and fought the Dragon Hunters. Sleuther became Dagur's new dragon.
Appearances
Trivia
Sleuther was referred to as "Slasher" during his initial release in Rise of Berk for an unknown reason.

However, his name has since been corrected.

Sleuther was released in Rise of Berk the same day the third season of Race to the Edge aired.
He has a personality similar to Toothless.
Since Toothless was the one who taught him mercy and freedom to fly, Sleuther was technically trained by the Night Fury.
The way that Sleuther closes his eye when Toothless was about to kill him is very similar to when Toothless closes his eye when Hiccup was about to kill him in the first movie.
Even though Tuffnut named him Sleuther at the end of "Stryke Out", he is referred to only as "the Triple Stryke" in the rest of the series.
As of Season 5, Sleuther is owned by Dagur and appears to have taken Shattermaster's place as his main dragon.
References
Dragon Characters of

Deathgripper: Defender Deathgripper • Dreadgripper • Executie • Fenrir's Eviscereaper • Glaivedriver • Grim Hornettle • Grimmel's Deathgrippers • Marshland Deathgripper • Miasmic Deathgripper • Sappheral • Slaughterdijk


Light Fury: Light Fury
Night Fury: Toothless
Skrill: Brute Skrill • Defender Skrill • Dread Skrill • Dynamojo • Frozen Skrill • Fryrir • Helpful Skrill • Hide-Fryer • Hunterbolt • Icebane • Invading Skrill • Joltalon • Marshland Skrill • Revenger • Shadow Skrill • Shrill Boltbeak • Skitterbugs • Sleigher • Spark Guard • Sparkheart • Viggo's Skrill
Snow Wraith: Coldreign • Frostfang • Frostfright's Big Bro • Frostfright's Lil Sis • Furtive Fleetsleet • Glazier • Gothi's Frostfright • Injured Snow Wraith • Skrill Chiller • Wild Wraith • Wood Wraith
Triple Stryke: Champion Triple Stryke • Common Triple Stryke • Deathstalker • Eclipser • Emperor Pandinus • Ketillkott • Marooned Manstinger • Nikora's Triple Stryke • Rosethorn • Slender Green Triple Stryke • Sleuther • Starstreak • Stone Mother • Syringaca • Thorntail • Triple Strype
Woolly Howl: Defender Woolly Howl • Frostfire • Fuzzbucket • Infected Woolly Howls • Wise Wind • Woodwind

Fireworm: Defender Fireworm • Enhanced Fireworm Queen • Ghostglow • Fearsome Flamellion • Flashfright • Homunculosa • Plain Fireworm Queen • Royal Fireworm • Snotlout's Fireworm Queen • Solar Flare • Verdigriff


Flame Whipper: Baby Flame Whipper
Gobsucker: Dijester • Gobstinker • Muddlehunt • Sparklestank • Sulfurous Snifflepharts
Green Death: Crimson Death • Red Death • Violet Death
Hobblegrunt: Borealis • Defender Hobblegrunt • Gruff • Primal Hobblegrunt
Hobgobbler: Dreadgobbler • Droog • Rescued Hobgobbler • Smitten Hobgobbler
Large Shadow Wing: Alpha Shadow • Dawnstar • Grim Gamper • Marooned Greezer • Smog-bomber • Snogglewing • Splashboomer
Moldruffle: Exotic Moldruffle • Greenkeep • Dirt-Hurler • Jewelbilant • Rhinestorm • Turfraider
Monstrous Nightmare: Astrid's Monstrous Nightmare • Blazewing • Blazing Phoenixfire • Brisket, Saddle, Chuck, Rump, Loin, Scrag, Cutlet, Ham Hock, Sausages, Offal, Knuckle, and Pot Roast • Burlystorm • Cagecruncher • Cawmour • Charsoul • Defender Monstrous Nightmare • Dread Nightmare • Exiled Monstrous Nightmare • Fanghook • Fangmaster • Firescrapes • Flick • Girl Hookfang • Hookblazefang • Hookfang • Hookfang's Mate • Hookfang's Nemesis • Hookfang's Offspring • Hookfire • Liberated Whip-Wreck • Merciful Nightmare • Mountain Nightmare • Munchauser • Nidhogg • Stormfly's Adopted Monstrous Nightmare • Sven's Nightmare • Valka's Mercy • Viggo's Savior • Whip-Slash
Night Terror: Brood-blossom • Darkvarg • Hallucinerator • Hotshot • Nightwatch • Peggy • Sacred Terror • Seedling Night Terror • Smidvarg • Tarred Night Terror
Red Death: Red Death
Singetail: Ambered Singetail • Captured Singetail • Deathlout • Flamelout • Forest Singetail • Grovelout • Heatlout • Hotbelly Singetail • Hotlout • Infernier • Krogan's Singetail • Mother Singetail • Scorch • Sear • Stoick • Winterwick
Small Shadow Wing: Baited Breath • Obskewer • Prismarch • Spring's Shadow • Shimmerwing
Terrible Terror: Butt and Head • Defender Terrible Terror • Exiled Undersnuff • Gothi's Pet • Iggy • Kick-off Terrors • Leopold • Nibbles • Pain • Sharpshot • Smudgeon • Sneaky • Stormfly's Adopted Terrible Terror • Valka's Hatchling Terrors
Threadtail: Almondine • Duskgust • Foliander • Mildew's Strain • Sunsoak
Typhoomerang: Defender Typhoomerang • Forest Typhoomerang • Helpful Typhoomerang • Marooned Flambo • Primal Broadguard • Pyre-Flier • Radiant Skyglow • Skyfire • Tense Typhoomerang • That • Torch • Torch's Mother • Torch's Siblings • Trap-phoomerang • Viggo's Typhoomerangs

Bewilderbeast: Berserker Bewilderbeast • Drago's Bewilderbeast • Vanaheim Bewilderbeast • Valka's Bewilderbeast


Luminous Krayfin: Lumie
Ripwrecker: Bargemine • Derelicker • Exotic Ripwrecker • Gloomlurker • Rogue Submaripper • Seashine • Sinker-Claws
Sand Wraith: Claytrapper • Helpful Sand Wraith • Seedling Sand Wraith • Veiled Spectruf
Scauldron: Bonecrusher's Conquest • Breampunk • Bumble • Captured Scauldron • Defender Scauldron • Exotic Scauldron • Grim Sizzle • Mea • Mildew's Misery • Scauldy • Snorre's Scauldrons • Steam-spewer • Thunderfish
Seashocker: Bolt & Float • Covecharger • Defender Seashocker • Nikora's Seashocker • Rane & Shyne • Soaky and Wetty • Valka's Seashockers • Viggo's Seashockers • Wavewight • Whet and Wylde
Shellfire: Viggo's Shellfire
Shockjaw: Boltbite • Deepfreeze • Defender Shockjaw • Exotic Shockjaw • Snappy-Zappy-Sand-Zapper • Snazzolt
Sliquifier: Defender Sliquifier • Exotic Sliquifier • Grazefall • Marooned Seaslick • Splashspout • Surflurker
Submaripper: Belchfast • Deepkeeper • Mariner's Myth • Mopey-Slick • Nauticalamity • Primal Aquabeast • Shipsbane
Thunderdrum: Bam • Bing • Bludcrest • Boom • Champerone • Defender Thunderdrum • Earsplitter • Eret's Thunderdrum • Lil Lullaby • Reef Thunderdrum • Shifty Murklurker • Stormfly's Adopted Thunderdrum • Tectonic Thunderdrum • Thornado • Thunderdolt • Warcry • Waveshaker • Whirlwing • Wingburst
Tide Glider: Defender Tide Glider • Exotic Tide Glider • Grim Slipsmolder • Lake Skater • Mistmenace
Windwalker: Galeguard • Mistroll • Seasail • Skykarver

Catastrophic Quaken: Aurum • Blawberry • Captured Quaken • Champion Catastrophic Quaken • Cryoconitemare • Enslaved Quakens • Four-Man • Glaciated Quaken • Ice-Tongue Quaken • Lethiferous Cromlech • Liberated Trolboulder • Melonquarry • Meltwater Kryal • Tormentor • Trained Catastrophic Quaken • Spikeback


Crimson Goregutter: Bulwark • Dread Goregutter • Eir's Crimson Goregutter • Grainfield Goregutter • Gruff Goregutter • Magnanimous Martyrium • Rescued Crimson Goregutter • Wapititan
Eruptodon: Coaldron • Defender Eruptodon • Great Protector • Helpful Eruptodon • Kilnkin • Magmadon • Magmic Eruptodon • New Protector • Strokkur • Tectonic Thorium • Volcanic Eruptodon • Volcanic Vethorm
Grapple Grounder: Defender Grapple Grounder • Exotic Grapple Grounder • Fierce Piercer • Floeshot • Lurchador • Sour Grapple
Groncicle: Defender Groncicle • Primal Bewilderbreath • Rubeus • Sweetcicle • Wyrmafrost
Gronckle: Book Wyrm • Cheesemonger • Crubble • Defender Gronckle • Diamondgnaw • Dread Gronckle • Exiled Gronckle • Fighter Gronckle • Fishmeat • Gary • Gothi's Gronckle • Grove Gronckle • Injured Gronckle • Junior Tuffnut • Junior Tuffnut Junior • Meatlug • Meatlug's Cousin • Meatlug's Mate • Meatlug's Offspring • Molten Magmannette • Obsurdian • Phlegma's Gronckle • Rubblegrubber • Shattermaster • Slug • Snoggletog Dragon Tactics Gronckles • Stormfly's Adopted Gronckles • Thaw Fleet • Tuffnut Junior • Yawnckle
Hotburple: Basket Case • Beachcomber • Bedrock Terror • Blistering Belcher • Bush-Wacker • Chartooth • Defender Hotburple • Eir's Titan Wing Hotburple • Emberock • Floe Hotburple • Grump • Hearty Hotburple • Ill Hotburple
Screaming Death: Screaming Death • Trained Screaming Death
Sentinel: Bizarregoyle • Brute Timbertoast • Cinder • Defender Sentinel • Dreadel • Elder Sentinel • Halcyard • Mossguard • Silent Knight
Shovelhelm: Clawlifter • Damsail • Exotic Shovelhelm • Fiend Trowel • Gnawhelm • Guslout
Snafflefang: Brute-Wurst • Carnastial • Defender Snafflefang • Eggfang • Fendmender • Frosty Sparguard • Irontooth • Lump • Primal Snafflefang • Slough Snafflefang • Spitelout's Snafflefang • Stocky Snafflefang • Yakstacker
Thunderpede: Colorcrunch • Defender Thunderpede • Exotic Thunderpede • Furnace • Goliam • Sleet-Beater • Stonewall
Whispering Death: Bombwelter • Brisk Whisper • Death Ride • Defender Whispering Death • Exotic Whispering Death • Gravedigger • Gritty Sawmaw • Groundsplitter • Guarded Whisper • Helpful Whispering Deaths • Hiccup's Baby Whispering Death • Mawdrill • Screaming Death's Siblings • Sky-Pirate • Toothless' Nemesis • Trailtwister • Trained Glowing Whispering Death • Trained Titan Wing Whispering Death • Wrylite

Egg Biter: Chompers • Coppertop • Egg Blossom • Exotic Egg Biter • Nipper


Grim Gnasher: Dawnbite • Emberquencher • Gnasteeze • Toadlich
Hackatoo: Cloudcarver • Defender Hackatoo • Exotic Hackatoo • Hackagift
Raincutter: Defender Raincutter • Dewdrop • Icecutter • Puddlemuck • Squall-caller • Thump
Razorwhip: Exotic Razorwhip • Fighter Razorwhip • Hailfate • Jade-Blade • Lashbane • Plated Razorwhip • Quarry Razorwhip • Sawtooth • Searing Seethsizzle • Slash-Dasher • Windshear • Wingnut
Scuttleclaw: Budbite • Defender Scuttleclaw • Gressjester • Helpful Scuttleclaw • Meatlug's Cheerleader • Scuttleclaw Hatchlings • Slushclaws
Shivertooth: Distemplar • Exotic Shivertooth • Flutterfang • Helpful Shivertooth • Sweet-Tooth
Speed Stinger: Corroderunner • Exotic Speed Stinger • Fighter Speed Stinger • Icebreaker • Lead Stinger • Liberated Floutscout • Mala's Speed Stingers • Seedling Speed Stinger • Speedy • Sweet-Sting
Stormcutter: Brute Stormcutter • Cloudjumper • Defender Stormcutter • Dimflight • Eir's Titan Wing Stormcutter • Exiled Stormcutter • Gloomleer • Hurribane • Injured Stormcutter • Liberated Duskcutter • Marinecutter • Reignstorm • Serene Stormcutter • Tempestuous Scalestrom • Tripfire • Wingwary • Wonderclap • Woodland Stormcutter
Thornridge: Gloomshadow • Primal Thornridge • Sparknettle • Thornshade • Warywing
Timberjack: Axewing • Axewing the Second • Brute Timberjack • Dammen's Timberjack • Defender Timberjack • Driftcleaver • Freeweald • Lithe Loggerjammer • Lonewood • Seedling Saplinger • Soaring Sidekick • Stokehead • Stoneslice • Taxi • Tricky Timberjack • Wetland Timberjack
Windstriker: Boiling Billows • Chinooker • Defender Windstriker • Galesplitter • Grim Whirlwaft • Retired Windstriker • Snaggletooth • Winged Warden

Armorwing: Bandit • Coldsnap • Fool's-Gold • Goldrush • Gresskarmor • Irongaze • Knocks • Liberated Haulmauler • Twist-Trapper


Boneknapper: Antiquarian Accumulator • Bludgeon Knapper • Bog-Blight • Boneknapper Family • Boneshedder • Brute Boneknapper • Cryptic Collector • Dammen's Boneknapper • Defender Boneknapper • Ghaslit • Gobber's Nemesis • Grave Knapper • Purlossein • Skullcrown • Tomb Thief • Trained Glowing Boneknapper
Buffalord: Auroch King • Beezelord • Big Buff • Big Snuff • Bisonarch • Boarcharger • Brute Buffalord • Exotic Buffalord • Frostgnaw • Hearty Buffalord • Maeve's Buffalord • Mosster • Mudgut • Pufferfinch • Thicket Buffalord
Cavern Crasher: Exotic Cavern Crasher • Firecomb Crasher • Grotto Gutter • Schmoozer • Slimeball • Slimeslinger
Changewing: Baby Changewing • Captured Changewing • Chimerical Chamomeleon • Defender Changewing • Edgewing • Hidera • Incognito • Morphaileron • Phantom • Snuffnut • Springwing • Stalker Changewing • Tuaterror • Tuffwing • Underwood Changewing
Chimeragon: Patch
Death Song: Dropplesounder • Exotic Death Song • Garffiljorg • Garff's Adoptive Father • Jestbelter • Sirenade
Dramillion: Bonnefire • Elder Dramillion • Fishlegs' Dramillion • Hurleqast • Marooned Mimiric • Myrkva the Immoral • Nattvig • Standard Dramillion • Titan Wing Dramillion
Flightmare: Defender Flightmare • Exotic Flightmare • Flaredawn • Hofferson's Bane • Injured Flightmare • Skystreaker • Trancemare • Viggo's Flightmare
Foreverwing: Guardian of the Forest
Hideous Zippleback: Barf and Belch • Defender Hideous Zippleback • Dread Zippleback • Barf and Belch's Mate • Barf and Belch's Offspring • Exiled Hideous Zippleback • Fart & Sniff • Hamfeist • Heel & Brak • Kandy & Kane • Muck and Tumble • Silverslash • Snort and Sniff • Snothead • Sparkle & Sparks • Sparks and Spew • Titan Wing Zippleback • Tricky Two-Heads • Valley Zippleback • Whip and Lash • Zesty Zippleback
Hobgobbler: Dreadgobbler • Droog • Rescued Hobgobbler • Smitten Hobgobbler
Prickleboggle: Helpful Prickleboggle • Krustler • Seedling Prickleboggle • Skypiercer • Thornforce
Sandbuster: Frostbiter • Marooned Mukchucker • Quicksand • Sawduster • Siltsmacker • Snowball • Wild Sandbuster
Silkspanner: Bayana's Silkspanners • Marooned Deathstrand
Slithersong: Bloomsang • Dazzlesing • Necronomodon
Slitherwing: Defender Slitherwing • Harmhug • Slinkling • Sweet-Stripe • Toksin
Smothering Smokebreath: Apneatic Archechoke • Defender Smothering Smokebreath • Dustbrawler • Exotic Smothering Smokebreath • Flutter-Fog • Gritpicker • Helpful Smokebreath • Rattling Smokebreath • Smogger
Snaptrapper: Brute Snaptrapper • Death & Chocolates • Death Race Snaptrapper • Defender Snaptrapper • Helpful Snaptrapper • Outsnapper • Snappy •Stormfly's Adopted Snaptrapper
Sweet Death: Defender Sweet Death • Exotic Sweet Death • Helpful Sweet Death • Masked Sweet Death • Seedling Sweet Death • Sqyrm
Sword Stealer: Broken Blade • Chillblade • Defender Sword Stealer • Exotic Sword Stealer • Forgefeist • Gleamer • Scimiterror • Verdigard

Deadly Nadder: Ambered Nadder • Baby Nadder • Bork Week Nadders • Brush Nadder • Defender Deadly Nadder • Dread Nadder • Edge Nadder • Fireshrike • Flystorm • Hardychomper • Infected Deadly Nadders • Kingstail • Lethal Lancebeak • Nimble Nadder • Pincher • Scardian • Seedling Stormpest • Sick Deadly Nadder • Skyblade • Springshedder • Steelspike • Steeltrap • Stormfly • Stormfly's Adopted Deadly Nadder • Stormfly's Mate • Stormfly's Offspring • Vaynglory


Mudraker: Muddie
Rumblehorn: Arctic Rumblehorn • Defender Rumblehorn • Drago's Rumblehorn • Flank-Tanker • Grimtorn • Krogan's Rumblehorn • Poise the Vast • Rhineblow • Robust Rumblehorn • Rumblehorn Hatchlings • Seedling Rumblehorn • Skullcrusher • Snowcap • Son of Skullcrusher • Valiant Scarbearer
Snifflehunch: Pestbud • Primal Snifflehunch • Runter • Scentinel • Seedling Snifflehunch • Snifflestone • Winkling
Submaripper: Belchfast • Deepkeeper • Mariner's Myth • Mopey-Slick • Primal Aquabeast • Shipsbane
Thunderclaw: Aurvandil • Bonesnarl • Defender Thunderclaw • Gyllentalon • Liberated Hardcast • Polar Thunderclaw • Rumpus • Sailback • Sturmundrang • Tundra Thunderclaw • Valiant Vingthor
Windgnasher: Arcane Kulingbiter • Auroara • Champion Windgnasher • Chinuke • Defender Windgnasher • Galegrinder • Gnarley • Gustnudger • Ironhide • Vindjakker • Woodland Windgnasher
Sleuther is also available in other languages.
Do visit these pages if you prefer reading content from the respective languages:
Deutsch • Русский • Polski • Français