Wiki Targeted (Entertainment)
Play Sound
| | | |
| --- | --- | --- |
| " | So, Scauldy, I'm guessing you're as freaked out as I am right now. But if you don't kill me, I would really appreciate it, and... Whoa. Hi. Hey, Scauldy. [src] | " |
|   | — Ruffnut taming Scauldy |   |
Scauldy is a male Scauldron who first appeared in "Free Scauldy".
Official Description
Biography
Scauldy first appears in "Free Scauldy", where the gang find him trapped after a shake happened and pinned his wing under boulders. Although initially aggressive toward the teens, he quickly warms up to Ruffnut which allows the others to remove the boulders. As they begin making a splint for him, the gang realize that there wasn't enough rope. Using quick thinking, Ruffnut cuts her own hair off to finish making the splint for Scauldy, allowing him to escape from Changewing Island.
When Snotlout Jorgenson accidentally left his father's fishing rod in a tide pool on School of Dragons Island, the tide came in and swept it out to sea. Worried that his father would be mad at him, Snotlout asked the player for help in finding the fishing rod. After discussing the matter with Hiccup, the player decided to ask Ruffnut to ask Scauldy to help find the fishing rod in the open sea. After a little bit of searching, Scauldy managed to successfully find the fishing rod, allowing the player to take it back to Snotlout.
Personality
Scauldy was initially aggressive toward the gang and absolutely refused any help from them, even to the point of attacking Hiccup, but he took a quick liking to Ruffnut because her hair smelled of fish oil, which smelled like his home as he is a water-dwelling dragon. He is shown to be attached to the ocean, where he lives, as well as becoming protective of Ruffnut. Scauldy is fairly smart and is able to understand Ruffnut when she is talking to him, despite being a wild dragon and (possibly) never hearing human speech. He cares for Ruffnut and also tried to convince her to leave him when the Changewings attacked. He is shown to enjoy Ruffnut singing to him and would look crossly at her when she stops in between. He would also wince or look at her with a scared/angry expression when she sang things like "mash up all your bones". Even after being separate from her for a long time, Scauldy was willing to help Ruffnut search the ocean for Spitelout's fishing rod, showing the extremely strong bond between the two of them.
Relationships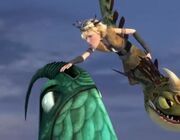 Although Scauldy is aggressive, he quickly warms up to Ruffnut after smelling the fish oil Ruffnut puts on her hair to make it look unwashed and greasy, which reminded him of his home. The two become fast friends and they form a strong bond towards each other. Each is willing to risk their life for the another. Ruffnut in particular, sacrificed her braids of hair by cutting it off so that her hair may be used to finish the splint for Scauldy. Scauldy is also shown to be concerned for the well-being of Ruffnut as he was trying to convince her to leave him when the Changewings were attacking. Scauldy is shown to be extremely grateful to Ruffnut for saving him and possibly will remember her until they meet again.
Appearances
Trivia
Scauldy seems to be larger than the Scauldron in "Dragon Flower".
Scauldy could debatably be the opposing counterpart of Torch.

Scauldy was trained by Ruffnut, Torch was trained by her twin Tuffnut.
Scauldy is a Tidal Class dragon (dwells within the water and sprays water), while Torch is a Stoker Class dragon (dwells on land and manipulates fire and air to attack).
Scauldy was hostile and a danger to the Viking teens, while Torch was civil and friendly from the beginning.
Torch was the one who (partially) saved Tuffnut and Ruffnut was the one who saved Scauldy.

There were rumors that Heather would return in Dragons: Defenders of Berk and train her own dragon, a Scauldron named Spout. Even though this was eventually removed, it may have been the inspiration for the character and episode.
It is unknown how Scauldy gets the splint off when his wing heals. It doesn't seem possible.
References
Dragon Characters of

Deathgripper: Defender Deathgripper • Dreadgripper • Executie • Fenrir's Eviscereaper • Glaivedriver • Grim Hornettle • Grimmel's Deathgrippers • Marshland Deathgripper • Miasmic Deathgripper • Sappheral • Slaughterdijk


Light Fury: Light Fury
Night Fury: Toothless
Skrill: Brute Skrill • Defender Skrill • Dread Skrill • Dynamojo • Frozen Skrill • Fryrir • Helpful Skrill • Hide-Fryer • Hunterbolt • Icebane • Invading Skrill • Joltalon • Marshland Skrill • Revenger • Shadow Skrill • Shrill Boltbeak • Skitterbugs • Sleigher • Spark Guard • Sparkheart • Viggo's Skrill
Snow Wraith: Coldreign • Frostfang • Frostfright's Big Bro • Frostfright's Lil Sis • Furtive Fleetsleet • Glazier • Gothi's Frostfright • Injured Snow Wraith • Skrill Chiller • Wild Wraith • Wood Wraith
Triple Stryke: Champion Triple Stryke • Common Triple Stryke • Deathstalker • Eclipser • Emperor Pandinus • Ketillkott • Marooned Manstinger • Nikora's Triple Stryke • Rosethorn • Slender Green Triple Stryke • Sleuther • Starstreak • Stone Mother • Syringaca • Thorntail • Triple Strype
Woolly Howl: Defender Woolly Howl • Frostfire • Fuzzbucket • Infected Woolly Howls • Wise Wind • Woodwind

Fireworm: Defender Fireworm • Enhanced Fireworm Queen • Ghostglow • Fearsome Flamellion • Flashfright • Homunculosa • Plain Fireworm Queen • Royal Fireworm • Snotlout's Fireworm Queen • Solar Flare • Verdigriff


Flame Whipper: Baby Flame Whipper
Gobsucker: Dijester • Gobstinker • Muddlehunt • Sparklestank • Sulfurous Snifflepharts
Green Death: Crimson Death • Red Death • Violet Death
Hobblegrunt: Borealis • Defender Hobblegrunt • Gruff • Primal Hobblegrunt
Hobgobbler: Dreadgobbler • Droog • Rescued Hobgobbler • Smitten Hobgobbler
Large Shadow Wing: Alpha Shadow • Dawnstar • Grim Gamper • Marooned Greezer • Smog-bomber • Snogglewing • Splashboomer
Moldruffle: Exotic Moldruffle • Greenkeep • Dirt-Hurler • Jewelbilant • Rhinestorm • Turfraider
Monstrous Nightmare: Astrid's Monstrous Nightmare • Blazewing • Blazing Phoenixfire • Brisket, Saddle, Chuck, Rump, Loin, Scrag, Cutlet, Ham Hock, Sausages, Offal, Knuckle, and Pot Roast • Burlystorm • Cagecruncher • Cawmour • Charsoul • Defender Monstrous Nightmare • Dread Nightmare • Exiled Monstrous Nightmare • Fanghook • Fangmaster • Firescrapes • Flick • Girl Hookfang • Hookblazefang • Hookfang • Hookfang's Mate • Hookfang's Nemesis • Hookfang's Offspring • Hookfire • Liberated Whip-Wreck • Merciful Nightmare • Mountain Nightmare • Munchauser • Nidhogg • Stormfly's Adopted Monstrous Nightmare • Sven's Nightmare • Valka's Mercy • Viggo's Savior • Whip-Slash
Night Terror: Brood-blossom • Darkvarg • Hallucinerator • Hotshot • Nightwatch • Peggy • Sacred Terror • Seedling Night Terror • Smidvarg • Tarred Night Terror
Red Death: Red Death
Singetail: Ambered Singetail • Captured Singetail • Deathlout • Flamelout • Forest Singetail • Grovelout • Heatlout • Hotbelly Singetail • Hotlout • Infernier • Krogan's Singetail • Mother Singetail • Scorch • Sear • Stoick • Winterwick
Small Shadow Wing: Baited Breath • Obskewer • Prismarch • Spring's Shadow • Shimmerwing
Terrible Terror: Butt and Head • Defender Terrible Terror • Exiled Undersnuff • Gothi's Pet • Iggy • Kick-off Terrors • Leopold • Nibbles • Pain • Sharpshot • Smudgeon • Sneaky • Stormfly's Adopted Terrible Terror • Valka's Hatchling Terrors
Threadtail: Almondine • Duskgust • Foliander • Mildew's Strain • Sunsoak
Typhoomerang: Defender Typhoomerang • Forest Typhoomerang • Helpful Typhoomerang • Marooned Flambo • Primal Broadguard • Pyre-Flier • Radiant Skyglow • Skyfire • Tense Typhoomerang • That • Torch • Torch's Mother • Torch's Siblings • Trap-phoomerang • Viggo's Typhoomerangs

Bewilderbeast: Berserker Bewilderbeast • Drago's Bewilderbeast • Vanaheim Bewilderbeast • Valka's Bewilderbeast


Luminous Krayfin: Lumie
Ripwrecker: Bargemine • Derelicker • Exotic Ripwrecker • Gloomlurker • Rogue Submaripper • Seashine • Sinker-Claws
Sand Wraith: Claytrapper • Helpful Sand Wraith • Seedling Sand Wraith • Veiled Spectruf
Scauldron: Bonecrusher's Conquest • Breampunk • Bumble • Captured Scauldron • Defender Scauldron • Exotic Scauldron • Grim Sizzle • Mea • Mildew's Misery • Scauldy • Snorre's Scauldrons • Steam-spewer • Thunderfish
Seashocker: Bolt & Float • Covecharger • Defender Seashocker • Nikora's Seashocker • Rane & Shyne • Soaky and Wetty • Valka's Seashockers • Viggo's Seashockers • Wavewight • Whet and Wylde
Shellfire: Viggo's Shellfire
Shockjaw: Boltbite • Deepfreeze • Defender Shockjaw • Exotic Shockjaw • Snappy-Zappy-Sand-Zapper • Snazzolt
Sliquifier: Defender Sliquifier • Exotic Sliquifier • Grazefall • Marooned Seaslick • Splashspout • Surflurker
Submaripper: Belchfast • Deepkeeper • Mariner's Myth • Mopey-Slick • Nauticalamity • Primal Aquabeast • Shipsbane
Thunderdrum: Bam • Bing • Bludcrest • Boom • Champerone • Defender Thunderdrum • Earsplitter • Eret's Thunderdrum • Lil Lullaby • Reef Thunderdrum • Shifty Murklurker • Stormfly's Adopted Thunderdrum • Tectonic Thunderdrum • Thornado • Thunderdolt • Warcry • Waveshaker • Whirlwing • Wingburst
Tide Glider: Defender Tide Glider • Exotic Tide Glider • Grim Slipsmolder • Lake Skater • Mistmenace
Windwalker: Galeguard • Mistroll • Seasail • Skykarver

Catastrophic Quaken: Aurum • Blawberry • Captured Quaken • Champion Catastrophic Quaken • Cryoconitemare • Enslaved Quakens • Four-Man • Glaciated Quaken • Ice-Tongue Quaken • Lethiferous Cromlech • Liberated Trolboulder • Melonquarry • Meltwater Kryal • Tormentor • Trained Catastrophic Quaken • Spikeback


Crimson Goregutter: Bulwark • Dread Goregutter • Eir's Crimson Goregutter • Grainfield Goregutter • Gruff Goregutter • Magnanimous Martyrium • Rescued Crimson Goregutter • Wapititan
Eruptodon: Coaldron • Defender Eruptodon • Great Protector • Helpful Eruptodon • Kilnkin • Magmadon • Magmic Eruptodon • New Protector • Strokkur • Tectonic Thorium • Volcanic Eruptodon • Volcanic Vethorm
Grapple Grounder: Defender Grapple Grounder • Exotic Grapple Grounder • Fierce Piercer • Floeshot • Lurchador • Sour Grapple
Groncicle: Defender Groncicle • Primal Bewilderbreath • Rubeus • Sweetcicle • Wyrmafrost
Gronckle: Book Wyrm • Cheesemonger • Crubble • Defender Gronckle • Diamondgnaw • Dread Gronckle • Exiled Gronckle • Fighter Gronckle • Fishmeat • Gary • Gothi's Gronckle • Grove Gronckle • Injured Gronckle • Junior Tuffnut • Junior Tuffnut Junior • Meatlug • Meatlug's Cousin • Meatlug's Mate • Meatlug's Offspring • Molten Magmannette • Obsurdian • Phlegma's Gronckle • Rubblegrubber • Shattermaster • Slug • Snoggletog Dragon Tactics Gronckles • Stormfly's Adopted Gronckles • Thaw Fleet • Tuffnut Junior • Yawnckle
Hotburple: Basket Case • Beachcomber • Bedrock Terror • Blistering Belcher • Bush-Wacker • Chartooth • Defender Hotburple • Eir's Titan Wing Hotburple • Emberock • Floe Hotburple • Grump • Hearty Hotburple • Ill Hotburple
Screaming Death: Screaming Death • Trained Screaming Death
Sentinel: Bizarregoyle • Brute Timbertoast • Cinder • Defender Sentinel • Dreadel • Elder Sentinel • Halcyard • Mossguard • Silent Knight
Shovelhelm: Clawlifter • Damsail • Exotic Shovelhelm • Fiend Trowel • Gnawhelm • Guslout
Snafflefang: Brute-Wurst • Carnastial • Defender Snafflefang • Eggfang • Fendmender • Frosty Sparguard • Irontooth • Lump • Primal Snafflefang • Slough Snafflefang • Spitelout's Snafflefang • Stocky Snafflefang • Yakstacker
Thunderpede: Colorcrunch • Defender Thunderpede • Exotic Thunderpede • Furnace • Goliam • Sleet-Beater • Stonewall
Whispering Death: Bombwelter • Brisk Whisper • Death Ride • Defender Whispering Death • Exotic Whispering Death • Gravedigger • Gritty Sawmaw • Groundsplitter • Guarded Whisper • Helpful Whispering Deaths • Hiccup's Baby Whispering Death • Mawdrill • Screaming Death's Siblings • Sky-Pirate • Toothless' Nemesis • Trailtwister • Trained Glowing Whispering Death • Trained Titan Wing Whispering Death • Wrylite

Egg Biter: Chompers • Coppertop • Egg Blossom • Exotic Egg Biter • Nipper


Grim Gnasher: Dawnbite • Emberquencher • Gnasteeze • Toadlich
Hackatoo: Cloudcarver • Defender Hackatoo • Exotic Hackatoo • Hackagift
Raincutter: Defender Raincutter • Dewdrop • Icecutter • Puddlemuck • Squall-caller • Thump
Razorwhip: Exotic Razorwhip • Fighter Razorwhip • Hailfate • Jade-Blade • Lashbane • Plated Razorwhip • Quarry Razorwhip • Sawtooth • Searing Seethsizzle • Slash-Dasher • Windshear • Wingnut
Scuttleclaw: Budbite • Defender Scuttleclaw • Gressjester • Helpful Scuttleclaw • Meatlug's Cheerleader • Scuttleclaw Hatchlings • Slushclaws
Shivertooth: Distemplar • Exotic Shivertooth • Flutterfang • Helpful Shivertooth • Sweet-Tooth
Speed Stinger: Corroderunner • Exotic Speed Stinger • Fighter Speed Stinger • Icebreaker • Lead Stinger • Liberated Floutscout • Mala's Speed Stingers • Seedling Speed Stinger • Speedy • Sweet-Sting
Stormcutter: Brute Stormcutter • Cloudjumper • Defender Stormcutter • Dimflight • Eir's Titan Wing Stormcutter • Exiled Stormcutter • Gloomleer • Hurribane • Injured Stormcutter • Liberated Duskcutter • Marinecutter • Reignstorm • Serene Stormcutter • Tempestuous Scalestrom • Tripfire • Wingwary • Wonderclap • Woodland Stormcutter
Thornridge: Gloomshadow • Primal Thornridge • Sparknettle • Thornshade • Warywing
Timberjack: Axewing • Axewing the Second • Brute Timberjack • Dammen's Timberjack • Defender Timberjack • Driftcleaver • Freeweald • Lithe Loggerjammer • Lonewood • Seedling Saplinger • Soaring Sidekick • Stokehead • Stoneslice • Taxi • Tricky Timberjack • Wetland Timberjack
Windstriker: Boiling Billows • Chinooker • Defender Windstriker • Galesplitter • Grim Whirlwaft • Retired Windstriker • Snaggletooth • Winged Warden

Armorwing: Bandit • Coldsnap • Fool's-Gold • Goldrush • Gresskarmor • Irongaze • Knocks • Liberated Haulmauler • Twist-Trapper


Boneknapper: Antiquarian Accumulator • Bludgeon Knapper • Bog-Blight • Boneknapper Family • Boneshedder • Brute Boneknapper • Cryptic Collector • Dammen's Boneknapper • Defender Boneknapper • Ghaslit • Gobber's Nemesis • Grave Knapper • Purlossein • Skullcrown • Tomb Thief • Trained Glowing Boneknapper
Buffalord: Auroch King • Beezelord • Big Buff • Big Snuff • Bisonarch • Boarcharger • Brute Buffalord • Exotic Buffalord • Frostgnaw • Hearty Buffalord • Maeve's Buffalord • Mosster • Mudgut • Pufferfinch • Thicket Buffalord
Cavern Crasher: Exotic Cavern Crasher • Firecomb Crasher • Grotto Gutter • Schmoozer • Slimeball • Slimeslinger
Changewing: Baby Changewing • Captured Changewing • Chimerical Chamomeleon • Defender Changewing • Edgewing • Hidera • Incognito • Morphaileron • Phantom • Snuffnut • Springwing • Stalker Changewing • Tuaterror • Tuffwing • Underwood Changewing
Chimeragon: Patch
Death Song: Dropplesounder • Exotic Death Song • Garffiljorg • Garff's Adoptive Father • Jestbelter • Sirenade
Dramillion: Bonnefire • Elder Dramillion • Fishlegs' Dramillion • Hurleqast • Marooned Mimiric • Myrkva the Immoral • Nattvig • Standard Dramillion • Titan Wing Dramillion
Flightmare: Defender Flightmare • Exotic Flightmare • Flaredawn • Hofferson's Bane • Injured Flightmare • Skystreaker • Trancemare • Viggo's Flightmare
Foreverwing: Guardian of the Forest
Hideous Zippleback: Barf and Belch • Defender Hideous Zippleback • Dread Zippleback • Barf and Belch's Mate • Barf and Belch's Offspring • Exiled Hideous Zippleback • Fart & Sniff • Hamfeist • Heel & Brak • Kandy & Kane • Muck and Tumble • Silverslash • Snort and Sniff • Snothead • Sparkle & Sparks • Sparks and Spew • Titan Wing Zippleback • Tricky Two-Heads • Valley Zippleback • Whip and Lash • Zesty Zippleback
Hobgobbler: Dreadgobbler • Droog • Rescued Hobgobbler • Smitten Hobgobbler
Prickleboggle: Helpful Prickleboggle • Krustler • Seedling Prickleboggle • Skypiercer • Thornforce
Sandbuster: Frostbiter • Marooned Mukchucker • Quicksand • Sawduster • Siltsmacker • Snowball • Wild Sandbuster
Silkspanner: Bayana's Silkspanners • Marooned Deathstrand
Slithersong: Bloomsang • Dazzlesing • Necronomodon
Slitherwing: Defender Slitherwing • Harmhug • Slinkling • Sweet-Stripe • Toksin
Smothering Smokebreath: Apneatic Archechoke • Defender Smothering Smokebreath • Dustbrawler • Exotic Smothering Smokebreath • Flutter-Fog • Gritpicker • Helpful Smokebreath • Rattling Smokebreath • Smogger
Snaptrapper: Brute Snaptrapper • Death & Chocolates • Death Race Snaptrapper • Defender Snaptrapper • Helpful Snaptrapper • Outsnapper • Snappy •Stormfly's Adopted Snaptrapper
Sweet Death: Defender Sweet Death • Exotic Sweet Death • Helpful Sweet Death • Masked Sweet Death • Seedling Sweet Death • Sqyrm
Sword Stealer: Broken Blade • Chillblade • Defender Sword Stealer • Exotic Sword Stealer • Forgefeist • Gleamer • Scimiterror • Verdigard

Deadly Nadder: Ambered Nadder • Baby Nadder • Bork Week Nadders • Brush Nadder • Defender Deadly Nadder • Dread Nadder • Edge Nadder • Fireshrike • Flystorm • Hardychomper • Infected Deadly Nadders • Kingstail • Lethal Lancebeak • Nimble Nadder • Pincher • Scardian • Seedling Stormpest • Sick Deadly Nadder • Skyblade • Springshedder • Steelspike • Steeltrap • Stormfly • Stormfly's Adopted Deadly Nadder • Stormfly's Mate • Stormfly's Offspring • Vaynglory


Mudraker: Muddie
Rumblehorn: Arctic Rumblehorn • Defender Rumblehorn • Drago's Rumblehorn • Flank-Tanker • Grimtorn • Krogan's Rumblehorn • Poise the Vast • Rhineblow • Robust Rumblehorn • Rumblehorn Hatchlings • Seedling Rumblehorn • Skullcrusher • Snowcap • Son of Skullcrusher • Valiant Scarbearer
Snifflehunch: Pestbud • Primal Snifflehunch • Runter • Scentinel • Seedling Snifflehunch • Snifflestone • Winkling
Submaripper: Belchfast • Deepkeeper • Mariner's Myth • Mopey-Slick • Primal Aquabeast • Shipsbane
Thunderclaw: Aurvandil • Bonesnarl • Defender Thunderclaw • Gyllentalon • Liberated Hardcast • Polar Thunderclaw • Rumpus • Sailback • Sturmundrang • Tundra Thunderclaw • Valiant Vingthor
Windgnasher: Arcane Kulingbiter • Auroara • Champion Windgnasher • Chinuke • Defender Windgnasher • Galegrinder • Gnarley • Gustnudger • Ironhide • Vindjakker • Woodland Windgnasher