Wiki Targeted (Entertainment)
Play Sound
| | | |
| --- | --- | --- |
| " | The Lycanwing dragon is a rare beast and a vicious one at that. Those who survive its bite are not actually survivors at all. They are doomed to a life as half-man, half-Lycanwing. At the height of every full moon, the condemned viking transforms into a terrifying dragon! Wings the size of a house, teeth stronger than Gronckle Iron! And a thirst...for blood. [src] | " |
|   | — Gobber describing the legendary Lycanwing |   |
The Lycanwing is a mythical dragon species that was mentioned in Dragons: Race to the Edge, Season 2.
History
According to Gobber, a Viking named Kessler had gone exploring in the woods of Berk. He disappeared and was never found. Every year on Kessler's birthday, a crimson dragon with black eyes would come to his home and would steal livestock from his parents. His parents believed that the dragon was Kessler and that he had been bitten by a Lycanwing, starting the legend.
Tuffnut claimed he was attacked by a mysterious creature. Gobber deduced it was a Lycanwing, a dragon that could turn anyone it bites into dragons. Tuffnut proceeded to lock himself up in a dragon pen to prevent him from hurting anybody.
Ruffnut, using Snotlout as a bite-mark matcher, tries to find out what had bitten her brother. Eventually Tuffnut escapes the pen he locked himself in.
Hiccup did not buy the story, but when the lens he and Fishlegs found revealed information on it, Hiccup and Fishlegs headed to Lycanwing Island. There they discovered a statue of a Lycanwing set there to scare people away from two Dragon Eye lenses hidden in the cave.
Thanks to Snotlout, Hiccup found out what had bitten Tuffnut was just a wolf, which had bitten Snotlout too.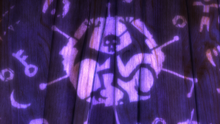 Trivia
The word "lycan" comes from lycanthrope, a combination between the greek "lýkos"(wolf) and "άνθρωπος"(human). It's another name for a werewolf, a mythical creature that can turn humans into other werewolves by biting them.

Ironically, it was a wolf that bit Tuffnut.
This name technically suggests that "Lycanwing" means something among the lines of "Wolf wing".

The Lycanwing is one of four "mythical" dragons, with the other three being the Boneknapper, the Smothering Smokebreath, and the Foreverwing. Of the four, it is the only one that has no proof of its existence.
It is unknown why the Lycanwing is in the Dragon Eye, even though it doesn't exist. This could be evidence that it does exist and just hasn't been seen yet.

However, it is most likely either a way to scare people away from the two lenses hidden on Lycanwing Island or a way to show people where they are.

The Lycanwing could also potentially exist on the island, due to the fact that Hiccup and Fishlegs barely explored the cave, let alone the entire island, before leaving.
It's also possible that the pair of Dragon Eye lenses found in the cave on Lycanwing Island could hold more information on the Lycanwing.
If this dragon does exist the Lycanwing would likely be in the Mystery Class. It also likely doesn't have an infectious bite, or at least not one as strong as it is in the legend.
The body shape of this dragon in the Dragon Eye is similar to a Whispering Death. It is possible that it might be a subspecies or just look similar.

Or the drawing may be incorrect.

It's also possible that the Lycanwing is an extinct dragon species.
So far the Cockatrice has a connection with the Lycanwing.
Dragon Species of