Doctor Strange in The Multiverse o Madness - The Loop
Play Sound
Hookfang is Snotlout Jorgenson's Monstrous Nightmare who first appeared in How to Train Your Dragon.
Official Description
"
Hookfang and Snotlout have a... complicated relationship.
Whereas most dragons obey their riders' commands, Hookfang often enjoys doing the opposite of what Snotlout says. Snotlout and Hookfang are both warriors at heart and work very well together in combat or competition with the other dragon riders.
"
 
— Dragonpedia
 
| | | |
| --- | --- | --- |
| " | This Monstrous Nightmare seems uniquely trained... to do the exact opposite of whatever Snotlout says! But they still make a great team. | " |
|   | — Dragons: Rise of Berk |   |
| | | |
| --- | --- | --- |
| " | Hookfang has the ability to coat himself with fire from nose to tail. He's short of patience, preferring to ignite first and think second. Hookfang is a warrior who fights ferociously in battle and competition. | " |
|   | — Dragonpedia stat card |   |
"
Fangster. Hooky. Overgrown Fire-Pit. Many colorful names for a very colorful Dragon: Hookfang. For a five-thousand pound, self-engulfing, fire-spewing Dragon, Hookfang is often more cool-headed than his Rider and friend, Snotlout Jorgenson. As with most of the first five Trainers' Dragons, Hookfang was captured and used in the Academy to teach the gang how to survive — and eventually destroy — their kind. Hookfang was the final challenge: it was he whom Hiccup was destined to kill to prove himself a true Berkian. Thankfully that time never came, and Hookfang found himself with Snotlout — a challenge in his own right! It wasn't long before the two were inseparable, though neither will admit it openly.
Over the years Hookfang has proven to be powerful and extremely resourceful, having discovered several ways to ignite Snotlout's bottom (much to everyone's amusement). It is Hookfang's kerosene gel which is used to ignite Hiccup's flaming sword — Inferno.
"
 
— Dragons: Titan Uprising
 
"
On Berk, the tradition of shooting fireworks on the fourth day of the seventh moon has a long heritage, though most Hooligans are ignorant of the reason for the celebration. Hookfang knows this heritage, because he listens.
Gothi knows the true story, and she tells it on occasion. When she does, Hookfang watches the marks she draws in the dust with her staff, with enrapt attention, and this is what she says:
Centuries ago, a terrible Dragon called Merciless led the Dragons of the Archipelago in an attempt to commit genocide against Vikings. He considered them, with good reason, to be the enslavers of Dragon-kind. Hiccup Horrendous Haddock the First banished Merciless from the Viking world with the use of a strange amulet called the Dragon Jewel, which contained the seed of a deadly disease that had the power to exterminate the Dragon population if released.
Although Hiccup the First won the battle, he resolved tensions with the remaining Dragons by treating them as humanity's equals. He bore a mark on his brow called the 'Dragonmark' as a promise to never do harm to Dragons again.
Over subsequent generations, Viking leaders forgot Hiccup the First's promise and gradually began to treat Dragons with increasing contempt, until the time of Grimbeard the Ghastly, who refused the Dragonmark outright, and enslaved Dragonkind and humans alike to build his dystopian city on 'The Island of Tomorrow'. The Dragons rebelled against this enslavement with the help of Grimbeard the Ghastly's youngest son, Hiccup Horrendous Haddock the Second, in what was known as the 'Dragon Rebellion'. The details of this terrible war are another story, but suffice it to say that when it was finally won, Hooligans have been marking the day of its final victory with a fireworks display. The custom remains, although the reason for it is lost to the annals of time.
Hookfang listens to this story with increasing excitement, knowing that the pretty lights are coming.
He's loved them since he was a hatchling, watching adult Monstrous Nightmares going to flame in the sky above the nest he was germinating in. As a result of this early conditioning, he has always associated fireworks with a cozy feeling of belonging.
When he grew big enough to take to the sky, he discovered a new sense of freedom and empowerment in learning that he could become one of those lights himself, and bring that tremendous feeling to others.
"
 
— Freedom Hookfang in Dragons: Titan Uprising
 
Biography

Click here to view the biography of Hookfang (Franchise).
Physical Appearance
Hookfang is a Monstrous Nightmare. In the movie, he is 61 feet long with a 68-foot wingspan. According to Snotlout Jorgenson, Hookfang weighs around 5,000 pounds but this might be a lie used to impress Heather. Hookfang is a perfect example of a typical Monstrous Nightmare. He has large shiny grayish-black horns that curve slightly outwards on the edge. He has bright reddish-orange scales with darker spots scattered around. His underside is a light tan, and he has yellowish-orange eyes like most other dragons. His color scheme is fairly common in the movie, and Snotlout has even mistaken other Nightmares for him. Hookfang's horns lack extra antlers coming off of them, which does help to distinguish him from other Monstrous Nightmares seen in the film. He seems to be fully grown, and no Nightmares have yet been seen that are notably larger than him, except the Titan Wing Monstrous Nightmare and possible extremely large Monstrous Nightmare that was seen at Helheim's Gate as its size was bigger than Stoick's ships. Also in the TV series and second film, he seems to be the only Monstrous Nightmare who has crests on his neck.
Personality
"

Snotlout: "Hookfang won't even touch it, and I've seen him eat piles of yak dung. I mean piles of fresh-out-of-the —"
Astrid: "Okay, we get it, Snotlout."

"
 
 
Like his rider, Hookfang is somewhat of a bully and highly aggressive. When angered or irritated, Hookfang often flames up his body to express his emotions, as demonstrated in "In Dragons We Trust".
Like most dragons, Hookfang likes Fish- albeit not with too much salt. He is also said to eat yak dung, which he also loves rolling in.
Though Hookfang and Snotlout's relationship may look uncaring and cold at first sight, they had proved to be very close to one another. Though Hookfang often bullies Snotlout by disobeying him or attacking him, he has been seen caring for Snotlout as few examples are when Spitelout scolded Snotlout. Hookfang tried to comfort Snotlout but said Viking wasn't thankful for that. When Hookfang was willing to sacrifice his own life for the cure to his illness for Snotlout's life, or when he saved him from the Whispering Deaths and Speed Stingers. Snotlout once said the last face he wanted to see besides his own face was Hookfang's face, though Hookfang himself didn't seem very thankful for this since he took a snap at his rider and then left him.
He was shown to be upset when he thought the Screaming Death had killed Snotlout, and gave Alvin a lift to Berk for showing his gratitude because the former Outcast Chieftain saved Snotlout's life in "Cast Out, Part 1".
Hookfang and his rider are very in sync when it comes to personality. Both have shown to be proud, reckless, slightly selfish, incredibly stubborn, don't respect authority, and pick fights for the heck of it. Much like Snotlout always teases some of the other teens (mostly Hiccup and Fishlegs), Hookfang is shown to pick up fights with other dragons, such as Toothless, Barf and Belch, Fanghook and Stormfly. The reason for the latter was because both of them were influenced by the Dragon Root in "A Tale of Two Dragons". However, they both always manage to come through when needed.
Both Hookfang and Snotlout have a rivalry with Hiccup and Toothless as seen in "Thawfest". He had been seen to wing flap Meatlug by accident and tail whip her in the second film, without showing any sign that he cared. He disliked Fanghook at first for being a wild dragon but decided to help him in saving Hiccup and Toothless from Dagur the Deranged.
Hookfang loves having his head rubbed, according to Snotlout. He even is shown to be mostly mischievous as he enjoys biting his rider or uses his fire on him to get back on as his amusement that he even teases him during flight by diving at full speed to scare his owner.
Hookfang is quite easily distracted and sometimes unobservant, even when something critical is happening. These cases typically involve his Rider, so there may be a willful component. In "In Dragons We Trust", he doesn't seem to notice his rider falling through the air until the last moment, and expresses genuine surprise. He then crashes into Mildew's House to catch him in time. At the end of the episode, he is distracted by a passing seagull when Snotlout is saying farewell to him. Later in "Portrait of Hiccup as a Buff Man", Snotlout calls to him for assistance, but he is distracted by a leaf fluttering by.
One thing that does set him apart from his rider, however, is their varied sense of propriety. When it comes to doing the right thing, Hookfang tends to display better manners than Snotlout; in fact, he would even reprimand Snotlout for being rude and/or selfish at certain times.
Abilities & Skills
From hard training with Snotlout Jorgenson, some of Hookfang's abilities have become better than those of a regular Monstrous Nightmare, becoming a perfect dragon warrior for Snotlout.
Strength: Hookfang is shown to be a very powerful dragon as he has never shown any signs of struggle when lifting any heavy objects in the air. He has been shown to carry heavy Vikings, such as Gobber the Belch, Stoick the Vast, Alvin the Treacherous and Fishlegs Ingerman. Plus with an axe, on his neck with an extra weight of Snotlout with saddle without any sign of struggle. Fishlegs can even stand on Hookfang's neck with Snotlout sitting on it as well. He has also been able to wrestle with Toothless and been able to throw Toothless away with his mouth. Hookfang has also proven to be very strong to lift the Fireworm Queen without any struggle at all.
Wing Blast: Hookfang's wings are strong enough to blast a full-grown Hideous Zippleback to the ground and blow away Barf's gas, blow Smothering Smokebreath veil of smoke away (with the help of other dragons), or move a pair of trees a very far distance. Hookfang was able to combine this hidden ability and his flamethrower to create a more powerful attack. He has been seen using this in the battle against Dagur the Deranged and used this to save the Screaming Death's mother from harm to set her free from the ropes ("Cast Out, Part 2"). He later used this when stealing Smothering Smokebreath's metal to lure them to the Armorwing ("Snotlout Gets the Axe").
Swimming: Hookfang appears to be a great swimmer. When swimming, he somewhat resembles an alligator, with his tail and body on top of the surface. Hookfang has shown he can swim at a high speed. He probably could have stayed underwater longer, if he wasn't burdened by Snotlout. He used this ability to help the fishers Mulch and Bucket ("How to Start a Dragon Academy").
Speed: Hookfang is a very fast flier as he is shown to able to keep up with Toothless at the Thawfest race, though Hookfang is ultimately not as fast as the Night Fury. Snotlout had stated that Hookfang's speed doesn't match up to Stormfly's speed, and he believes that Astrid's dragon is extremely fast. However, this is because of Stormfly's chicken diet which enables Stormfly to surpass Hookfang in terms of speed. He has shown that he is also relatively fast when running and swimming ("How to Start a Dragon Academy").
Agility: Hookfang has proven several times to be very flexible and agile. He can make turns by spinning in the air in the Thawfest Games ("Thawfest"). He is also agile as he dodges many of the attacks from the Skrill, but Snotlout was hit many times. Hookfang was able to perform dodging maneuvers, hitting Gobber's catapults in the process.
Endurance and Stamina: Hookfang has shown to have amazing stamina and endurance even before being tamed by Hiccup and training hard with Snotlout. In the arena, after he attacked Hiccup, he was attacked by Toothless, and he lost in a brutal, but short fight. ("How to Train Your Dragon") He also recovered fairly quickly several times, such as when he was stun by the Screaming Death's sonic shriek("Tunnel Vision"), slammed by Screaming Death, able to endure Meatlug tackle or fell into Mildew's house from diving full speed ("In Dragons We Trust") to save his rider from harm. He was able to get back up from being thrown by a Titan Monstrous Nightmare, and later defeat it ("Total Nightmare").
Intelligence: Hookfang has proven to be quite intelligent as he could outsmart Snotlout when he was being mistreated. He had figured ways to defeat the Cavern Crasher by destroying large rock pillars to crush the dragon and then combining his firepower with the Fireworm Queen's which had succeeded by drying off the mucus on the Cavern Crasher ("Crash Course"). He has also been shown to understand jokes in Tone Death, though he may have just been doing the same thing as the riders (laughing).
Climbing: Hookfang is often seen climbing rocks or building, showing that he is a skilled climber.
Flame Up: Like all Monstrous Nightmares, Hookfang is coated in some type of flammable gel, which he can then ignite and flames appear all over his body.
Unknown Ability: When Hookfang and Snotlout fought the Cavern Crasher for the second time in "Family Matters", Hookfang performed a special move that managed to help them escape the dragon as told by Snotlout in the final chapter of his book. Due to the move being done off screen, it is unknown what the move was, or how it was done.
Relationships
Main article: Snotlout and Hookfang's Relationship
Hookfang and Snotlout bonded with one another before they went to fight the Red Death. Even though they seem very cold and harsh towards one another, Snotlout often trying too hard to enforce his authority and Hookfang sometimes ignoring Snotlout's commands, they care deeply about one another, as they are both willing to sacrifice their lives for one another. Snotlout risked his life trying to acquire a Firecomb to save Hookfang's life and Hookfang in return was willing to sacrifice the Firecomb when the Fireworm Queen tried to attack Snotlout to get it back. They are very in sync, both being very proud, stubborn, and rude. Despite his loyalty towards Snotlout, Hookfang didn't want to be buried alive with him (although this could also be because he knew Snotlout wasn't going to die). Hookfang was upset and looked devastated when he thought that the Screaming Death had killed him. Snotlout, seeing that Hookfang was always with Girl Hookfang, thought it would be best to release him. Though it was a misunderstanding, Snotlout was willing to give the best for Hookfang, if it made him happy. Hookfang's disobedience may be due to Snotlout's enormous ego and Snotlout not giving him the proper respect.
Snotlout and Hookfang have more of a cowboy-horse relationship. As, unlike Hiccup and Toothless or Fishlegs and Meatlug, etc, Snotlout and Hookfang don't talk and play together, as the other dragon riders do. Hookfang likes to tease Snotlout and laugh when Astrid makes jokes about Jorgensons. Even though they don't show much respect for each other, they are still best of friends and Hookfang protects his trainer.
Hiccup and Hookfang first met in the Arena, where Hiccup was assigned to kill Hookfang, but instead tried to train him, to show the tribe the truth about dragons. Even though it seems to work, Stoick interrupts. Startled, the Nightmare attacks and almost kills Hiccup. However, he was saved by Toothless. Despite this rocky start, Hookfang easily allowed Hiccup to lead him out of his cage without threatening or trying to harm him shortly after he tried to kill the young Viking and Hiccup introduces him to Snotlout, helping them bond. Hookfang even showed concern when Hiccup was seemingly killed by the Red Death. As seen in Gift of the Night Fury during Snoggletog, Hookfang gave Hiccup a lift back to Berk when he was accidentally taken to the dragon nesting ground. In "Cast Out, Part 1", Hookfang is shown to respect Hiccup and didn't hold a grudge when Hiccup decides to lock up Hookfang in his pen after Snotlout broke the rules again and almost got both of them killed.
Astrid first met Hookfang in the Kill Ring, where she tried to save Hiccup from him. Astrid then temporarily switched dragons with Snotlout. Even though she doesn't like it at first, she is quickly impressed by his fire breathing and strength. Astrid even discovered the hidden ability of 'Wing Blast'. She became very fond of Hookfang, to the point where she wanted to feed him breakfast behind Snotlout's back. Astrid also shows anger and concern when Drago Bludvist places his foot on Hookfang.
From the moment he met Toothless, the two have been rivals. Toothless saved Hiccup from Hookfang in the Kill Ring, and later worked together with him to defeat the Red Death. In "Race to Fireworm Island", Toothless defended Hookfang when he though the Fireworm Queen had killed him. In several episodes, such as "Thawfest", they were shown to be rivals. About 5 years later, Hookfang shows his respect to Toothless when Toothless establishes himself as the new Alpha dragon after defeating Drago's Bewilderbeast.
Hookfang and Barf and Belch have shown to be fighting one another in several episodes, for various reasons. Though they do argue pretty often, sometimes they can be found working well as a team.
After the event in the Kill Ring, Gobber was the one leading Hookfang back into his cage. ("How to Train Your Dragon") He was also the one who managed to cure Hookfang's toothache, and he has been seen riding Hookfang temporarily. ("Viking for Hire")
Stoick was the reason Hookfang went on a rampage during the Kill Ring because he startled the Nightmare Stoick briefly rode him before he burned said Viking's rear. Stoick also calmed Hookfang down after he returned to Berk without Snotlout.
Seeing how Spitelout treats Hookfang and Snotlout, it is safe to imply Hookfang has a dislike towards Spitelout. He was shown to comfort Snotlout after Spitelout had made him upset at the Thawfest Games. Later, Spitelout revealed he thought of Dragons as simple weapons, comparing Hookfang to a sword that can be easily replaced. Hookfang had shown to let Spitelout ride on him showing they might be able to have a respectful relationship over the years.
Hookfang is a bit like his rider for teasing Fishlegs. As he has shown to be a bit of bully to her for hitting with his wing for great distance showing no concern to her at all and even grin at her for getting the sheep from her rider using his tail whip on her from the second film. A few years before the second movie, Hookfang had helped her to be trained to become a fiercer and stronger dragon with their owners as well.
Hookfang frightened Fishlegs and Meatlug by using his shadow when he was behind the twins as they were using their shadows to scare them. Also, he was given comfort by Fishlegs when he was on Fireworm Island. ("Race to Fireworm Island") When Hookfang becomes agitated by a storm, Fishlegs tried to command respect as a Dragon Rider. Hookfang eventually allows Fishlegs to ride him and they clumsily fly to the other Riders before crashing to the ground ("Blindsided"). Like the other dragon riders that were captured by Drago Bludvist, Fishlegs was concerned and saddened when witnessing the mad warlord terrorize Hookfang.
Gustav briefly became Hookfang's rider, when Snotlout thought he was going to die and chose Gustav to be his successor. Hookfang even helps out with Gustav to get on his neck when he falls off. However, when Snotlout found out he wasn't going to die, Gustav got kicked out of the Academy, which leads to Gustav meeting and training Fanghook.
One could argue Fanghook's and Hookfang's relationship is a bit like Snotlout's and Gustav's. Hookfang seemed to have certain distrust and disdain for Fanghook, scaring him away once by roaring, most likely for dominance of being larger or having more experience with humans, like most animals do today. But that changed in the skirmish of Dagur the Deranged when the two worked together.
Considering Alvin had been a long-time enemy of Berk, it was only logical Hookfang viewed him as an enemy. However, that changed when he gave the Outcast Chieftain a lift back to Berk, in return for saving Snotlout from the Screaming Death.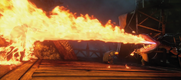 Hookfang was the first of the Hooligan Dragons to meet Drago, and Hookfang instantly attacked him. When that didn't work, Drago attempted to exert his authority over Hookfang, forcing the dragon's head under his foot, but this attempt to exert control failed to keep Hookfang confined when he was freed by Snotlout.
Hookfang answered her distress call; at first, he had to try very hard to get to her cave because Snotlout interfered with him as she was trying her best to make him stay and protect her eggs. Hookfang broke out of his cage when Snotlout locked him in, and he arrived at the cave and was protective over Girl Hookfang as he flung away an electric eel Snotlout gave to her to try to ward her off. Also, Hookfang fought off the Titan Wing Monstrous Nightmare and asserted his dominance over the intruder with Snotlout's help.
Hookfang let her ride on him when Snotlout made Tuffnut truly believed he was becoming into a Lycanwing. The next day, Ruffnut was riding on Hookfang, she was with Snotlout as well making Hookfang fly too fast to stop for perfect landing causing him to land on the ground to get injured. Which made Hookfang dislike her by growling at her.("Bad Moon Rising") Later when Hookfang saves Ruffnut when Tuffnut saves Snotlout, Snotlout was getting along more with Tuffnut and Barf & Belch show their amazing abilities to do together that made Hookfang upset showing to agreed with Ruffnut that they should switch dragons ("Maces and Talons, Part 1"). When Drago Bludvist stomped on Hookfang's snout, Ruffnut was visibly concerned for the dragon.
Hookfang makes Tuffnut ride him so that they can rescue Snotlout when he is being hunted by female Razorwhips in Wingmaiden Island. ("Snotlout's Angels"). Like the rest of the captured dragon riders, Tuffnut was visibly concerned when Hookfang was being stomped on by Drago Bludvist.
| | | |
| --- | --- | --- |
| " | I have to say, Snotlout, your dragon really is the most impressive. [src] | " |
|   | — Heather |   |
Hookfang has been seen to like Heather since she even called Hookfang the most impressive dragon.("Heather Report, Part 1")
Hookfang has shown to have a good bond with the Queen as she saved his life. Hookfang has proven to be the most trustworthy ally for the Queen as he was willing to do everything he can to help to protect the nest of the Fireworms. ("Crash Course")
In the episode "Crash Course", Hookfang demonstrated serious determination to rid the Fireworm Queen's nest of this Cavern Crasher. With the help of the Fireworm Queen and Snotlout, Hookfang defeated it, using his powerful fire to burn out all of his flammable mucus, leaving it defenseless. He even seems to have developed a grudge against it in "Family Matters" despite its previous defeat, and both he and Snotlout personally lured the Firecomb Crasher away from the Singetail eggs after he burrowed a new exit.
Game Statistics
Standard Hookfang
Statistics in

Freedom Hookfang
Statistics in

Appearances
Trivia
Hookfang's name was first revealed in Gift of the Night Fury.
Hookfang has a habit of letting his tongue dangling from his mouth.
While disobedient to Snotlout, Hookfang is more gentle to the other Vikings like Hiccup and Stoick. He will even listen to Fishlegs' commands in "The Iron Gronckle".
Like Snotlout and Hiccup, Hookfang has a downplayed and implied rivalry with Toothless.
Hookfang does not have tines on his horns like other Nightmares.
Hookfang may also have adopted Snotlout's dislike of authority.
The way Snotlout rides Hookfang is similar to riding a chopper motorcycle.
According to the comics, Hookfang's favorite food is live rats.
Hookfang was possibly the first Monstrous Nightmare to ever survive the Kill Ring.

Monstrous Nightmares were used in the Kill Ring for Vikings to fight against as their final test of dragon-killing, and signified passage into adulthood.

Hookfang was the first of the dragons to have an unofficial replacement trainer as seen in "The Flight Stuff".
Hookfang is the second dragon to touch eels, to protect Girl Hookfang in "Total Nightmare". The first being Toothless in "The Eel Effect"
As stated by Snotlout in "Defenders of the Wing, Part 2", Hookfang doesn't like flowers.
In the books, Hookfang is one of Stoick's two hunting dragons.
Richard Hamilton has said that Hookfang is a hot-headed teenager.
References
Dragon Characters of

Deathgripper: Defender Deathgripper • Dreadgripper • Executie • Fenrir's Eviscereaper • Glaivedriver • Grim Hornettle • Grimmel's Deathgrippers • Maelstrom • Marshland Deathgripper • Miasmic Deathgripper • Sappheral • Slaughterdijk


Light Fury: Light Fury
Night Fury: Toothless
Skrill: Brute Skrill • Defender Skrill • Dread Skrill • Dynamojo • Frozen Skrill • Fryrir • Helpful Skrill • Hide-Fryer • Hunterbolt • Icebane • Invading Skrill • Joltalon • Marshland Skrill • Revenger • Shadow Skrill • Shrill Boltbeak • Skitterbugs • Sleigher • Spark Guard • Sparkheart • Thunder's Nemesis • Viggo's Skrill
Snow Wraith: Coldreign • Firntom • Frostfang • Frostfright's Big Bro • Frostfright's Lil Sis • Furtive Fleetsleet • Glazier • Gothi's Frostfright • Injured Snow Wraith • Skrill Chiller • Wild Wraith • Wood Wraith
Triple Stryke: Champion Triple Stryke • Common Triple Stryke • Deathstalker • Eclipser • Emperor Pandinus • Ketillkott • Marooned Manstinger • Nikora's Triple Stryke • Rosethorn • Slender Green Triple Stryke • Sleuther • Starstreak • Stone Mother • Syringaca • Thorntail • Triple Strype
Woolly Howl: Defender Woolly Howl • Frostfire • Fuzzbucket • Fuzzrir • Infected Woolly Howls • Wise Wind • Woodwind

Fireworm: Brightburn • Defender Fireworm • Enhanced Fireworm Queen • Ghostglow • Fearsome Flamellion • Flashfright • Homunculosa • Plain Fireworm Queen • Royal Fireworm • Snotlout's Fireworm Queen • Solar Flare • Verdigriff


Flame Whipper: Baby Flame Whipper • Kindlegarter
Gobsucker: Dijester • Gobstinker • Muddlehunt • Sparklestank • Sulfurous Snifflepharts
Green Death: Crimson Death • Red Death • Violet Death
Hobblegrunt: Borealis • Defender Hobblegrunt • Gruff • Primal Hobblegrunt • Staggrynte
Hobgobbler: Daffodelilah • Dreadgobbler • Droog • Rescued Hobgobbler • Smitten Hobgobbler
Large Shadow Wing: Alpha Shadow • Dawnstar • Grim Gamper • Marooned Greezer • Smog-bomber • Snogglewing • Splashboomer
Moldruffle: Exotic Moldruffle • Greenkeep • Dirt-Hurler • Jewelbilant • Rhinestorm • Turfraider
Monstrous Nightmare: Astrid's Monstrous Nightmare • Blazewing • Blazing Phoenixfire • Brisket, Saddle, Chuck, Rump, Loin, Scrag, Cutlet, Ham Hock, Sausages, Offal, Knuckle, and Pot Roast • Burlystorm • Cagecruncher • Cawmour • Charsoul • Defender Monstrous Nightmare • Dread Nightmare • Exiled Monstrous Nightmare • Fanghook • Fangmaster • Firescrapes • Flick • Girl Hookfang • Hookblazefang • Hookfang • Hookfang's Mate • Hookfang's Nemesis • Hookfang's Offspring • Hookfire • Liberated Whip-Wreck • Merciful Nightmare • Mountain Nightmare • Munchauser • Nidhogg • Stormfly's Adopted Monstrous Nightmare • Sven's Nightmare • Valka's Mercy • Viggo's Savior • Whip-Slash
Night Terror: Brood-blossom • Darkvarg • Hallucinerator • Hotshot • Nightwatch • Peggy • Sacred Terror • Seedling Night Terror • Smidvarg • Tarred Night Terror
Red Death: Red Death
Singetail: Ambered Singetail • Captured Singetail • Deathlout • Flamelout • Forest Singetail • Grovelout • Heatlout • Hotbelly Singetail • Hotlout • Infernier • Krogan's Singetail • Mother Singetail • Scorch • Sear • Stoick • Winterwick
Small Shadow Wing: Baited Breath • Obskewer • Prismarch • Spring's Shadow • Shimmerwing
Terrible Terror: Butt and Head • Defender Terrible Terror • Exiled Undersnuff • Gothi's Pet • Iggy • Infected Terrible Terror • Kick-off Terrors • Leopold • Nibbles • Pain • Sharpshot • Smudgeon • Sneaky • Sprite • Stormfly's Adopted Terrible Terror • Valka's Hatchling Terrors
Threadtail: Almondine • Duskgust • Foliander • Mildew's Strain • Sunsoak
Typhoomerang: Defender Typhoomerang • Forest Typhoomerang • Helpful Typhoomerang • Marooned Flambo • Primal Broadguard • Pyre-Flier • Radiant Skyglow • Shroudburst • Skyfire • Tense Typhoomerang • That • Torch • Torch's Mother • Torch's Siblings • Trap-phoomerang • Viggo's Typhoomerangs

Bewilderbeast: Berserker Bewilderbeast • Drago's Bewilderbeast • Vanaheim Bewilderbeast • Valka's Bewilderbeast


Luminous Krayfin: Lumie
Mist Twister: Wu and Wei
Ripwrecker: Bargemine • Derelicker • Exotic Ripwrecker • Gloomlurker • Rogue Submaripper • Seashine • Sinker-Claws
Sand Wraith: Claytrapper • Helpful Sand Wraith • Seedling Sand Wraith • Veiled Spectruf
Scauldron: Bonecrusher's Conquest • Breampunk • Bumble • Captured Scauldron • Defender Scauldron • Exotic Scauldron • Grim Sizzle • Mea • Mildew's Misery • Scauldy • Snorre's Scauldrons • Steam-spewer • Thunderfish
Seashocker: Bolt & Float • Covecharger • Defender Seashocker • Nikora's Seashocker • Rane & Shyne • Soaky and Wetty • Valka's Seashockers • Viggo's Seashockers • Wavewight • Whet and Wylde
Shellfire: Viggo's Shellfire
Shockjaw: Boltbite • Deepfreeze • Defender Shockjaw • Exotic Shockjaw • Snappy-Zappy-Sand-Zapper • Snazzolt
Sliquifier: Defender Sliquifier • Exotic Sliquifier • Grazefall • Marooned Seaslick • Splashspout • Surflurker • Toxispray
Submaripper: Belchfast • Deepkeeper • Mariner's Myth • Mopey-Slick • Nauticalamity • Primal Aquabeast • Shipsbane
Thunderdrum: Bam • Bing • Bludcrest • Boom • Champerone • Defender Thunderdrum • Earsplitter • Eret's Thunderdrum • Lil Lullaby • Reef Thunderdrum • Shifty Murklurker • Stormfly's Adopted Thunderdrum • Tectonic Thunderdrum • Thornado • Thunderdolt • Warcry • Waveshaker • Whirlwing • Wingburst
Tide Glider: Defender Tide Glider • Exotic Tide Glider • Grim Slipsmolder • Lake Skater • Mistmenace • Shoalrake
Windwalker: Galeguard • Mistroll • Seasail • Skykarver

Catastrophic Quaken: Aurum • Blawberry • Captured Quaken • Champion Catastrophic Quaken • Cryoconitemare • Enslaved Quakens • Four-Man • Glaciated Quaken • Ice-Tongue Quaken • Lethiferous Cromlech • Liberated Trolboulder • Melonquarry • Meltwater Kryal • Tormentor • Trained Catastrophic Quaken • Spikeback


Crimson Goregutter: Bulwark • Dread Goregutter • Eir's Crimson Goregutter • Grainfield Goregutter • Gruff Goregutter • Magnanimous Martyrium • Rescued Crimson Goregutter • Wapititan
Eruptodon: Coaldron • Defender Eruptodon • Great Protector • Helpful Eruptodon • Kilnkin • Magmadon • Magmic Eruptodon • New Protector • Strokkur • Tectonic Thorium • Volcanic Eruptodon • Volcanic Vethorm
Grapple Grounder: Defender Grapple Grounder • Exotic Grapple Grounder • Fierce Piercer • Floeshot • Foul Howler • Lurchador • Sour Grapple
Groncicle: Defender Groncicle • Primal Bewilderbreath • Rubeus • Sweetcicle • Wyrmafrost
Gronckle: Book Wyrm • Cheesemonger • Crubble • Defender Gronckle • Diamondgnaw • Dread Gronckle • Exiled Gronckle • Fighter Gronckle • Fishmeat • Gary • Gothi's Gronckle • Grove Gronckle • Injured Gronckle • Junior Tuffnut • Junior Tuffnut Junior • Meatlug • Meatlug's Cousin • Meatlug's Mate • Meatlug's Offspring • Molten Magmannette • Obsurdian • Phlegma's Gronckle • Rockwit • Rubblegrubber • Shattermaster • Slug • Snoggletog Dragon Tactics Gronckles • Stormfly's Adopted Gronckles • Thaw Fleet • Tuffnut Junior • Yawnckle
Hotburple: Basket Case • Beachcomber • Bedrock Terror • Blistering Belcher • Bush-Wacker • Chartooth • Defender Hotburple • Eir's Titan Wing Hotburple • Emberock • Floe Hotburple • Grump • Hearty Hotburple • Ill Hotburple • Varmtrykke
Screaming Death: Screaming Death • Trained Screaming Death
Sentinel: Bizarregoyle • Brute Timbertoast • Cinder • Defender Sentinel • Dreadel • Elder Sentinel • Halcyard • Mossguard • Silent Knight
Shovelhelm: Clawlifter • Damsail • Exotic Shovelhelm • Fiend Trowel • Gnawhelm • Guslout • Sky Piercer
Snafflefang: Brute-Wurst • Carnastial • Defender Snafflefang • Eggfang • Fendmender • Frosty Sparguard • Irontooth • Lump • Primal Snafflefang • Slough Snafflefang • Spitelout's Snafflefang • Stocky Snafflefang • Yakstacker
Thunderpede: Boulderbrute • Colorcrunch • Defender Thunderpede • Exotic Thunderpede • Furnace • Goliam • Sleet-Beater • Stonewall
Whispering Death: Bombwelter • Brisk Whisper • Death Ride • Defender Whispering Death • Exotic Whispering Death • Gravedigger • Gritty Sawmaw • Groundsplitter • Guarded Whisper • Helpful Whispering Deaths • Hiccup's Baby Whispering Death • Mawdrill • Screaming Death's Siblings • Sky-Pirate • Toothless' Nemesis • Trailtwister • Trained Glowing Whispering Death • Trained Titan Wing Whispering Death • Viperswish • Wrylite

Egg Biter: Chompers • Coppertop • Egg Blossom • Exotic Egg Biter • Nipper


Grim Gnasher: Dawnbite • Doom Bloomer • Emberquencher • Gnasteeze • Toadlich
Hackatoo: Cloudcarver • Defender Hackatoo • Exotic Hackatoo • Hackagift
Raincutter: Defender Raincutter • Dewdrop • Icecutter • Puddlemuck • Squall-caller • Thump
Razorwhip: Crimson Slash • Exotic Razorwhip • Fighter Razorwhip • Hailfate • Jade-Blade • Lashbane • Plated Razorwhip • Quarry Razorwhip • Sawtooth • Searing Seethsizzle • Slash-Dasher • Windshear • Wingnut
Scuttleclaw: Budbite • Defender Scuttleclaw • Gressjester • Helpful Scuttleclaw • Meatlug's Cheerleader • Muckruck • Scuttleclaw Hatchlings • Slushclaws
Shivertooth: Distemplar • Exotic Shivertooth • Flutterfang • Helpful Shivertooth • Sweet-Tooth
Speed Stinger: Corroderunner • Exotic Speed Stinger • Fighter Speed Stinger • Icebreaker • Lead Stinger • Liberated Floutscout • Mala's Speed Stingers • Seedling Speed Stinger • Speedy • Sweet-Sting
Stormcutter: Brute Stormcutter • Cloudjumper • Defender Stormcutter • Dimflight • Eir's Titan Wing Stormcutter • Exiled Stormcutter • Glitter Bomber • Gloomleer • Hurribane • Injured Stormcutter • Liberated Duskcutter • Marinecutter • Reignstorm • Serene Stormcutter • Tempestuous Scalestrom • Tripfire • Wingwary • Wonderclap • Woodland Stormcutter
Thornridge: Gloomshadow • Primal Thornridge • Sparknettle • Thornshade • Warywing
Timberjack: Axewing • Axewing the Second • Brute Timberjack • Dammen's Timberjack • Defender Timberjack • Driftcleaver • Freeweald • Lithe Loggerjammer • Lonewood • Seedling Saplinger • Soaring Sidekick • Stokehead • Stoneslice • Taxi • Tricky Timberjack • Wetland Timberjack
Windstriker: Boiling Billows • Chinooker • Defender Windstriker • Galesplitter • Grim Whirlwaft • Retired Windstriker • Snaggletooth • Winged Warden

Armorwing: Bandit • Battlewhip • Coldsnap • Fool's-Gold • Goldrush • Gresskarmor • Irongaze • Knocks • Liberated Haulmauler • Twist-Trapper


Boneknapper: Antiquarian Accumulator • Bludgeon Knapper • Bog-Blight • Boneknapper Family • Boneshedder • Brute Boneknapper • Cryptic Collector • Dammen's Boneknapper • Defender Boneknapper • Ghaslit • Gobber's Nemesis • Grave Knapper • Purlossein • Skullcrown • Tomb Thief • Trained Glowing Boneknapper
Buffalord: Auroch King • Beezelord • Big Buff • Big Snuff • Bisonarch • Boarcharger • Brute Buffalord • Exotic Buffalord • Frostgnaw • Hearty Buffalord • Maeve's Buffalord • Mosster • Mudgut • Pufferfinch • Thicket Buffalord
Cavern Crasher: Exotic Cavern Crasher • Firecomb Crasher • Grotto Gutter • Schmoozer • Slimeball • Slimeslinger
Changewing: Baby Changewing • Captured Changewing • Chimerical Chamomeleon • Defender Changewing • Edgewing • Hidera • Incognito • Morphaileron • Phantom • Snuffnut • Springwing • Stalker Changewing • Tuaterror • Tuffwing • Underwood Changewing
Chimeragon: Patch
Death Song: Dropplesounder • Exotic Death Song • Garffiljorg • Garff's Adoptive Father • Hare Raiser • Jestbelter • Sirenade
Dramillion: Bonnefire • Elder Dramillion • Fishlegs' Dramillion • Hurleqast • Marooned Mimiric • Myrkva the Immoral • Nattvig • Standard Dramillion • Titan Wing Dramillion
Featherhide: Feathers
Flightmare: Defender Flightmare • Exotic Flightmare • Flaredawn • Hofferson's Bane • Injured Flightmare • Skystreaker • Trancemare • Viggo's Flightmare
Foreverwing: Guardian of the Forest
Hideous Zippleback: Barf and Belch • Defender Hideous Zippleback • Dread Zippleback • Barf and Belch's Mate • Barf and Belch's Offspring • Exiled Hideous Zippleback • Fart & Sniff • Gobble & Grinder • Hamfeist • Heel & Brak • Kandy & Kane • Muck and Tumble • Silverslash • Snort and Sniff • Snothead • Sparkle & Sparks • Sparks and Spew • Titan Wing Zippleback • Tricky Two-Heads • Valley Zippleback • Whip and Lash • Zesty Zippleback
Hobgobbler: Daffodelilah • Dreadgobbler • Droog • Rescued Hobgobbler • Smitten Hobgobbler
Prickleboggle: Helpful Prickleboggle • Krustler • Seedling Prickleboggle • Skypiercer • Thornforce
Sandbuster: Frostbiter • Marooned Mukchucker • Quicksand • Sawduster • Siltsmacker • Snowball • Wild Sandbuster
Silkspanner: Bayana's Silkspanners • Marooned Deathstrand
Slithersong: Bloomsang • Dazzlesing • Necronomodon
Slitherwing: Defender Slitherwing • Harmhug • Slinkling • Sweet-Stripe • Toksin
Smothering Smokebreath: Apneatic Archechoke • Defender Smothering Smokebreath • Dustbrawler • Exotic Smothering Smokebreath • Flutter-Fog • Gritpicker • Helpful Smokebreath • Rattling Smokebreath • Smogger
Snaptrapper: Brute Snaptrapper • Death & Chocolates • Death Race Snaptrapper • Defender Snaptrapper • Grand Maw • Helpful Snaptrapper • Outsnapper • Snappy •Stormfly's Adopted Snaptrapper
Sweet Death: Defender Sweet Death • Exotic Sweet Death • Helpful Sweet Death • Masked Sweet Death • Seedling Sweet Death • Sqyrm • Sweet Heart
Sword Stealer: Broken Blade • Chillblade • Defender Sword Stealer • Exotic Sword Stealer • Forgefeist • Gleamer • Scimiterror • Verdigard

Deadly Nadder: Ambered Nadder • Baby Nadder • Bork Week Nadders • Brush Nadder • Defender Deadly Nadder • Dread Nadder • Edge Nadder • Fireshrike • Flystorm • Hardychomper • Infected Deadly Nadders • Kingstail • Lethal Lancebeak • Nimble Nadder • Pincher • Scardian • Seedling Stormpest • Sick Deadly Nadder • Skyblade • Springshedder • Steelspike • Steeltrap • Stormfly • Stormfly's Adopted Deadly Nadder • Stormfly's Mate • Stormfly's Offspring • Vaynglory


Gembreaker: Plowhorn
Mudraker: Muddie
Rumblehorn: Arctic Rumblehorn • Defender Rumblehorn • Drago's Rumblehorn • Flank-Tanker • Grimtorn • Grunt Hunter • Krogan's Rumblehorn • Poise the Vast • Rhineblow • Robust Rumblehorn • Rumblehorn Hatchlings • Seedling Rumblehorn • Skullcrusher • Snowcap • Son of Skullcrusher • Valiant Scarbearer
Snifflehunch: Pestbud • Primal Snifflehunch • Runter • Scentinel • Seedling Snifflehunch • Snifflestone • Winkling
Submaripper: Belchfast • Deepkeeper • Mariner's Myth • Mopey-Slick • Primal Aquabeast • Shipsbane
Thunderclaw: Aurvandil • Bonesnarl • Defender Thunderclaw • Gyllentalon • Liberated Hardcast • Polar Thunderclaw • Rumpus • Sailback • Sturmundrang • Tundra Thunderclaw • Valiant Vingthor
Windgnasher: Arcane Kulingbiter • Auroara • Champion Windgnasher • Chinuke • Defender Windgnasher • Galegrinder • Gnarley • Gustnudger • Ironhide • Vindjakker • Woodland Windgnasher

Bubblehorn: Nibbles