Wiki Targeted (Entertainment)
Play Sound
Hiccup, The Viking who was Seasick is a picture book which introduces Hiccup for the first time. It was later published in the United States in 2014 under the title How to Be a Viking, by Little, Brown and Company.
Background
Hiccup, The Viking who was Seasick (also titled Hiccup the Seasick Viking in 2000) is a large book designed for small children. This is Cressida Cowell's first story of any kind relating to the How to Train Your Dragon Book series, and is about the relationship between father and son. There are no dragons, Berk and the Hairy Hooligan Tribe are not named, and there are no villains. Many years later the author would develop the characters of Hiccup and Stoick further into her 12-Book series, geared toward middle-aged and young teen children. In a few more years, DreamWorks Animation would create the colossal DreamWorks Dragons Franchise based off of and inspired by these Books.
Summary
| | | |
| --- | --- | --- |
| " | Vikings are brave. But Hiccup isn't like other Vikings. He's afraid of everything ... including the sea. When Hiccup heads off for his very first ocean voyage, his seasickness is the least of his worries! The Vikings are lost in a terrible storm, and it's up to Hiccup to help them find their way home again. | " |
|   | — How to Be a Viking jacket description |   |
Plot
Hiccup is a small child and is afraid of many things, including sailing. He tells his father, Stoick the Vast, that he is afraid to go to sea. Stoick replies that Vikings aren't scared and sings the Viking Song. Hiccup then talks to Old Wrinkly. He advises Hiccup to find out if Vikings really don't get scared and to try and see that the sea is a dangerous place, but can be wonderful.
Hiccup then goes on a sea voyage with Stoick and other Vikings and gets seasick. Stoick only replies that Vikings don't get seasick. Meanwhile, the sea becomes very stormy and the ship gets tossed around and far off course. The other Vikings, including Stoick, also get seasick and lost. Upon seeing that Vikings can get sick and scared, Hiccup starts to feel better and navigates the ship back home, past many marvelous creatures of the sea. Stoick and Hiccup greet Old Wrinkly on the shore and all realize that yes, Vikings sometimes get scared, but they deal with it, which is what Bravery is.
Characters
Gallery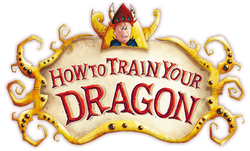 Book List
Hiccup: The Viking Who Was Seasick is also available in other languages.
Do visit these pages if you prefer reading content from the respective languages:
• Polski