| | | |
| --- | --- | --- |
| " | It saved us. And it risked its own life doing it. If we do this, we're no better than the Dragon Hunters. We're just using a different cage. And he doesn't deserve that. [src] | " |
|   | — Hiccup deciding to free the Skrill |   |
The Frozen Skrill is a male Skrill who first appeared in "A View to a Skrill, Part 1".
Official Description
Biography
During the events of "A View to a Skrill, Parts 1 and 2", The Skrill was found and honored by the Berserkers. The Dragon Riders soon learned about its whereabouts from Mulch and Bucket, and took it back to Berk, so that they can learn about it.
The twins and Snotlout then blew the Skrill out off the ice, despite being warned to leave it be by Hiccup.
The Skrill escaped, easily knocking aside Stormfly, and the Dragon Riders tried to stop it before Dagur the Deranged finds it to use against Berk.
The Skrill disappeared quickly after it was free, but the riders found out that it just went to Silent Sven's farm and attacked his sheep, before being shooed away. After several twists and turns, the Skrill's lightning attack was countered by Toothless' plasma blast, creating a giant electric explosion, sending Barf and Belch, Toothless, their riders, and the Skrill itself flying away.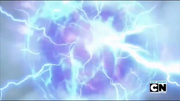 The Skrill, however, fell into the water and was found by Alvin the Treacherous. The twins, who crash-landed near the scene, decided to follow Alvin. The Skrill was taken to Outcast island, where the Berserker and Outcast tribes had allied together. The deal is Alvin will give Dagur the Skrill, and Dagur will have to help Alvin destroy Berk. However, both sides are secretly double-crossing the other tribe to get the Skrill.
When being investigated by Hiccup, they find the Skrill is gone. However, when Dagur and Alvin were arguing about who gets the Skrill, it is revealed that Dagur double crosses Alvin and takes the Skrill on his ship, behind his sail, tied with two ropes. In rage, Alvin jumped onto the Berserker ship and fought with Dagur. When Dagur is nearly defeated, he unleashes the Skrill. Now with the tables turned, Alvin starts to dodge the Skrill's lightning. In desperation, Alvin jumped into the water, and Dagur used the Skrill to shoot lighting at the water, seeming to 'kill' Alvin once and for all, leaving Dagur now in full control of the Skrill, and both tribes.
Dagur then used the Skrill to battle Hiccup and Toothless. The Skrill takes hits from Toothless' plasma blasts, yet they tricked Dagur into stepping in a puddle, electrocuting him. The Skrill, which is still in a wild state, escaps and brgins to chase Hiccup and his dragon. They enter an iceberg and a chase is started, with the Skrill's speed and stealth being nearly as good as Toothless'. But the Skrill loses sight of Hiccup and Toothless at one point but then sees their reflections on an ice wall. It charges at the ice wall, knocking itself out. The Skrill is later refrozen by the twins and Barf and Belch.
In "A Time to Skrill", after three years of being frozen, the glacier began to thaw and is struck by lightning, releasing the Skrill. After being freed, the Skrill begins to search for Hiccup and Toothless, as they were the ones that trapped him. He first went to Outcast Island, sending all the Vikings off the island. It then headed to Berk, where it was confronted by Berk's backup riders. The Skrill was able to blast them all until the other riders showed up. Toothless immediately shot at the Skrill and the two blasts caused an explosion. The Skrill retreated afterward.
It soon ran into Hiccup and Toothless again as they tried to lure the dragon back to the glacier to freeze him again. However, the Skrill did not fall for it and tried to seal Hiccup and Toothless in. Fortunately, they broke out, and the three headed to the Ship Graveyard. The Skrill tried to draw them out, but one of its blasts burned Toothless' tail, forcing Hiccup to use the sail from the Reaper. In a desperate attempt, Hiccup led the Skrill to the Dragon Hunters, hoping they would immobilize it long enough for him to grab it. This backfired, and the Skrill fell into the hands of Dagur, Ryker and the hunters.
The Dragon Riders tracked the hunters to an island to free the Skrill. They were soon caught in an ambush. Hiccup came up with a crazy idea to free the Skrill, hoping that by helping him, he would attack the hunters. Toothless knocked over the cage, releasing the Skrill. Ryker Grimborn tried to knock out him out with the Dragon Root arrows, but Hiccup and Toothless shielded the Skrill, with the latter taking the arrow. The Skrill fired only at the Dragon Hunters, chasing them off. Spitelout, who joined the riders since he was struck by the Skrill, then shot an arrow at the dragon for payback.
The Dragon Riders took the Skrill back to the glacier to freeze him again, but Hiccup decided not to. He released the Skrill from the net, and after a pause, he bowed to Hiccup and Toothless, letting go of his revenge. He then flew off, now having freedom for the first time in many years.
Physical Appearance
The Frozen Skrill is dark blue with purple highlights and a pale grey underbelly.
Abilities
The Skrill is an extremely difficult opponent for any creature, Viking or Dragon.
Internal Body Temperature: Skrills can stay alive in extremely difficult situations, such as being frozen due to their intense internal body temperature.
Electrokinesis: While most Dragons use fire as their ranged attacks, the Skrill is one of the few dragons to use electricity instead. He absorbs lightning from the clouds, hence the reason they are often seen during thunderstorms, and can redirect it from his mouth. He can recharge his lightning and store it in his body for use at a later of time.
Speed and Agility: The Skrill, being in the Strike class, is an incredibly fast flier he was seen to be able to keep up with Toothless whenever he chased them while in normal flight. The Skrills have the distinct ability to ride lightning to reach supersonic speeds, while he did this it was seen to travel far faster than any dragon seen before. They are also extremely agile, allowing them to make fast and sharp turns.
Stealth: The Skrill is shown to be not only a fast and agile flier but also quite a stealthy one. He managed to sneak behind the riders by hiding in the clouds.
Stamina and Endurance: The Skrill has shown to have amazing stamina. Even after he had just awoken from its slumber, he could already operate quite well, and not be feeling tired after flying long distances without stopping.
Strength: Despite its size, the Skrill has demonstrated to be a very powerful Dragon, as he was shown to defeat Stormfly with just one effortless slap of its wings.
Intelligence: As a Strike Class dragon, the Skrill is extremely smart. He was able to tell when Hiccup was trying to trap him once again but instead caused his plan to backfire, trapping them instead. He was able to remember his old encounters of Outcast Island and Berk to destroy for revenge as he made a sign on Stoick House. 
Relationships
After being thawed the first time, The Skrill faced off against Hiccup and Toothless several times. Due to them leading him into the glacier, the Skrill developed a grudge against the duo. Once freed, he tried to hunt them down for revenge. When Hiccup and Toothless saved him from the Dragon Hunters and decided to let him go instead of freezing him again, the Skrill forgave them and possibly gained respect for them.
Dagur has a full belief that the Skrill belonged to him. He used the dragon as a "puppet" to fire at his targets. The Skrill fell into Dagur's hands again, but he didn't get a chance to harness him up again. The Skrill clearly detested Dagur for capturing him twice, as he fired at him when he was freed.
Appearances
Trivia
He is called "Dagur's Skrill" in Dragons: Rise of Berk.
This is the first Skrill the Dragon Riders have ever encountered, with the second being Viggo's Skrill.

However, it's possible that the Frozen Skrill and Viggo's Skrill are one and the same.

In Dragons: Race to the Edge, the Skrill's coloring is slightly different from his first appearance.
References
Notes and References
Dragon Characters of

Deathgripper: Dreadgripper • Fenrir's Eviscereaper • Glaivedriver • Grim Hornettle • Grimmel's Deathgrippers • Marshland Deathgripper • Miasmic Deathgripper • Sappheral • Slaughterdijk


Light Fury: Light Fury
Night Fury: Toothless
Skrill: Brute Skrill • Defender Skrill • Dynamojo • Frozen Skrill • Fryrir • Helpful Skrill • Hide-Fryer • Hunterbolt • Icebane • Invading Skrill • Joltalon • Marshland Skrill • Revenger • Shadow Skrill • Shrill Boltbeak • Sleigher • Spark Guard • Sparkheart • Viggo's Skrill
Snow Wraith: Coldreign • Frostfang • Frostfright's Big Bro • Frostfright's Lil Sis • Furtive Fleetsleet • Glazier • Gothi's Frostfright • Injured Snow Wraith • Skrill Chiller • Wild Wraith • Wood Wraith
Triple Stryke: Champion Triple Stryke • Eclipser • Ketillkott • Marooned Manstinger • Nikora's Triple Stryke • Rosethorn • Sleuther • Starstreak • Syringaca • Thorntail • Triple Strype
Woolly Howl: Defender Woolly Howl • Frostfire • Fuzzbucket • Infected Woolly Howls • Wise Wind • Woodwind

Fireworm: Defender Fireworm • Enhanced Fireworm Queen • Ghostglow • Fearsome Flamellion • Flashfright • Homunculosa • Plain Fireworm Queen • Royal Fireworm • Snotlout's Fireworm Queen • Solar Flare • Verdigriff


Flame Whipper: Baby Flame Whipper
Gobsucker: Dijester • Gobstinker • Muddlehunt • Sparklestank
Green Death: Crimson Death • Red Death • Violet Death
Hobblegrunt: Borealis • Defender Hobblegrunt • Gruff • Primal Hobblegrunt
Hobgobbler: Dreadgobbler • Droog • Rescued Hobgobbler • Smitten Hobgobbler
Large Shadow Wing: Dawnstar • Grim Gamper • Marooned Greezer • Smog-bomber • Snogglewing
Moldruffle: Exotic Moldruffle • Greenkeep • Dirt-Hurler • Jewelbilant • Rhinestorm • Turfraider
Monstrous Nightmare: Astrid's Monstrous Nightmare • Blazewing • Blazing Phoenixfire • Brisket, Saddle, Chuck, Rump, Loin, Scrag, Cutlet, Ham Hock, Sausages, Offal, Knuckle, and Pot Roast • Burlystorm • Cagecruncher • Cawmour • Charsoul • Defender Monstrous Nightmare • Dread Nightmare • Exiled Monstrous Nightmare • Fanghook • Fangmaster • Firescrapes • Flick • Girl Hookfang • Hookblazefang • Hookfang • Hookfang's Mate • Hookfang's Nemesis • Hookfang's Offspring • Hookfire • Liberated Whip-Wreck • Merciful Nightmare • Mountain Nightmare • Nidhogg • Stormfly's Adopted Monstrous Nightmare • Sven's Nightmare • Valka's Mercy • Viggo's Savior • Whip-Slash
Night Terror: Brood-blossom • Darkvarg • Hotshot • Nightwatch • Peggy • Sacred Terror • Seedling Night Terror • Smidvarg • Tarred Night Terror
Red Death: Red Death
Singetail: Ambered Singetail • Captured Singetail • Deathlout • Flamelout • Forest Singetail • Heatlout • Hotbelly Singetail • Hotlout • Infernier • Krogan's Singetail • Mother Singetail • Scorch • Sear • Stoick • Winterwick
Small Shadow Wing: Baited Breath • Obskewer • Spring's Shadow • Shimmerwing
Terrible Terror: Butt and Head • Defender Terrible Terror • Gothi's Pet • Iggy • Kick-off Terrors • Leopold • Nibbles • Pain • Sharpshot • Smudgeon • Sneaky • Stormfly's Adopted Terrible Terror • Valka's Hatchling Terrors
Threadtail: Almondine • Duskgust • Foliander • Mildew's Strain • Sunsoak
Typhoomerang: Defender Typhoomerang • Forest Typhoomerang • Helpful Typhoomerang • Primal Broadguard • Pyre-Flier • Radiant Skyglow • Skyfire • Tense Typhoomerang • That • Torch • Torch's Mother • Torch's Siblings • Trap-phoomerang • Viggo's Typhoomerangs

Bewilderbeast: Berserker Bewilderbeast • Drago's Bewilderbeast • Valka's Bewilderbeast


Luminous Krayfin: Lumie
Ripwrecker: Bargemine • Exotic Ripwrecker • Gloomlurker • Rogue Submaripper • Seashine • Sinker-Claws
Sand Wraith: Claytrapper • Helpful Sand Wraith • Seedling Sand Wraith
Scauldron: Bonecrusher's Conquest • Breampunk • Bumble • Captured Scauldron • Defender Scauldron • Exotic Scauldron • Grim Sizzle • Mea • Mildew's Misery • Scauldy • Snorre's Scauldrons • Steam-spewer • Thunderfish
Seashocker: Bolt & Float • Covecharger • Defender Seashocker • Nikora's Seashocker • Rane & Shyne • Soaky and Wetty • Valka's Seashockers • Viggo's Seashockers • Wavewight
Shellfire: Viggo's Shellfire
Shockjaw: Boltbite • Deepfreeze • Defender Shockjaw • Exotic Shockjaw • Snappy-Zappy-Sand-Zapper • Snazzolt
Sliquifier: Defender Sliquifier • Exotic Sliquifier • Grazefall • Marooned Seaslick • Splashspout • Surflurker
Submaripper: Belchfast • Deepkeeper • Mariner's Myth • Mopey-Slick • Primal Aquabeast • Shipsbane
Thunderdrum: Bam • Bing • Bludcrest • Boom • Champerone • Defender Thunderdrum • Earsplitter • Eret's Thunderdrum • Lil Lullaby • Reef Thunderdrum • Shifty Murklurker • Stormfly's Adopted Thunderdrum • Tectonic Thunderdrum • Thornado • Warcry • Waveshaker • Whirlwing • Wingburst
Tide Glider: Defender Tide Glider • Exotic Tide Glider • Grim Slipsmolder • Lake Skater • Mistmenace
Windwalker: Galeguard • Seasail • Skykarver

Catastrophic Quaken: Aurum • Blawberry • Captured Quaken • Champion Catastrophic Quaken • Enslaved Quakens • Four-Man • Liberated Trolboulder • Melonquarry • Tormentor • Trained Catastrophic Quaken • Spikeback


Crimson Goregutter: Bulwark • Dread Goregutter • Eir's Crimson Goregutter • Grainfield Goregutter • Gruff Goregutter • Magnanimous Martyrium • Rescued Crimson Goregutter • Wapititan
Eruptodon: Coaldron • Great Protector • Helpful Eruptodon • Kilnkin • Magmadon • New Protector • Strokkur
Grapple Grounder: Defender Grapple Grounder • Exotic Grapple Grounder • Fierce Piercer • Floeshot • Lurchador • Sour Grapple
Groncicle: Defender Groncicle • Primal Bewilderbreath • Rubeus • Sweetcicle
Gronckle: Book Wyrm • Cheesemonger • Crubble • Defender Gronckle • Diamondgnaw • Dread Gronckle • Exiled Gronckle • Fighter Gronckle • Fishmeat • Gary • Gothi's Gronckle • Grove Gronckle • Injured Gronckle • Junior Tuffnut • Junior Tuffnut Junior • Meatlug • Meatlug's Cousin • Meatlug's Mate • Meatlug's Offspring • Molten Magmannette • Obsurdian • Phlegma's Gronckle • Shattermaster • Slug • Snoggletog Dragon Tactics Gronckles • Stormfly's Adopted Gronckles • Thaw Fleet • Tuffnut Junior • Yawnckle
Hotburple: Basket Case • Beachcomber • Bedrock Terror • Blistering Belcher • Bush-Wacker • Chartooth • Defender Hotburple • Eir's Titan Wing Hotburple • Emberock • Floe Hotburple • Grump • Hearty Hotburple
Screaming Death: Screaming Death • Trained Screaming Death
Sentinel: Bizarregoyle • Brute Timbertoast • Cinder • Dreadel • Elder Sentinel • Halcyard • Mossguard • Silent Knight
Shovelhelm: Clawlifter • Damsail • Exotic Shovelhelm • Gnawhelm • Guslout
Snafflefang: Brute-Wurst • Carnastial • Defender Snafflefang • Eggfang • Fendmender • Frosty Sparguard • Irontooth • Lump • Primal Snafflefang • Slough Snafflefang • Spitelout's Snafflefang • Stocky Snafflefang • Yakstacker
Thunderpede: Colorcrunch • Defender Thunderpede • Exotic Thunderpede • Furnace • Goliam • Sleet-Beater • Stonewall
Whispering Death: Bombwelter • Brisk Whisper • Death Ride • Defender Whispering Death • Exotic Whispering Death • Gravedigger • Gritty Sawmaw • Groundsplitter • Guarded Whisper • Helpful Whispering Deaths • Hiccup's Baby Whispering Death • Mawdrill • Screaming Death's Siblings • Sky-Pirate • Toothless' Nemesis • Trailtwister • Trained Glowing Whispering Death • Trained Titan Wing Whispering Death • Wrylite

Egg Biter: Chompers • Coppertop • Egg Blossom • Exotic Egg Biter • Nipper


Grim Gnasher: Dawnbite • Gnasteeze • Toadlich
Hackatoo: Cloudcarver • Defender Hackatoo • Exotic Hackatoo • Hackagift
Raincutter: Defender Raincutter • Dewdrop • Icecutter • Puddlemuck • Squall-caller • Thump
Razorwhip: Exotic Razorwhip • Fighter Razorwhip • Hailfate • Jade-Blade • Lashbane • Plated Razorwhip • Quarry Razorwhip • Sawtooth • Searing Seethsizzle • Slash-Dasher • Windshear • Wingnut
Scuttleclaw: Budbite • Defender Scuttleclaw • Gressjester • Helpful Scuttleclaw • Meatlug's Cheerleader • Scuttleclaw Hatchlings • Slushclaws
Shivertooth: Exotic Shivertooth • Helpful Shivertooth • Sweet-Tooth
Speed Stinger: Corroderunner • Exotic Speed Stinger • Fighter Speed Stinger • Icebreaker • Lead Stinger • Liberated Floutscout • Mala's Speed Stingers • Seedling Speed Stinger • Speedy • Sweet-Sting
Stormcutter: Brute Stormcutter • Cloudjumper • Defender Stormcutter • Dimflight • Eir's Titan Wing Stormcutter • Exiled Stormcutter • Gloomleer • Hurribane • Liberated Duskcutter • Marinecutter • Reignstorm • Serene Stormcutter • Tempestuous Scalestrom • Tripfire • Wingwary • Wonderclap • Woodland Stormcutter
Thornridge: Gloomshadow • Primal Thornridge • Thornshade • Warywing
Timberjack: Axewing • Axewing the Second • Brute Timberjack • Dammen's Timberjack • Defender Timberjack • Driftcleaver • Lithe Loggerjammer • Lonewood • Seedling Saplinger • Soaring Sidekick • Stokehead • Stoneslice • Taxi • Tricky Timberjack • Wetland Timberjack
Windstriker: Boiling Billows • Defender Windstriker • Galesplitter • Retired Windstriker • Snaggletooth • Winged Warden

Armorwing: Bandit • Coldsnap • Fool's-Gold • Goldrush • Gresskarmor • Irongaze • Knocks • Liberated Haulmauler • Twist-Trapper


Boneknapper: Antiquarian Accumulator • Bludgeon Knapper • Bog-Blight • Boneknapper Family • Boneshedder • Brute Boneknapper • Cryptic Collector • Dammen's Boneknapper • Defender Boneknapper • Ghaslit • Gobber's Nemesis • Grave Knapper • Skullcrown • Tomb Thief • Trained Glowing Boneknapper
Buffalord: Auroch King • Beezelord • Big Buff • Big Snuff • Boarcharger • Brute Buffalord • Exotic Buffalord • Frostgnaw • Hearty Buffalord • Maeve's Buffalord • Mosster • Mudgut • Pufferfinch • Thicket Buffalord
Cavern Crasher: Exotic Cavern Crasher • Firecomb Crasher • Grotto Gutter • Schmoozer • Slimeball • Slimeslinger
Changewing: Baby Changewing • Captured Changewing • Chimerical Chamomeleon • Defender Changewing • Edgewing • Hidera • Incognito • Phantom • Snuffnut • Springwing • Stalker Changewing • Tuaterror • Tuffwing • Underwood Changewing
Chimeragon: Patch
Death Song: Exotic Death Song • Garffiljorg • Garff's Adoptive Father • Jestbelter • Sirenade
Dramillion: Bonnefire • Fishlegs' Dramillion • Hurleqast • Marooned Mimiric • Titan Wing Dramillion
Flightmare: Defender Flightmare • Exotic Flightmare • Flaredawn • Hofferson's Bane • Injured Flightmare • Skystreaker • Trancemare • Viggo's Flightmare
Foreverwing: Guardian of the Forest
Hideous Zippleback: Barf and Belch • Defender Hideous Zippleback • Dread Zippleback • Barf and Belch's Mate • Barf and Belch's Offspring • Exiled Hideous Zippleback • Fart & Sniff • Hamfeist • Heel & Brak • Kandy & Kane • Muck and Tumble • Silverslash • Snort and Sniff • Snothead • Sparkle & Sparks • Sparks and Spew • Titan Wing Zippleback • Tricky Two-Heads • Valley Zippleback • Whip and Lash • Zesty Zippleback
Hobgobbler: Dreadgobbler • Droog • Rescued Hobgobbler • Smitten Hobgobbler
Prickleboggle: Helpful Prickleboggle • Krustler • Seedling Prickleboggle • Skypiercer • Thornforce
Sandbuster: Frostbiter • Marooned Mukchucker • Quicksand • Sawduster • Siltsmacker • Snowball • Wild Sandbuster
Silkspanner: Bayana's Silkspanners • Marooned Deathstrand
Slithersong: Bloomsang • Dazzlesing • Necronomodon
Slitherwing: Harmhug • Sweet-Stripe • Toksin
Smothering Smokebreath: Defender Smothering Smokebreath • Dustbrawler • Exotic Smothering Smokebreath • Flutter-Fog • Gritpicker • Helpful Smokebreath • Rattling Smokebreath • Smogger
Snaptrapper: Brute Snaptrapper • Death & Chocolates • Death Race Snaptrapper • Defender Snaptrapper • Helpful Snaptrapper • Outsnapper • Snappy •Stormfly's Adopted Snaptrapper
Sweet Death: Defender Sweet Death • Exotic Sweet Death • Helpful Sweet Death • Masked Sweet Death • Seedling Sweet Death • Sqyrm
Sword Stealer: Broken Blade • Chillblade • Defender Sword Stealer • Exotic Sword Stealer • Forgefeist • Gleamer

Deadly Nadder: Ambered Nadder • Baby Nadder • Bork Week Nadders • Brush Nadder • Defender Deadly Nadder • Dread Nadder • Edge Nadder • Fireshrike • Flystorm • Hardychomper • Infected Deadly Nadders • Kingstail • Lethal Lancebeak • Nimble Nadder • Pincher • Scardian • Sick Deadly Nadder • Skyblade • Springshedder • Steelspike • Steeltrap • Stormfly • Stormfly's Adopted Deadly Nadder • Stormfly's Mate • Stormfly's Offspring • Vaynglory


Mudraker: Muddie
Rumblehorn: Arctic Rumblehorn • Defender Rumblehorn • Drago's Rumblehorn • Flank-Tanker • Grimtorn • Krogan's Rumblehorn • Poise the Vast • Rhineblow • Robust Rumblehorn • Rumblehorn Hatchlings • Seedling Rumblehorn • Skullcrusher • Snowcap • Son of Skullcrusher • Valiant Scarbearer
Snifflehunch: Pestbud • Primal Snifflehunch • Runter • Scentinel • Seedling Snifflehunch • Snifflestone
Submaripper: Belchfast • Deepkeeper • Mariner's Myth • Mopey-Slick • Primal Aquabeast • Shipsbane
Thunderclaw: Aurvandil • Bonesnarl • Defender Thunderclaw • Gyllentalon • Liberated Hardcast • Polar Thunderclaw • Rumpus • Sailback • Sturmundrang • Tundra Thunderclaw • Valiant Vingthor
Windgnasher: Arcane Kulingbiter • Auroara • Champion Windgnasher • Chinuke • Defender Windgnasher • Galegrinder • Gnarley • Gustnudger • Ironhide • Vindjakker • Woodland Windgnasher
Frozen Skrill is also available in other languages.
Do visit these pages if you prefer reading content from the respective languages:
Deutsch • Русский • Polski • Français
Community content is available under
CC-BY-SA
unless otherwise noted.