Jurassic World: Dominion Dominates Fandom Wikis - The Loop
Play Sound

The Featherhide is a medium-sized Mystery Class dragon that first appeared in Dragons: The Nine Realms.
Official Description
"
The story goes that Bork the Bold once travelled deep into the southern corners of Vinland, only to be stalked back to the Archipelago by an invisible dragon who lived there. Whether this is true or not is for the skalds to debate, but we do know that the Featherhide is the only species of dragon to ever go unseen by viking eyes.

The Featherhide is a species of Dragon native to southern Vinland, and for this reason is extremely rare in the Barbaric Archipelago. Its exact numbers are unknown due to its extremely secretive nature.
"
 
— Dragons: Rise of Berk
 
Physical Appearance
Hatchling to Adult
Featherhides have long legs with fins behind them, a long neck, a big rounded head, and big eyes. They also have a crown made of feather-like scales, with brighter colors on the ends. Featherhides lack any horns or spikes, except with one spike in each wing. They have long wings compared to their body size, and their tail ends with a large fin, with a shape similar to that of a peacock tail. Their teeth are small, but sharp. They come in a variety of colors, typically having two or more on each dragon.
When they go through their Molting Process, they appear very greyish, with sharp, stiff, thick, grey head appendages that look very similar to horns. Featherhides' wing membranes appear torn from the shedding skin. Their eyes turn greyish making them appear blind, even through they can see perfectly fine. In "Dragons of the Undead" , a group of molting Featherhides were mistaken for zombie dragons, although they are nothing of the sort.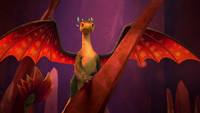 Titan Wing Featherhides[1] resemble their regular counterparts, but are yellow in color with dark green scales running along their backs. Instead of feathers on its head, it has horns, has darker-colored wings with red membranes, and retains the feathers on its tail tip that are colored red tipped with orange.
Abilities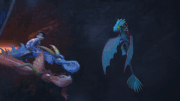 Sonic Scream
Like the Thunderdrum, Featherhides can release piercing sonic screams that can disorient humans and dragons alike. When more Featherhides join together, the sonic screams increase in power, being able to stun bigger dragons like the Fault Ripper.
As revealed in "Dragons of the Undead", their sonic screams are strong enough to completely remove the old skin of a molting Featherhide. And while it only takes one sonic scream from one Featherhide to completely remove a normal-sized molting Featherhide's old skin, it takes multiple sonic screams from multiple Featherhides to completely remove the old skin of a molting Titan Wing Featherhide.
Camouflage
Similar to Slinkwing, Changewings, and Dramillions (only in their Titan Wing Stage), Featherhides can completely cloak and blend in with their surroundings to avoid detection. As long as those who stay under the cover of them will remain hidden as well.
Stealth
Thanks to their camouflage ability, Featherhides are very stealthy dragons. This was shown in "Magma Breather", where Feathers was able to catch Tom by surprise.
Climbing
Similar to Changewings, they are shown to be great climbers, being able to climb on trees, rock surfaces and houses.
Sound Mimicry
Featherhides can mimic sounds like a microwave's ping, and even voices of humans and dragons.
Strength and Combat
These dragons can carry the weight of at least two teenagers or adult humans, whether on their backs or grasped in their fore paws. In particular, their jaws have a powerful grip, which can lock on to other dragons of similar size, and drag them rather effortlessly. As seen with the molting Featherhides, their vice-like jaws can stop a medium sized dragon, like Thunder, from flying away.
Endurance and Stamina
Featherhides have incredible endurance and stamina. Feathers was able to stay invisible, despite having her tail being stepped on. And the colony of molting Featherhides, from "Dragons of the Undead", took many attacks from the Dragon Riders' dragons, until Alex and Feathers showed up to help fight back.
Titan Wing Abilities
As any other Titan Wing, all of their abilities are amplified. They are faster, as seen by the one that chased Feathers relentlessly. They have a strong sonic blast that can easily break an ice formation, and they have higher stamina that allows them to endure multiple sonic blasts.
Weaknesses
Camouflage Limitations
While in a tight space, a cloaked Featherhide runs the risk of being discovered if they make their presence known by knocking over objects. Stumbling over a camouflaged Featherhide can cause it to release a sonic scream blast that reveals its location. Their cloaking ability covers only to their bodies; it does not extent to riders or non-attached objects.
Behavior and Personality
Featherhides are shy and cautious dragons that tend to use their camouflage ability to quietly observe those that catch their attention; and sometimes, even mimicking their sounds. If confronted by unfamiliar dragons, they camouflage themselves and stay near to those who they trust until they grow comfortable with the presence of others. Despite their shyness, they are very curious and drawn to creatures and objects that are new and interesting to them, appearing to be rather intelligent.
As seen in "Dragons of the Undead", Featherhides prefer to live in large colonies ruled by either a large individual, or a Titan Wing. They will find and fight any intruder who might wander into their realm. By using their cloaking and large numbers, they can easily overwhelm their foes.
During their Molting process, Featherhides will capture Featherhides that have not molted, working as a team to take them back to their realm in the Hidden World. Once there, they seemingly worship them, similar to Hive Mind in Bees. They also become very aggressive towards other dragons, instead of their usual shy, cautious nature, until the process is completed. Featherhides appear to favor living in groups or large colonies with at least one lead member. The lead member may be a larger adult or a Titan Wing individual.[1]
During the Molting Process, while under Alex's scanner Featherhides don't produce any body heat compared to those who haven't molted. They will revert back to their old personalities after their skin was molted and will also help the other with their sonic screams until everyone is finished and their scales are reverted back to colorfull ones.
Training
These dragons are shy and cautious by nature, they camouflage themselves and observe persons who are similar to them and stay near those who caught their attention and follow them closely. To gain a Featherhide's trust, you have to make yourself look small so it doesn't feel threatened. To establish a bond, reach a hand out and allow the Featherhide to touch it with its snout.
Appearances
In "Featherhide", A young Featherhide wanders into the research facility camp after following Alexandra Gonzalez, eventually forming a bond with her.
In "Dragons of the Undead", a large group of molting Featherhides attacked the group and captured Feathers, taking her back to their lair where other Featherhides, including a Titan Wing[1], were present. Alex tangled with them all on her own and eventually freed Feathers and the other Featherhides.
Games
In May 2022, the Featherhide was introduced as a species in the game, alongside its Titan Wing form.
Statistics in

| | | | |
| --- | --- | --- | --- |
| Rarity | | Rare | |
| Level Unlocked | |  ?? | |
| Cost in | | N/A | |
| Release cost in | |  ?? | |
| Individuals Available | | N/A | |

| | | | |
| --- | --- | --- | --- |
| /h at Level 175 | | 10,400,000 | |
| /h at Level 175 | | 9,890,000 | |
| at Level 175 | | 8 hours 50 minutes | |
| /h at Level 175 | | 360 | |

| | | | |
| --- | --- | --- | --- |
| Battle Type | | Ranged Sharpshooter | |
| Total at Level 175 | |  ?? | |
| at Level 175 | | 1,191,658 | |
| at Level 175 | | 14,408,173 | |
Trivia
References
Dragon Species of

Featherhide (species) is also available in other languages.
Do visit these pages if you prefer reading content from the respective languages:
Deutsch • Русский • Polski • Français