Drenchwood Forest is a location to search with Toothless in the game, Dragons: Rise of Berk. This location later reappeared in the game, Dragons: Titan Uprising.
Official Description
| | | |
| --- | --- | --- |
| " | If it's not already raining here, it's about to! The overflowing streams and dripping vines make finding a dry spot easier said than done. If traveling by foot, make sure to bring an extra pair of wool socks! | " |
|   | — Dragons: Rise of Berk |   |
Geography
This island is dominated by tall forests with hanging vine trees and is susceptible to rainy weather. There are numerous streams there that are prone to overflowing when it rains.
In Dragons: Titan Uprising, Drenchwood Forest is an area around Berk Forest that flanks the sea with tall cliffs and dark sandy beaches. The waterway contains numerous Sea Stacks. A particularly mountainous area contains the lair of a Foreverwing. Later in the game, the Dragonroot Company has taken over the area and built camps and docks, and a red haze as descended upon the land.
Drenchwood Forest also appears on the official How to Train Your Dragon map as a discrete island located North of the Isle of Berk.
Appearances
Games
Unlocked at Level 37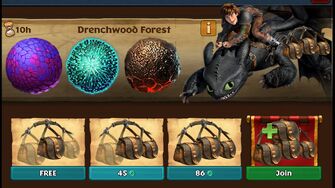 February 03, 2017 - February 06, 2017
Drenchwood Forest is the last section of Berk Forest. Guardian of the Forest resides in this forest. The dragon acts as a 'big boss' that the player must defeat in battle in order to advance in the game. Later in the game, the player revisits the area as the last section of the 'Hooligan Timberlands'. The land is now overrun by Dragon Hunters.
Other Appearances
Drenchwood Forest appeared on this online map of the Barbaric Archipelago. However, no additional details were given about it on the map, nor did it appear in the Dragons: Race to the Edge series.
Gallery
References
The Lands of

Lands undocumented in the Map
Drenchwood Forest is also available in other languages.
Do visit these pages if you prefer reading content from the respective languages:
• Polski
Community content is available under
CC-BY-SA
unless otherwise noted.