What is Drago's Bewilderbeast?
Play Sound
| | | |
| --- | --- | --- |
| " | No dragon can resist the Alpha's command. So, he who controls the Alpha controls them all. [src] | " |
|   | — Drago Bludvist |   |
Drago's Bewilderbeast is a male Bewilderbeast who first appeared as the secondary antagonist of How to Train Your Dragon 2.
Biography
Origins
| | | |
| --- | --- | --- |
| " | Backed up by his now iron-plated dragon army, Drago then discovered a young Bewilderbeast, which he abusively trained for a single purpose: to one day dethrone the established Alpha and become the new master of all dragons, answering only to Drago himself. | " |
|   | — DreamWorks Dragons: To Berk and Beyond! |   |
His life was full of agony and misfortunes and his pain had started shortly after its birth. Ever since this Bewilderbeast was literally abused to become a war machine. To the maniac enslaver, the meaning of the existence of the miserable dragon was to be nothing more than a tool, and the wicked wrongdoer kept 'training' the dragon for a lifetime of war.
The Alpha is first seen being prepared for battle, though its breathing can only be seen. Fishlegs says that perhaps it's a Class 5 leviathan. His master, Drago Bludvist, summons him later to battle Valka's Bewilderbeast. He eventually gains the upper hand and murders the Alpha by stabbing him in the stomach, and he immediately takes control of every dragon in the premises; even Toothless, Stormfly, Hookfang, Meatlug, Barf and Belch, Skullcrusher, Grump, and Cloudjumper are controlled. Drago then orders him to make Toothless kill Hiccup, only for Stoick the Vast to block it and be killed himself. Drago simply smiles, mounts Toothless - who is naturally still incapable of flight on his own - and orders The Alpha and all of the other dragons to go to Berk and finish off the invasion once and for all. When the Alpha reaches Berk, he takes all of the Dragons into his army, and ice blasts the village.
Fortunately, the riders are able to return to Berk using the Scuttleclaw infants that were outside the Bewilderbeast's control, with the others distracting the Alpha while Hiccup approached Drago and Toothless. After Hiccup manages to bring Toothless back to himself, the two manage to knock Drago off the Alpha, only to be blasted by the Alpha's ice. As Drago gloats over his victory, however Toothless breaks the ice as he channels his full power, and challenges the Alpha in the final battle. As Toothless blasts the Alpha and roars his defiance, his foe gradually loses his control over the dragons, and they all side with Toothless against the Alpha. After sustaining a barrage of fire blasts from all of Berk's dragons, Toothless then does a critical final blow to the Alpha, which destroys his left horn, humiliating and defeating him. Knowing he has lost, he and Drago retreat into the ocean.
Drago's Bewilderbeast is found by the Dragonroot Company, a group seeking to take advantage of the dragon trade left by the dwindling numbers of Dragon Hunters. They have a special Dragon Root concoction and poison him with it. His behavior becomes aggressive and irrational and attacks other dragons and Dragon Riders. Eventually, new Dragon Rider recruits (the player) are able to subdue and free him. During this time, Drago's Bewilderbeast has taken up residence at Valka's Mountain.
Drago's Bewilderbeast can be seen bowing in respect to Toothless when he presents himself as the Alpha of the Hidden World.
Physical Appearance
In comparison to Valka's Bewilderbeast, this individual is dark and looks very menacing, tyrannical, and violent. Additionally, he seems restless and always enraged and gloomy (the dragon's scarred and rather dirty looks indicate he had been through tough moments). He is also slightly larger than Valka's Bewilderbeast. Understandably, his behaviors are unfriendly and destructive, and he doesn't care about damaging his owner's forces (crushing several of Drago's men's fleets when emerging, and crushing one of the war machines). His frills are similar to a dreadlock and are quite different from the other Bewilderbeast seen in the film. This dusty Bewilderbeast has more elongated horns similar in appearance to mammoth tusks than the whiter individual, with shackles on them that are attached to chains to pull Drago's ship.
Personality
Naturally, his mind is always filled with endless pain, grief, desperation, and mostly abysmal rage to everything including his miserable fate. This anger that caused him to target everything may go towards innocent, 'happier' beings, especially other members of his own race that may cause him further envy, loathing, and sorrow.
Despite being enslaved against his will, the Bewilderbeast seems to seek Drago's approval. Before leaving for Berk, the Bewilderbeast calls all dragons to him and once the dragons gather above him, he looks at Drago. Another instance is when the Bewilderbeast encased Hiccup and Toothless in ice, he again looks to his master, Drago. This could be due to the imprinted fear and traumatic memories bound to him his whole life.
By the time he settles in the Hidden World, his ferocious personality has been rehabilitated and he learns to coexist with all the other dragons, even accepting Toothless as his Alpha.
Abilities and Skills
Unlike Valka's Alpha being a kind owner, he was used by Drago as more of a weapon to be the most powerful dragon of them all and to be the ultimate war machine.
Ice Breath: Like the rest of his kind, Drago's Bewilderbeast is capable of breathing a massive wave of ice that leaves behind massive damage upon freezing and hitting its target, causing massive damage to the Village of Berk.
Enhanced Strength: He seems to be stronger than the Bewilderbeast of the Dragon Sanctuary, though it seems like he was a little bigger as he was capable of overpowering the previous Alpha in their battle over control of Valka's rescued dragons. And upon arrival on Berk, Drago's Bewilderbeast manages to easily break through one of Berk's large statues.
Intelligence and Communication Skills: He was able to understand the noises that Drago was saying to control certain dragons he wanted such as Toothless and Hookfang. He also understood to come out of the water at a specific time.
Enhanced Endurance and Stamina: Similar to the rest of his kind, this Bewilderbeast is extremely tough and can withstand most of the attacks that are fired at him. His stamina is very high as he was shown to be able to travel long distance by pulling his master's ships before getting ready to fight off Valka's Bewilderbeast, and was able to swim all the way to Berk after a long battle. He could also take multiple, heavy attacks and could still swim away with little to no exhaustion.
Relationships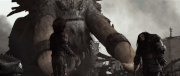 Ever since he was a hatchling he was trained and abused by his master to become a perfect war machine, and as a result, he is shown to be a lot like his master, being pure evil and controlling other dragons to please his master. Although being forced by Drago, he does show to be loyal to him by making him ride on him and saving him from falling from high altitude. It is likely that he only obeys him due to the harsh fathering relationship that he has with Drago.
Meeting Toothless for the first time, he obeys his master's command to control Toothless to kill his owner Hiccup. Though successful in gaining full control over him the attack is unsuccessful when Stoick takes the hit instead. After accidentally killing the wrong person, he lets Toothless free for a brief period of time before regaining control later on. Toothless was then forced to be ridden by Drago since Toothless was unable to fly. On Berk, he tried his hardest to make sure Toothless remained under his control but was shocked when the bond was broken by Hiccup. Toothless and his owner then fought the Bewilderbeast, who proved to be very difficult even against the Night Fury's small size and incredible speed. He saw his greatest enemies on the ground and attempted to freeze them once and for all but failed against the Night Fury. This then leads to these two to challenging each other to become the Alpha. Toothless' enhanced plasma blast proved powerful enough to weaken the old Alpha into releasing all the dragons who then joined Toothless' side showing he is the new Alpha. Toothless then had all the dragons attack the giant dragon and later, destroy his horn. Drago's Bewilderbeast was then shown bowing before the new Alpha before leaving Berk.
When Toothless becomes the Alpha of the Hidden World, Drago's Bewilderbeast is among the countless dragons who cheer for him, showing that he has accepted Toothless as the one true Alpha Dragon.
Appearances
Games
Drago's Bewilderbeast is found in a volcanic lair and serves as the final 'big boss' the player must battle.
Drago's Bewilderbeast can be unlocked as one of the game's Legendary Dragons. It is the leader of the Liberated Dragons, consisting of a Monstrous Nightmare and an Armorwing. Once unlocked, it can search for items to complete the collections to unlock their underlings.
Statistics in
Dragons: Rise of Berk Drago's Bewilderbeast finds unique items to complete special collections for Liberated Dragons and resources such as Iron and Runes. Collection items include Drago's Shoulder Pad, an Elaborate Metal Axe, Horn Chain Cuffs, and a Round Satchel.
Drago's Bewilderbeast appears in this game as an angered Alpha Dragon the player must fight. He appears in Valka's Sanctuary in the Coldwind Wastes, as well as a game clan 'World' Alpha opponent. He sports his characteristic broken horn and an old manacle on the other horn.
Trivia
It is unclear whether it is appropriate to consider this Bewilderbeast as a trained dragon or not because he was enslaved by humans against his will.

The dark Bewilderbeast's behavior is consistent with that of an abused animal, never acting without its master's command from fear of punishment, and lashing out at anything that approaches as it has learned to associate approach with pain.
It is likely that Drago's "dominating" behavior had taught the Bewilderbeast to feel helpless under his command, as even though it is big enough to easily kill him should it turn on him, it nonetheless blindly follows orders and has little, if any, initiative to act on its own.

Drago seems to have succeeded in enslaving this Bewilderbeast, as he doesn't take notice of letting the man stand on his head.
It is likely that when Drago's Bewilderbeast was younger, Drago trained him cruelly by using his bullhook as a punishment when his Bewilderbeast did not do well. The bullhook is used to hurt the sensitive parts of the creature. This is how elephants are being trained.
This Bewilderbeast and Drago share various similar facial characteristics such as having 'dreadlocks', wrinkles, a searching look, broad chin, darker skins than usual Vikings, a well-built physique, and so on.
It is unknown how this Bewilderbeast feels about other members of his kind who can acquire and enjoy peaceful monarchies (at least better than he is able), such as to Valka's Bewilderbeast.
According to Pierre-Oliver Vincent, Drago's Bewilderbeast is the ultimate counterpart of Valka's Bewilderbeast. This Bewilderbeast is "like those zoo and circus animals that are tortured and forced to 'perform'".
Besides a war machine, this dragon was also used to pull Drago's ship. The first time was before the execution of Eret and the dragon riders. Drago was beating the chains with his bullhook, possibly asking the beast to increase speed. The second is when Drago summoned the Bewilderbeast, the chains are seen sliding off the shackles on his horns.
The face of the enslaved Bewilderbeast slightly resembles Drago Bludvist's face. Upon a closer look, both also have similar placement of facial scars. A scar on the right side of the mouth, across the left eye, and another scar on the upper right corner of the face.
According to the How to Train Your Dragon 2 commentary, Drago's Bewilderbeast is dubbed the "Bewilderbad."
Interestingly, when the Bewilderbeast stops controlling Toothless, there's a brief pause of possible concern in the dragon's face as Hiccup is grieving for Stoick. Thus there is a possibility that Drago's Bewilderbeast is not always committed to the deeds Drago wants him to do. He could also have been surprised someone risked their own life for another, as Stoick sacrificed his life for the love of his son. He may have never seen this before in his life with Drago.
Its flat, noseless face, horns, red bloodshot eyes, and "dreadlocks" bear a certain resemblance to the Predator from the Predator films.
This Bewilderbeast shares some similarities with Shruikan, a male dragon character from Christopher Paolini's Inheritance Cycle fantasy novels. Both are dark-colored, gargantuan-sized dragons who have been enslaved and tortured against their will by a malevolent human (the Bewilderbeast by Drago, Shruikan by Galbatorix) to become remorseless, vicious, and powerful war machines who aid them in their plans for conquest.
According to Richard Hamilton, the Bewilderbeast Drago finds at the end of Race to the Edge is meant to be his Bewilderbeast in How to Train Your Dragon 2.[1]

It is unknown if Hamilton was referencing the Berserker Bewilderbeast's egg or another specimen, as "King of Dragons, Part 2" never showed Drago capture a Bewilderbeast.
However Drago finding his Bewilderbeast at the end of Race to the Edge is very likely a continuity error, as the official page for Drago's Bewilderbeast on the official website that had been published before Race to the Edge states that Drago found his Bewilderbeast as a hatchling during one of his earliest conquests very likely even before the events of Race to the Edge take place.[2]

It is possible that Drago's Bewilderbeast was originally to play a larger role in the third film, as Drago was meant to return and be redeemed in an earlier script.
References
Dragon Characters of

Deathgripper: Defender Deathgripper • Dreadgripper • Executie • Fenrir's Eviscereaper • Glaivedriver • Grim Hornettle • Grimmel's Deathgrippers • Marshland Deathgripper • Miasmic Deathgripper • Sappheral • Slaughterdijk


Light Fury: Light Fury
Night Fury: Toothless
Skrill: Brute Skrill • Defender Skrill • Dread Skrill • Dynamojo • Frozen Skrill • Fryrir • Helpful Skrill • Hide-Fryer • Hunterbolt • Icebane • Invading Skrill • Joltalon • Marshland Skrill • Revenger • Shadow Skrill • Shrill Boltbeak • Skitterbugs • Sleigher • Spark Guard • Sparkheart • Viggo's Skrill
Snow Wraith: Coldreign • Frostfang • Frostfright's Big Bro • Frostfright's Lil Sis • Furtive Fleetsleet • Glazier • Gothi's Frostfright • Injured Snow Wraith • Skrill Chiller • Wild Wraith • Wood Wraith
Triple Stryke: Champion Triple Stryke • Common Triple Stryke • Deathstalker • Eclipser • Emperor Pandinus • Ketillkott • Marooned Manstinger • Nikora's Triple Stryke • Rosethorn • Slender Green Triple Stryke • Sleuther • Starstreak • Stone Mother • Syringaca • Thorntail • Triple Strype
Woolly Howl: Defender Woolly Howl • Frostfire • Fuzzbucket • Infected Woolly Howls • Wise Wind • Woodwind

Fireworm: Defender Fireworm • Enhanced Fireworm Queen • Ghostglow • Fearsome Flamellion • Flashfright • Homunculosa • Plain Fireworm Queen • Royal Fireworm • Snotlout's Fireworm Queen • Solar Flare • Verdigriff


Flame Whipper: Baby Flame Whipper
Gobsucker: Dijester • Gobstinker • Muddlehunt • Sparklestank • Sulfurous Snifflepharts
Green Death: Crimson Death • Red Death • Violet Death
Hobblegrunt: Borealis • Defender Hobblegrunt • Gruff • Primal Hobblegrunt
Hobgobbler: Dreadgobbler • Droog • Rescued Hobgobbler • Smitten Hobgobbler
Large Shadow Wing: Alpha Shadow • Dawnstar • Grim Gamper • Marooned Greezer • Smog-bomber • Snogglewing • Splashboomer
Moldruffle: Exotic Moldruffle • Greenkeep • Dirt-Hurler • Jewelbilant • Rhinestorm • Turfraider
Monstrous Nightmare: Astrid's Monstrous Nightmare • Blazewing • Blazing Phoenixfire • Brisket, Saddle, Chuck, Rump, Loin, Scrag, Cutlet, Ham Hock, Sausages, Offal, Knuckle, and Pot Roast • Burlystorm • Cagecruncher • Cawmour • Charsoul • Defender Monstrous Nightmare • Dread Nightmare • Exiled Monstrous Nightmare • Fanghook • Fangmaster • Firescrapes • Flick • Girl Hookfang • Hookblazefang • Hookfang • Hookfang's Mate • Hookfang's Nemesis • Hookfang's Offspring • Hookfire • Liberated Whip-Wreck • Merciful Nightmare • Mountain Nightmare • Munchauser • Nidhogg • Stormfly's Adopted Monstrous Nightmare • Sven's Nightmare • Valka's Mercy • Viggo's Savior • Whip-Slash
Night Terror: Brood-blossom • Darkvarg • Hallucinerator • Hotshot • Nightwatch • Peggy • Sacred Terror • Seedling Night Terror • Smidvarg • Tarred Night Terror
Red Death: Red Death
Singetail: Ambered Singetail • Captured Singetail • Deathlout • Flamelout • Forest Singetail • Grovelout • Heatlout • Hotbelly Singetail • Hotlout • Infernier • Krogan's Singetail • Mother Singetail • Scorch • Sear • Stoick • Winterwick
Small Shadow Wing: Baited Breath • Obskewer • Prismarch • Spring's Shadow • Shimmerwing
Terrible Terror: Butt and Head • Defender Terrible Terror • Exiled Undersnuff • Gothi's Pet • Iggy • Kick-off Terrors • Leopold • Nibbles • Pain • Sharpshot • Smudgeon • Sneaky • Stormfly's Adopted Terrible Terror • Valka's Hatchling Terrors
Threadtail: Almondine • Duskgust • Foliander • Mildew's Strain • Sunsoak
Typhoomerang: Defender Typhoomerang • Forest Typhoomerang • Helpful Typhoomerang • Marooned Flambo • Primal Broadguard • Pyre-Flier • Radiant Skyglow • Skyfire • Tense Typhoomerang • That • Torch • Torch's Mother • Torch's Siblings • Trap-phoomerang • Viggo's Typhoomerangs

Bewilderbeast: Berserker Bewilderbeast • Drago's Bewilderbeast • Vanaheim Bewilderbeast • Valka's Bewilderbeast


Luminous Krayfin: Lumie
Ripwrecker: Bargemine • Derelicker • Exotic Ripwrecker • Gloomlurker • Rogue Submaripper • Seashine • Sinker-Claws
Sand Wraith: Claytrapper • Helpful Sand Wraith • Seedling Sand Wraith • Veiled Spectruf
Scauldron: Bonecrusher's Conquest • Breampunk • Bumble • Captured Scauldron • Defender Scauldron • Exotic Scauldron • Grim Sizzle • Mea • Mildew's Misery • Scauldy • Snorre's Scauldrons • Steam-spewer • Thunderfish
Seashocker: Bolt & Float • Covecharger • Defender Seashocker • Nikora's Seashocker • Rane & Shyne • Soaky and Wetty • Valka's Seashockers • Viggo's Seashockers • Wavewight • Whet and Wylde
Shellfire: Viggo's Shellfire
Shockjaw: Boltbite • Deepfreeze • Defender Shockjaw • Exotic Shockjaw • Snappy-Zappy-Sand-Zapper • Snazzolt
Sliquifier: Defender Sliquifier • Exotic Sliquifier • Grazefall • Marooned Seaslick • Splashspout • Surflurker
Submaripper: Belchfast • Deepkeeper • Mariner's Myth • Mopey-Slick • Nauticalamity • Primal Aquabeast • Shipsbane
Thunderdrum: Bam • Bing • Bludcrest • Boom • Champerone • Defender Thunderdrum • Earsplitter • Eret's Thunderdrum • Lil Lullaby • Reef Thunderdrum • Shifty Murklurker • Stormfly's Adopted Thunderdrum • Tectonic Thunderdrum • Thornado • Thunderdolt • Warcry • Waveshaker • Whirlwing • Wingburst
Tide Glider: Defender Tide Glider • Exotic Tide Glider • Grim Slipsmolder • Lake Skater • Mistmenace
Windwalker: Galeguard • Mistroll • Seasail • Skykarver

Catastrophic Quaken: Aurum • Blawberry • Captured Quaken • Champion Catastrophic Quaken • Cryoconitemare • Enslaved Quakens • Four-Man • Glaciated Quaken • Ice-Tongue Quaken • Lethiferous Cromlech • Liberated Trolboulder • Melonquarry • Meltwater Kryal • Tormentor • Trained Catastrophic Quaken • Spikeback


Crimson Goregutter: Bulwark • Dread Goregutter • Eir's Crimson Goregutter • Grainfield Goregutter • Gruff Goregutter • Magnanimous Martyrium • Rescued Crimson Goregutter • Wapititan
Eruptodon: Coaldron • Defender Eruptodon • Great Protector • Helpful Eruptodon • Kilnkin • Magmadon • Magmic Eruptodon • New Protector • Strokkur • Tectonic Thorium • Volcanic Eruptodon • Volcanic Vethorm
Grapple Grounder: Defender Grapple Grounder • Exotic Grapple Grounder • Fierce Piercer • Floeshot • Lurchador • Sour Grapple
Groncicle: Defender Groncicle • Primal Bewilderbreath • Rubeus • Sweetcicle • Wyrmafrost
Gronckle: Book Wyrm • Cheesemonger • Crubble • Defender Gronckle • Diamondgnaw • Dread Gronckle • Exiled Gronckle • Fighter Gronckle • Fishmeat • Gary • Gothi's Gronckle • Grove Gronckle • Injured Gronckle • Junior Tuffnut • Junior Tuffnut Junior • Meatlug • Meatlug's Cousin • Meatlug's Mate • Meatlug's Offspring • Molten Magmannette • Obsurdian • Phlegma's Gronckle • Rubblegrubber • Shattermaster • Slug • Snoggletog Dragon Tactics Gronckles • Stormfly's Adopted Gronckles • Thaw Fleet • Tuffnut Junior • Yawnckle
Hotburple: Basket Case • Beachcomber • Bedrock Terror • Blistering Belcher • Bush-Wacker • Chartooth • Defender Hotburple • Eir's Titan Wing Hotburple • Emberock • Floe Hotburple • Grump • Hearty Hotburple • Ill Hotburple
Screaming Death: Screaming Death • Trained Screaming Death
Sentinel: Bizarregoyle • Brute Timbertoast • Cinder • Defender Sentinel • Dreadel • Elder Sentinel • Halcyard • Mossguard • Silent Knight
Shovelhelm: Clawlifter • Damsail • Exotic Shovelhelm • Fiend Trowel • Gnawhelm • Guslout
Snafflefang: Brute-Wurst • Carnastial • Defender Snafflefang • Eggfang • Fendmender • Frosty Sparguard • Irontooth • Lump • Primal Snafflefang • Slough Snafflefang • Spitelout's Snafflefang • Stocky Snafflefang • Yakstacker
Thunderpede: Colorcrunch • Defender Thunderpede • Exotic Thunderpede • Furnace • Goliam • Sleet-Beater • Stonewall
Whispering Death: Bombwelter • Brisk Whisper • Death Ride • Defender Whispering Death • Exotic Whispering Death • Gravedigger • Gritty Sawmaw • Groundsplitter • Guarded Whisper • Helpful Whispering Deaths • Hiccup's Baby Whispering Death • Mawdrill • Screaming Death's Siblings • Sky-Pirate • Toothless' Nemesis • Trailtwister • Trained Glowing Whispering Death • Trained Titan Wing Whispering Death • Wrylite

Egg Biter: Chompers • Coppertop • Egg Blossom • Exotic Egg Biter • Nipper


Grim Gnasher: Dawnbite • Emberquencher • Gnasteeze • Toadlich
Hackatoo: Cloudcarver • Defender Hackatoo • Exotic Hackatoo • Hackagift
Raincutter: Defender Raincutter • Dewdrop • Icecutter • Puddlemuck • Squall-caller • Thump
Razorwhip: Exotic Razorwhip • Fighter Razorwhip • Hailfate • Jade-Blade • Lashbane • Plated Razorwhip • Quarry Razorwhip • Sawtooth • Searing Seethsizzle • Slash-Dasher • Windshear • Wingnut
Scuttleclaw: Budbite • Defender Scuttleclaw • Gressjester • Helpful Scuttleclaw • Meatlug's Cheerleader • Scuttleclaw Hatchlings • Slushclaws
Shivertooth: Distemplar • Exotic Shivertooth • Flutterfang • Helpful Shivertooth • Sweet-Tooth
Speed Stinger: Corroderunner • Exotic Speed Stinger • Fighter Speed Stinger • Icebreaker • Lead Stinger • Liberated Floutscout • Mala's Speed Stingers • Seedling Speed Stinger • Speedy • Sweet-Sting
Stormcutter: Brute Stormcutter • Cloudjumper • Defender Stormcutter • Dimflight • Eir's Titan Wing Stormcutter • Exiled Stormcutter • Gloomleer • Hurribane • Injured Stormcutter • Liberated Duskcutter • Marinecutter • Reignstorm • Serene Stormcutter • Tempestuous Scalestrom • Tripfire • Wingwary • Wonderclap • Woodland Stormcutter
Thornridge: Gloomshadow • Primal Thornridge • Sparknettle • Thornshade • Warywing
Timberjack: Axewing • Axewing the Second • Brute Timberjack • Dammen's Timberjack • Defender Timberjack • Driftcleaver • Freeweald • Lithe Loggerjammer • Lonewood • Seedling Saplinger • Soaring Sidekick • Stokehead • Stoneslice • Taxi • Tricky Timberjack • Wetland Timberjack
Windstriker: Boiling Billows • Chinooker • Defender Windstriker • Galesplitter • Grim Whirlwaft • Retired Windstriker • Snaggletooth • Winged Warden

Armorwing: Bandit • Coldsnap • Fool's-Gold • Goldrush • Gresskarmor • Irongaze • Knocks • Liberated Haulmauler • Twist-Trapper


Boneknapper: Antiquarian Accumulator • Bludgeon Knapper • Bog-Blight • Boneknapper Family • Boneshedder • Brute Boneknapper • Cryptic Collector • Dammen's Boneknapper • Defender Boneknapper • Ghaslit • Gobber's Nemesis • Grave Knapper • Purlossein • Skullcrown • Tomb Thief • Trained Glowing Boneknapper
Buffalord: Auroch King • Beezelord • Big Buff • Big Snuff • Bisonarch • Boarcharger • Brute Buffalord • Exotic Buffalord • Frostgnaw • Hearty Buffalord • Maeve's Buffalord • Mosster • Mudgut • Pufferfinch • Thicket Buffalord
Cavern Crasher: Exotic Cavern Crasher • Firecomb Crasher • Grotto Gutter • Schmoozer • Slimeball • Slimeslinger
Changewing: Baby Changewing • Captured Changewing • Chimerical Chamomeleon • Defender Changewing • Edgewing • Hidera • Incognito • Morphaileron • Phantom • Snuffnut • Springwing • Stalker Changewing • Tuaterror • Tuffwing • Underwood Changewing
Chimeragon: Patch
Death Song: Dropplesounder • Exotic Death Song • Garffiljorg • Garff's Adoptive Father • Jestbelter • Sirenade
Dramillion: Bonnefire • Elder Dramillion • Fishlegs' Dramillion • Hurleqast • Marooned Mimiric • Myrkva the Immoral • Nattvig • Standard Dramillion • Titan Wing Dramillion
Flightmare: Defender Flightmare • Exotic Flightmare • Flaredawn • Hofferson's Bane • Injured Flightmare • Skystreaker • Trancemare • Viggo's Flightmare
Foreverwing: Guardian of the Forest
Hideous Zippleback: Barf and Belch • Defender Hideous Zippleback • Dread Zippleback • Barf and Belch's Mate • Barf and Belch's Offspring • Exiled Hideous Zippleback • Fart & Sniff • Hamfeist • Heel & Brak • Kandy & Kane • Muck and Tumble • Silverslash • Snort and Sniff • Snothead • Sparkle & Sparks • Sparks and Spew • Titan Wing Zippleback • Tricky Two-Heads • Valley Zippleback • Whip and Lash • Zesty Zippleback
Hobgobbler: Dreadgobbler • Droog • Rescued Hobgobbler • Smitten Hobgobbler
Prickleboggle: Helpful Prickleboggle • Krustler • Seedling Prickleboggle • Skypiercer • Thornforce
Sandbuster: Frostbiter • Marooned Mukchucker • Quicksand • Sawduster • Siltsmacker • Snowball • Wild Sandbuster
Silkspanner: Bayana's Silkspanners • Marooned Deathstrand
Slithersong: Bloomsang • Dazzlesing • Necronomodon
Slitherwing: Defender Slitherwing • Harmhug • Slinkling • Sweet-Stripe • Toksin
Smothering Smokebreath: Apneatic Archechoke • Defender Smothering Smokebreath • Dustbrawler • Exotic Smothering Smokebreath • Flutter-Fog • Gritpicker • Helpful Smokebreath • Rattling Smokebreath • Smogger
Snaptrapper: Brute Snaptrapper • Death & Chocolates • Death Race Snaptrapper • Defender Snaptrapper • Helpful Snaptrapper • Outsnapper • Snappy •Stormfly's Adopted Snaptrapper
Sweet Death: Defender Sweet Death • Exotic Sweet Death • Helpful Sweet Death • Masked Sweet Death • Seedling Sweet Death • Sqyrm
Sword Stealer: Broken Blade • Chillblade • Defender Sword Stealer • Exotic Sword Stealer • Forgefeist • Gleamer • Scimiterror • Verdigard

Deadly Nadder: Ambered Nadder • Baby Nadder • Bork Week Nadders • Brush Nadder • Defender Deadly Nadder • Dread Nadder • Edge Nadder • Fireshrike • Flystorm • Hardychomper • Infected Deadly Nadders • Kingstail • Lethal Lancebeak • Nimble Nadder • Pincher • Scardian • Seedling Stormpest • Sick Deadly Nadder • Skyblade • Springshedder • Steelspike • Steeltrap • Stormfly • Stormfly's Adopted Deadly Nadder • Stormfly's Mate • Stormfly's Offspring • Vaynglory


Mudraker: Muddie
Rumblehorn: Arctic Rumblehorn • Defender Rumblehorn • Drago's Rumblehorn • Flank-Tanker • Grimtorn • Krogan's Rumblehorn • Poise the Vast • Rhineblow • Robust Rumblehorn • Rumblehorn Hatchlings • Seedling Rumblehorn • Skullcrusher • Snowcap • Son of Skullcrusher • Valiant Scarbearer
Snifflehunch: Pestbud • Primal Snifflehunch • Runter • Scentinel • Seedling Snifflehunch • Snifflestone • Winkling
Submaripper: Belchfast • Deepkeeper • Mariner's Myth • Mopey-Slick • Primal Aquabeast • Shipsbane
Thunderclaw: Aurvandil • Bonesnarl • Defender Thunderclaw • Gyllentalon • Liberated Hardcast • Polar Thunderclaw • Rumpus • Sailback • Sturmundrang • Tundra Thunderclaw • Valiant Vingthor
Windgnasher: Arcane Kulingbiter • Auroara • Champion Windgnasher • Chinuke • Defender Windgnasher • Galegrinder • Gnarley • Gustnudger • Ironhide • Vindjakker • Woodland Windgnasher