Jurassic World: Dominion Dominates Fandom Wikis - The Loop
Play Sound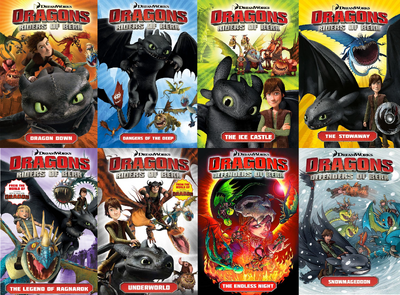 Dreamworks has authorized the release of Comics and Graphic Novels based on their How To Train Your Dragon Movies. Currently, there are 10 released comics in print-8 published by Titan Comics, and 2 published by Dark Horse Comics.
Published by Titan Magazines
For the release of How to Train Your Dragon 2, Titan Magazines (a division of Titan Publishing Group) printed a special magazine dedicated entirely to the second movie of the DreamWorks franchise. Among the many contents and activities offered on it, Titan Magazines published an original comic strip featuring the main characters from the movie. This magazine was released on the UK on July 4, 2014.
The DreamWorks Dragons Comics are a series of graphic novels written by Simon Furman and published by Titan Comics (another division of Titan Publishing Group), with art by Iwan Nazif. The series events occur during the time of DreamWorks Dragons: The Series (sometime after Alvin and the Outcasts). Set in the town of Berk, the comic relates the adventures of young Hiccup and his faithful dragon Toothless–plus Hiccup's father, Stoick the Vast, and Hiccup's friends Gobber the Belch, Snotlout Jorgenson, Fishlegs Ingerman, Tuffnut Thorston and Ruffnut Thorston–and, of course, the lovely Astrid Hofferson.
Available from: May 27, 2014
Overview: When Snotlout's dragon Hookfang flies off and disappears, the gang set up a search party. Unfortunately, Alvin the Treacherous is also on the hunt for Hookfang . . . Who will get to Hookfang first–the Riders or Alvin?[1]
Available from: November 4, 2014
Overview: When Stoick and all the grown-ups head off on a mission, Hiccup is left in charge! Sounds like fun? It is–until Alvin the Treacherous decides to attack Berk . . . Meanwhile, in the scary Veil of Mists, Stoick and Co are attacked by a huge and deadly sea creature . . .[2]
Available from: January 6, 2015
Overview: A mysterious trader visits Berk-just as Astrid's dragon, Stormfly, goes missing . . . The gang's search for Stormfly leads them into frozen dangers and a deadly foe . . . Plus, in a special short story, Snotlout tries to babysit some baby Monstrous Nightmares!
Available from: March 3, 2015
Overview: The Dragons Training Academy gets a new student–a handsome, brave young man named Hroar! It seems that Hroar has stowed away on one of Berk's ships to visit Berk and check out the dragons. And as Hroar becomes more and more popular by impressing Hiccup's friends (especially Astrid), Hiccup grows increasingly suspicious of him… [3]
Available from: June 24, 2015
Overview: Long has it been whispered around Berk that one day a huge monster will rise from the sea and the world will end. And when a spate of local seaquakes start erupting, agitating dragons, things aren't looking good. What can scare a dragon? Hiccup and the gang investigate and they do indeed meet up with something huge. Could this be the end of Berk? Meanwhile, in a very special back-up story, Astrid is stranded on an isolated island and is hunted by a group of Smothering Smokebreaths and, to make matters worse, she can't find her battle-axe![4] [5]
Available from: September 2, 2015
Overview: Hiccup and the gang investigate a large pit in the middle of a forest – and they find a hostile underground tribe there… Meanwhile, Stoick faces a threat from the past – the giant sea monster, the Submaripper…[6]
Available from: February 24, 2016
Overview: A witch known as Skuld the Sorceress comes to Berk and threatens the townsfolk - then plunges Berk into darkness! As the citizens of Berk panic, it's up to Hiccup and his friends to try and stop Skuld and her minions! Plus a bonus short story, "Cruel to be Kind," as Hiccup and friends take their lives into their own hands and try to train Bumble the Scauldron![7]
Available from: July 12, 2016
Overview: In 'Snowmageddon', the dragons and riders of Berk set out to help a Viking settlement–but huge blizzards create great dangers for them. And the cause of these storms is even scarier . . . ! Plus, secrets from Gobber's past are revealed . . .
Also, some dragon-sledding fun in a special back-up story called 'Thaw Fleet'![8]
At New York Comic Con 2015, DreamWorks Animation and Dark Horse Comics announced a comprehensive original graphic novel program to expand the incredible mythology of How to Train Your Dragon, the Academy Award® nominated and Golden Globe® winning film series.[9]
The first of these graphic novels, The Serpent's Heir, was scheduled to be released on February 28, 2016, but it was delayed for unknown reasons. Instead, on free comic book day 2016 Dark Horse published Burning Midnight. Richard Hamilton revealed in an interview that this comic hints at stuff that'll become relevant in the second graphic novel, named Dragonvine.[10]
Available from: February 28, 2017
Overview: Picking up just after the events in How to Train Your Dragon 2, Hiccup, Astrid, and company are called upon to assist the people of an earthquake-plagued island. But their lives are imperiled by a madman and an incredible new dragon who even Toothless — the alpha dragon — may not be able to control!
Available from: September 4, 2018
Overview: This second standalone graphic novel based on the film series is a new adventure that takes place shortly after the events in How to Train Your Dragon 2 during the period in which Hiccup is desperately trying to fill his father's role as the chief of Berk. Created with the help of the film's writer, director, and producer, Dean DeBlois, it bridges the gap between the second and third films.
Available from: August 30, 2016
Overview:
Hiccup, a young Viking, defies tradition when he befriends one of the Vikings' deadliest foes―a ferocious dragon that Hiccup names "Toothless". And when both of their worlds are threatened, the unlikely heroes must fight together against all odds to save them.
A retelling of the How to Train Your Dragon Movie in Graphic Novel format.
Ape Entertainment cancelled series
The Titan Comics published issues were not the first Riders of Berk comics to be written. In 2012 Ape entertainment had announced they were going to release three comics set on the DreamWorks Dragons world and inspired by the TV Show. Each of these comics was going to have two stories in it, with the first of these issues set to release on December 12, 2012.[11] The comics were not released though and they were pushed back several months, being set to release in 2013. By January 2014, the comics had been officially cancelled from Diamonds Distribution due to lateness.[12] The comics were never released.[13]
When asked about the cancellation of many of Ape Entertainment comics (including the Riders of Berk ones), COO Brent Erwin stated the following:
"As Mark Twain said, "The reports of my death have been greatly exaggerated". As you know, our business partner David Hedgecock left Ape very late last year to pursue an opportunity as a Managing Editor at IDW, we wished him well and hope nothing but success for him. At the time of David's departure, my other partner and I decided to take the opportunity to reorganize and streamline Ape which we are still in the process of doing.
We recently worked with Diamond to cancel outstanding orders on product that was beyond its normal shipping window. We didn't want old orders hanging out there for retailers to have to deal with. We do plan to re-solicit certain books at a later date, it just doesn't make sense to announce that until we know exactly when we will. We have a lot of great product ready to launch.
We are currently planning the release of our "Fruit Ninja" comic app at the end of January for Chinese New Year along with other digital initiatives. We have also been in talks with Hollywood about a few of our properties so we have been keeping very busy."[14]
After the partnership between Ape Entertainment and DreamWorks ended, Titan comics gained the rights to publish the Riders of Berk comics and might in the future publish the two unreleased issues that were created under the wing of Ape Entertainment.[15]
Volume 1
Writer: Patrick Rills
Art: James Silvani
Cover: James Silvani
Overview: Buckle up for high-flying adventure as the cast of DreamWorks Animation's blockbuster film How to Train Your Dragon soars into comic stores, just in time for the hit animated series on Cartoon Network! In this amazing first issue, a dragon feud erupts when Toothless accidentally swallows a tiny Terrible Terror… causing it's siblings to vow a dragon vendetta against him! Can even a fearsome Night Fury fend off two thousand Terrible Terrors? And when the conflict spills into Berk, can Hiccup keep the dragons from destroying the entire village? [16][17]
Volume 2
Writer: Aaron Sparrow, Jai Nitz
Art: James Silvani, Amy Mebberson
Cover: Aaron Lopresti
Overview: When the entire Hairy Hooligan clan leaves for the annual Fishing Festival, they leave the dragons locked up for the day... that is, until Mildew sets them loose to wreak havoc! Can Toothless keep his fire-breathing brethren from wrecking the village while the Vikings are away? And in our back-up tale, having a village full of two-ton pets can lead to certain waste disposal issues. Can Hiccup come up with a way to keep the streets of Berk free of dragon deposits? [18][19]
Trivia
References

Media