'How to Train Your Dragon' Profile: Cloudjumper
Play Sound
| | | |
| --- | --- | --- |
| " | This wasn't a vicious beast, but an intelligent, gentle creature, whose soul reflected my own. [src] | " |
|   | — Valka, talking about Cloudjumper |   |
Cloudjumper is Valka's Stormcutter who first appeared in How to Train Your Dragon 2.
Official Description
"
The owl-like Cloudjumper has been Valka's companion of choice for flying and rescuing other dragons over the last twenty years. Cloudjumper's pride, confidence, and large size lead him to think of himself as the top dragon in Valka's Mountain fortress, second only to the Bewilderbeast, who is the king of all dragons in the nest.
Due to their two decades of experiences together, Cloudjumper and Valka share a wordless shorthand when flying. Whereas other dragon riders need to call out commands to turn or shoot, Cloudjumper instinctively knows when Valka wants him to move or attack, adding to their combined mystic and prowess in battle.
Like all Stormcutters, Cloudjumper features a second set of hidden wings. When all four wings are deployed in an X-formation, there is no dragon in the sky more maneuverable and precise than Cloudjumper.
While fearsome-looking at first glance, Cloudjumper's fore-talons can actually be quite nimble and delicate when the occasion calls for skill over savagery. These sharp, hooked pincers at the tips of Cloudjumper's wings are dexterous enough to gingerly pick the lock of a dragon trap -- or strong enough to tear apart one of Drago's War machines!
"
 
— Dragonpedia
 
| | | |
| --- | --- | --- |
| " | Large in size and with heaps of confidence, Cloudjumper thinks of himself as the top dragon. He has a set of hidden wings that show an X-formation when in use, making him the most maneuverable and precise dragon. | " |
|   | — Dragonpedia stats card |   |
"
After two decades together, Valka and Cloudjumper share a relationship unrivaled by other Academy dragons and their trainers. Their bond runs so deep that the two can communicate without words — with an unspoken understanding that goes far beyond dragon and trainer, Cloudjumper and Valka are family. Their relationship had an inauspicious start: Cloudjumper kidnapped Valka from Berk during the Dragon Wars, after determining she meant no harm. Due to this conflicted beginning, Valka knew she could convince neither Berk nor Stoick that dragons were peaceful creatures. Instead, she chose to rescue dragons with her newfound friend — the massive Stormcutter that had taken her from home.
Years later, after Hiccup had made peace with the dragons and taught Berk the ways of dragon-riding, Cloudjumper and Valka would return to Berk. They took on prominent roles in the now dragon-allied community: Valka, a fountain of wisdom to learning trainers; Cloudjumper, a judicious role model for the young dragons.
"
 
— Dragons: Titan Uprising
 
"
Until recently, Valka considered Mother's Day as a deeply somber time of year. For two decades, she marked the occasion with intense longing for the family she had to leave behind to fulfill her mission. Torn from the cradle-side of her one natural child, she simply could not return to Berk to be with her family.
As her Dragon community grew, and human contact became a distant memory, she began to see herself as a mother to the animals she cared for. Each one of them had special needs and considerations that she learned to meet and feed over the years. But deep inside her was a yearning for her own child, Hiccup.
Cloudjumper could sense this cavity in his companion's heart, and did his best to fill it in his own way, but a boy shaped hole simply can not be filled with a Dragon shaped peg. Valka cared for her Dragon as best as she could, and for the most part, was quite happy with her Dragon family. Something came alive for her when she found her son, though.
Knowing that she could work together with her born son to save her Dragon family brought her a higher level of satisfaction than she'd ever experienced with the Dragons alone. Her time in the wilderness ended the moment she reunited with Hiccup and Stoick, and from that day, Mother's Day has been a day to celebrate.
But just because she's reunited with her humans, doesn't mean she's forgotten the special place her Dragon Children have in her heart. On Mother's Day, Cloudjumper dresses in matching colors to Valka, and waits for Hiccup to shower them both with gifts of gratitude for the years the Dragon kept Hiccup's mother alive.
"
 
— Mother's Day Cloudjumper in Dragons: Titan Uprising
 
Biography
Origins
| | | |
| --- | --- | --- |
| " | One night, a dragon broke into our house, finding you in the cradle. I rushed to protect you, but what I saw... was proof of everything I believed. [src] | " |
|   | — Valka |   |
During a dragon raid, Cloudjumper broke into Valka and Stoick's house. Cloudjumper went to the cradle that held Hiccup, Valka and Stoick's baby. Valka's first thought was that Cloudjumper intended to hurt Hiccup, and she grabbed a sword to protect her son. She soon realized that he never meant to hurt Hiccup and was just curious. Stoick, believing that he wanted to harm Hiccup and Valka, attacked Cloudjumper. However, Cloudjumper set fire to the house, trying to hurt Stoick. Cloudjumper then "kidnapped" her, and brought her to the home of the Bewilderbeast.
For the next 20 years, Cloudjumper allowed Valka to ride him. Together, they helped save thousands of dragons from Drago's trappers such as Eret, son of Eret and brought them to safety at the Bewilderbeast's nest.
"

Stoick: "Val, you think you can stop them?"
Valka: "I'll do my best! Come on, Cloudjumper!"

"
 
— Stoick and Valka during the battle at Valka's Mountain
 
After the attack and rescue on Eret and his men, Cloudjumper and Valka found a Night Fury being ridden by a boy. Cloudjumper was able to overtake them and cause a crash with the help of some of the dragons from the nest. They then brought the two of them to the Bewilderbeast's nest. Together, Cloudjumper and Valka showed Hiccup a few secrets about the dragons in the nest.
When Drago Bludvist started his attack on the nest, Cloudjumper and Valka rallied the Bewilderbeast and the nest dragons and fought Drago Bludvist's forces with the help of her family and new friends. However, Drago summoned his own Bewilderbeast which killed hers. Cloudjumper and all the other dragons, except for the Scuttleclaw babies, were brought under Drago's and the Bewilderbeast's control. However, when Toothless broke free of its control and challenged it, Cloudjumper and the other dragons joined him in defeating Drago and his Bewilderbeast. Cloudjumper and the other dragons then bowed their heads in respect of Toothless as the new Alpha Dragon. He now lives with Valka, Hiccup, and Toothless on the Isle of Berk.
| | | |
| --- | --- | --- |
| " | You only took out some of our dragons. And these three are more than enough to end you. [src] | " |
|   | — Hiccup summoning Cloudjumper, Stormfly, and Skullcrusher to attack Calder |   |
Cloudjumper is seen playing with Toothless while Valka talks to Hiccup.
On their way to Nepenthe, the riders are accompanied by Tidal Class dragons that offer tribute to their new Alpha. Cloudjumper doesn't have a significant role and is only seen in the background.
On the island, Cloudjumper, unlike most dragons, doesn't relax in a hot pool. At dinner, he is seen taking a battle-ready position after most riders and dragons collapse and Calder appears. However, the riders surrender.
After Hiccup escapes, he brings all dragons, including Cloudjumper, and they all prepare to leave. Right then, some Foreverwings wake up and begin destroying the village. Cloudjumper then helps by disarming the people, preventing them from hurting the dragons. After Hiccup defeats Calder, Cloudjumper arrives at the scene to see what happened.
Cloudjumper becomes trapped in webbing on an unnamed island with some of the other Dragon Riders's dragons. After getting out of the cave, the Dragon Riders fight off frenzied spider-like dragons called Silkspanners with their weapons lighted on fire with Nightmare gel. They free their dragons who blast fire at the Silkspanners. After fending the dragons off, Cloudjumper takes Valka and Snotlout back to Berk along with Fishlegs, Meatlug, and Hookfang. Valka and Fishlegs consult Skulder the Archaeologist and the Dragon Cry to find out more information about the Silkspanners. They find out that they eat Dragonvine, which is deadly to all other dragons. Cloudjumper takes Valka and Fishlegs back to the island to relay the news.
Cloudjumper was first seen with Valka as they watched the Dragon Riders raid a ship filled with captured dragons. The Stormcutter was concerned about the Riders' well-being, but Valka assured him that they would be fine. With the mission successful, Cloudjumper and the Dragon Riders returned to Berk.
When the nefarious dragon hunter named Grimmel the Grisly threatened to destroy Berk unless Toothless is surrendered, Hiccup led the Hooligan Tribe on a quest to find the Hidden World. They eventually came across an island that the Vikings loved, calling it New Berk. Valka and Cloudjumper then decided to fly back the way they came from, to make sure that they were not being followed.
While scouting back, Cloudjumper and Valka discovered the Warlords' armada before being ambushed by Grimmel's Deathgrippers. Despite being dazed in the fight, Cloudjumper and Valka managed to escape.
As news reaches New Berk about Grimmel, Hiccup decided that the best way to end the conflict was by capturing Grimmel. However, Grimmel anticipated the attack and trapped the Riders. Valka then signaled Cloudjumper to pull up the metal net of the structure before escaping with the Riders empty-handed.
When Toothless and the Light Fury were captured by Grimmel, Cloudjumper and all the other dragons rushed in to rescue their Alpha, but Toothless ordered them to back down to ensure his mate's safety. Cloudjumper and the other dragons were then forced to enter the cages on the armada's ship until the Dragon Riders came to the rescue. Toothless then told the dragons to revolt, and Cloudjumper did not hesitate in breaking out of his cage before he, Skullcrusher, and Grump flew off to pick up their riders to fight off the armada.
After Grimmel was defeated, the Vikings decided that the only way to live in peace was to release their dragons. Cloudjumper then flew off to the Hidden World with all the other dragons.
In the "Hidden World" Expansion, Valka and Cloudjumper, along with other Dragon Riders, attack a large Warlord camp situated on Glacier Island. During the skirmish, Grimmel the Grisly poisons Cloudjumper with Deathgripper venom, bringing the dragon under his control. He uses him to attack the riders oversea. The player attempts to rescue Cloudjumper with an antidote but ends up hitting one of Grimmel's Deathgrippers instead. Cloudjumper fires on Stormfly and Astrid, knocking them from the sky. Grimmel later orders Cloudjumper to attack New Berk, but the player is finally able to hit him with venom antidote and free him from control.
Physical Appearance
Cloudjumper is a full-grown Stormcutter with woody brown scales, cream underbelly, and iridescent blue highlights. His face has two long spines that branch off his nose and to the side with a "smashed" face, much like an owl's. Cloudjumper also has two scars on his facial spines.
Personality
| | | |
| --- | --- | --- |
| " | Cloudjumper never meant to harm me. He must've thought I belonged here. [src] | " |
|   | — Valka |   |
Cloudjumper is proud and dignified and as a result is not as playful as Toothless, but kind enough to scatter baby dragons away who trifle with Toothless. He is also sensible enough to support Valka on many occasions without clear communications, which is due to his very strong bond with Valka. Cloudjumper's pride, large size, and confidence leas him to believe that he is the top dragon in Valka's mountain, second only to the Bewilderbeast, who is the true King. Though he is mostly serious, he knows how to have fun, such as pouring snow on Toothless. Cloudjumper may look big and tough, but actually, he is kind and gentle.
Abilities and Skills
Fire: Cloudjumper can shoot a sustained torus of fire in a tornado-shaped, powerful enough to burn down a house in mere seconds.
Communication Skills: With Valka as his rider, Cloudjumper can understand human commands and sense human emotions. With Valka, he can even sense what she wants him to do, when, without even communicating physically. He just does it. Also, like Toothless, he is a loyal and understanding dragon.
Strength: Cloudjumper is strong enough to carry humans on his back and in his talons with minimal effort. He is also able to use his talons to lift a large metal net to help the Dragon Riders escape from Grimmel's base.
Endurance and Stamina: Cloudjumper has been shown to have extreme endurance as he was able to fly all the way back from Grimmel's base, to New Berk despite being stung by a Deathgripper.
Relationships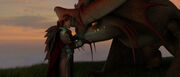 Cloudjumper broke into Valka's house and took her away after checking out her baby. Besides this, he has been her faithful dragon companion for the past 20 years. Because of this experience, they share a wordless shorthand communication while flying, and Cloudjumper can instinctively know when Valka wants him to attack or move. They share a strong bond that Hiccup admires., and is said to rival even his own bond with Toothless.
When the Hooligan Tribe realizes that they must send their dragons to the Hidden World to protect them, Cloudjumper nuzzles Valka for the last time before his departure.
Not much is known about this relationship. Stoick threw an axe at Cloudjumper when he thought he was threatening his family. The two appear not to hold any grudge against each other, knowing that he is Valka's husband and that Stoick wasn't trying to harm her.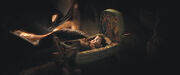 Hiccup was the first member of the Haddock family Cloudjumper met. When he broke into their house, the large dragon approached Hiccup, who was just a baby at the time. When Cloudjumper rocked the cradle, he accidentally scratched Hiccup, resulting in the small scar on his chin. This encounter, along with watching his mother being taken away, could have led to Hiccup's childhood fear of dragons. Twenty years later, Cloudjumper appears to not recognize Hiccup but does become close to him. Like Stoick, Hiccup does not hold a grudge against him for taking his mother.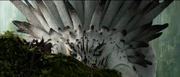 Cloudjumper deeply respects the Bewilderbeast and bows to the king. Valka comments that Cloudjumper "must have thought I belonged here.", which could indicate that the Stormcutter must have known his former Alpha for a very long time.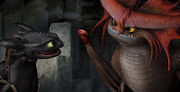 Unlike Toothless, Cloudjumper is very serious and usually grunts at the Night Fury. The two do become closer over time, and Cloudjumper eventually becomes something of an older brother-like figure to the Night Fury. This can be seen from time to time like when Toothless tries to catch Cloudjumper's attention and as when Cloudjumper regurgitated some fish for him. Cloudjumper is also very noble and of well‐balanced character, as when Toothless became the new Alpha, the proud Stormcutter was the first to respectfully bow to the younger dragon.
When he and Valka were scouting back to make sure they weren't followed back to the New Berk, one of Grimmel's Deathgrippers immediately rams into and stings him. Cloudjumper then threw another one of Deathgrippers at each other and makes a hasty retreat.
When the Dragon Riders attacked a large Warlord camp on Glacier Island, Grimmel uses Deathgripper venom to drug and control Cloudjumper. Cloudjumper starts to follow Grimmel's orders by attacking the Dragon Riders on New Berk, but the Riders manage to administer an antidote, freeing the Stormcutter from the dragon hunter's enslavement. As a result, he immediately fires at his former captor.
In-game Statistics
Standard Cloudjumper
Statistics in

Mother's Day Cloudjumper
Statistics in

Appearances
Trivia
In some artwork, Cloudjumper's teeth are menacingly sharp instead of having peg-shaped teeth.
In his concept art, Cloudjumper looked more like a red Skrill.
It's unknown why Cloudjumper was in the dragon raids that attacked Berk, as the dragons that were in them served the Red Death.
His name is a possible reference to the T-16 Skyhopper from the Star Wars franchise. His "X-Wing" formation is also a possible reference to the T-65 X-Wing Starfighter from the Star Wars franchise.
According to a School of Dragons Farm Job, "Cloudjumper likes to eat the finest berry mixture!" This includes strawberries, elderberries, and bearberries.
References
External link

 Cloudjumper. (Copyright - 2019). Dragonpedia.
Dragon Characters of

Deathgripper: Defender Deathgripper • Dreadgripper • Executie • Fenrir's Eviscereaper • Glaivedriver • Grim Hornettle • Grimmel's Deathgrippers • Marshland Deathgripper • Miasmic Deathgripper • Sappheral • Slaughterdijk


Light Fury: Light Fury
Night Fury: Toothless
Skrill: Brute Skrill • Defender Skrill • Dynamojo • Frozen Skrill • Fryrir • Helpful Skrill • Hide-Fryer • Hunterbolt • Icebane • Invading Skrill • Joltalon • Marshland Skrill • Revenger • Shadow Skrill • Shrill Boltbeak • Skitterbugs • Sleigher • Spark Guard • Sparkheart • Viggo's Skrill
Snow Wraith: Coldreign • Frostfang • Frostfright's Big Bro • Frostfright's Lil Sis • Furtive Fleetsleet • Glazier • Gothi's Frostfright • Injured Snow Wraith • Skrill Chiller • Wild Wraith • Wood Wraith
Triple Stryke: Champion Triple Stryke • Common Triple Stryke • Deathstalker • Eclipser • Emperor Pandinus • Ketillkott • Marooned Manstinger • Nikora's Triple Stryke • Rosethorn • Slender Green Triple Stryke • Sleuther • Starstreak • Stone Mother • Syringaca • Thorntail • Triple Strype
Woolly Howl: Defender Woolly Howl • Frostfire • Fuzzbucket • Infected Woolly Howls • Wise Wind • Woodwind

Fireworm: Defender Fireworm • Enhanced Fireworm Queen • Ghostglow • Fearsome Flamellion • Flashfright • Homunculosa • Plain Fireworm Queen • Royal Fireworm • Snotlout's Fireworm Queen • Solar Flare • Verdigriff


Flame Whipper: Baby Flame Whipper
Gobsucker: Dijester • Gobstinker • Muddlehunt • Sparklestank
Green Death: Crimson Death • Red Death • Violet Death
Hobblegrunt: Borealis • Defender Hobblegrunt • Gruff • Primal Hobblegrunt
Hobgobbler: Dreadgobbler • Droog • Rescued Hobgobbler • Smitten Hobgobbler
Large Shadow Wing: Alpha Shadow • Dawnstar • Grim Gamper • Marooned Greezer • Smog-bomber • Snogglewing
Moldruffle: Exotic Moldruffle • Greenkeep • Dirt-Hurler • Jewelbilant • Rhinestorm • Turfraider
Monstrous Nightmare: Astrid's Monstrous Nightmare • Blazewing • Blazing Phoenixfire • Brisket, Saddle, Chuck, Rump, Loin, Scrag, Cutlet, Ham Hock, Sausages, Offal, Knuckle, and Pot Roast • Burlystorm • Cagecruncher • Cawmour • Charsoul • Defender Monstrous Nightmare • Dread Nightmare • Exiled Monstrous Nightmare • Fanghook • Fangmaster • Firescrapes • Flick • Girl Hookfang • Hookblazefang • Hookfang • Hookfang's Mate • Hookfang's Nemesis • Hookfang's Offspring • Hookfire • Liberated Whip-Wreck • Merciful Nightmare • Mountain Nightmare • Nidhogg • Stormfly's Adopted Monstrous Nightmare • Sven's Nightmare • Valka's Mercy • Viggo's Savior • Whip-Slash
Night Terror: Brood-blossom • Darkvarg • Hallucinerator • Hotshot • Nightwatch • Peggy • Sacred Terror • Seedling Night Terror • Smidvarg • Tarred Night Terror
Red Death: Red Death
Singetail: Ambered Singetail • Captured Singetail • Deathlout • Flamelout • Forest Singetail • Grovelout • Heatlout • Hotbelly Singetail • Hotlout • Infernier • Krogan's Singetail • Mother Singetail • Scorch • Sear • Stoick • Winterwick
Small Shadow Wing: Baited Breath • Obskewer • Prismarch • Spring's Shadow • Shimmerwing
Terrible Terror: Butt and Head • Defender Terrible Terror • Gothi's Pet • Iggy • Kick-off Terrors • Leopold • Nibbles • Pain • Sharpshot • Smudgeon • Sneaky • Stormfly's Adopted Terrible Terror • Valka's Hatchling Terrors
Threadtail: Almondine • Duskgust • Foliander • Mildew's Strain • Sunsoak
Typhoomerang: Defender Typhoomerang • Forest Typhoomerang • Helpful Typhoomerang • Marooned Flambo • Primal Broadguard • Pyre-Flier • Radiant Skyglow • Skyfire • Tense Typhoomerang • That • Torch • Torch's Mother • Torch's Siblings • Trap-phoomerang • Viggo's Typhoomerangs

Bewilderbeast: Berserker Bewilderbeast • Drago's Bewilderbeast • Vanaheim Bewilderbeast • Valka's Bewilderbeast


Luminous Krayfin: Lumie
Ripwrecker: Bargemine • Derelicker • Exotic Ripwrecker • Gloomlurker • Rogue Submaripper • Seashine • Sinker-Claws
Sand Wraith: Claytrapper • Helpful Sand Wraith • Seedling Sand Wraith
Scauldron: Bonecrusher's Conquest • Breampunk • Bumble • Captured Scauldron • Defender Scauldron • Exotic Scauldron • Grim Sizzle • Mea • Mildew's Misery • Scauldy • Snorre's Scauldrons • Steam-spewer • Thunderfish
Seashocker: Bolt & Float • Covecharger • Defender Seashocker • Nikora's Seashocker • Rane & Shyne • Soaky and Wetty • Valka's Seashockers • Viggo's Seashockers • Wavewight • Whet and Wylde
Shellfire: Viggo's Shellfire
Shockjaw: Boltbite • Deepfreeze • Defender Shockjaw • Exotic Shockjaw • Snappy-Zappy-Sand-Zapper • Snazzolt
Sliquifier: Defender Sliquifier • Exotic Sliquifier • Grazefall • Marooned Seaslick • Splashspout • Surflurker
Submaripper: Belchfast • Deepkeeper • Mariner's Myth • Mopey-Slick • Nauticalamity • Primal Aquabeast • Shipsbane
Thunderdrum: Bam • Bing • Bludcrest • Boom • Champerone • Defender Thunderdrum • Earsplitter • Eret's Thunderdrum • Lil Lullaby • Reef Thunderdrum • Shifty Murklurker • Stormfly's Adopted Thunderdrum • Tectonic Thunderdrum • Thornado • Warcry • Waveshaker • Whirlwing • Wingburst
Tide Glider: Defender Tide Glider • Exotic Tide Glider • Grim Slipsmolder • Lake Skater • Mistmenace
Windwalker: Galeguard • Mistroll • Seasail • Skykarver

Catastrophic Quaken: Aurum • Blawberry • Captured Quaken • Champion Catastrophic Quaken • Cryoconitemare • Enslaved Quakens • Four-Man • Glaciated Quaken • Ice-Tongue Quaken • Lethiferous Cromlech • Liberated Trolboulder • Melonquarry • Meltwater Kryal • Tormentor • Trained Catastrophic Quaken • Spikeback


Crimson Goregutter: Bulwark • Dread Goregutter • Eir's Crimson Goregutter • Grainfield Goregutter • Gruff Goregutter • Magnanimous Martyrium • Rescued Crimson Goregutter • Wapititan
Eruptodon: Coaldron • Great Protector • Helpful Eruptodon • Kilnkin • Magmadon • Magmic Eruptodon • New Protector • Strokkur • Tectonic Thorium • Volcanic Eruptodon • Volcanic Vethorm
Grapple Grounder: Defender Grapple Grounder • Exotic Grapple Grounder • Fierce Piercer • Floeshot • Lurchador • Sour Grapple
Groncicle: Defender Groncicle • Primal Bewilderbreath • Rubeus • Sweetcicle • Wyrmafrost
Gronckle: Book Wyrm • Cheesemonger • Crubble • Defender Gronckle • Diamondgnaw • Dread Gronckle • Exiled Gronckle • Fighter Gronckle • Fishmeat • Gary • Gothi's Gronckle • Grove Gronckle • Injured Gronckle • Junior Tuffnut • Junior Tuffnut Junior • Meatlug • Meatlug's Cousin • Meatlug's Mate • Meatlug's Offspring • Molten Magmannette • Obsurdian • Phlegma's Gronckle • Shattermaster • Slug • Snoggletog Dragon Tactics Gronckles • Stormfly's Adopted Gronckles • Thaw Fleet • Tuffnut Junior • Yawnckle
Hotburple: Basket Case • Beachcomber • Bedrock Terror • Blistering Belcher • Bush-Wacker • Chartooth • Defender Hotburple • Eir's Titan Wing Hotburple • Emberock • Floe Hotburple • Grump • Hearty Hotburple • Ill Hotburple
Screaming Death: Screaming Death • Trained Screaming Death
Sentinel: Bizarregoyle • Brute Timbertoast • Cinder • Dreadel • Elder Sentinel • Halcyard • Mossguard • Silent Knight
Shovelhelm: Clawlifter • Damsail • Exotic Shovelhelm • Gnawhelm • Guslout
Snafflefang: Brute-Wurst • Carnastial • Defender Snafflefang • Eggfang • Fendmender • Frosty Sparguard • Irontooth • Lump • Primal Snafflefang • Slough Snafflefang • Spitelout's Snafflefang • Stocky Snafflefang • Yakstacker
Thunderpede: Colorcrunch • Defender Thunderpede • Exotic Thunderpede • Furnace • Goliam • Sleet-Beater • Stonewall
Whispering Death: Bombwelter • Brisk Whisper • Death Ride • Defender Whispering Death • Exotic Whispering Death • Gravedigger • Gritty Sawmaw • Groundsplitter • Guarded Whisper • Helpful Whispering Deaths • Hiccup's Baby Whispering Death • Mawdrill • Screaming Death's Siblings • Sky-Pirate • Toothless' Nemesis • Trailtwister • Trained Glowing Whispering Death • Trained Titan Wing Whispering Death • Wrylite

Egg Biter: Chompers • Coppertop • Egg Blossom • Exotic Egg Biter • Nipper


Grim Gnasher: Dawnbite • Gnasteeze • Toadlich
Hackatoo: Cloudcarver • Defender Hackatoo • Exotic Hackatoo • Hackagift
Raincutter: Defender Raincutter • Dewdrop • Icecutter • Puddlemuck • Squall-caller • Thump
Razorwhip: Exotic Razorwhip • Fighter Razorwhip • Hailfate • Jade-Blade • Lashbane • Plated Razorwhip • Quarry Razorwhip • Sawtooth • Searing Seethsizzle • Slash-Dasher • Windshear • Wingnut
Scuttleclaw: Budbite • Defender Scuttleclaw • Gressjester • Helpful Scuttleclaw • Meatlug's Cheerleader • Scuttleclaw Hatchlings • Slushclaws
Shivertooth: Distemplar • Exotic Shivertooth • Flutterfang • Helpful Shivertooth • Sweet-Tooth
Speed Stinger: Corroderunner • Exotic Speed Stinger • Fighter Speed Stinger • Icebreaker • Lead Stinger • Liberated Floutscout • Mala's Speed Stingers • Seedling Speed Stinger • Speedy • Sweet-Sting
Stormcutter: Brute Stormcutter • Cloudjumper • Defender Stormcutter • Dimflight • Eir's Titan Wing Stormcutter • Exiled Stormcutter • Gloomleer • Hurribane • Liberated Duskcutter • Marinecutter • Reignstorm • Serene Stormcutter • Tempestuous Scalestrom • Tripfire • Wingwary • Wonderclap • Woodland Stormcutter
Thornridge: Gloomshadow • Primal Thornridge • Sparknettle • Thornshade • Warywing
Timberjack: Axewing • Axewing the Second • Brute Timberjack • Dammen's Timberjack • Defender Timberjack • Driftcleaver • Lithe Loggerjammer • Lonewood • Seedling Saplinger • Soaring Sidekick • Stokehead • Stoneslice • Taxi • Tricky Timberjack • Wetland Timberjack
Windstriker: Boiling Billows • Chinooker • Defender Windstriker • Galesplitter • Retired Windstriker • Snaggletooth • Winged Warden

Armorwing: Bandit • Coldsnap • Fool's-Gold • Goldrush • Gresskarmor • Irongaze • Knocks • Liberated Haulmauler • Twist-Trapper


Boneknapper: Antiquarian Accumulator • Bludgeon Knapper • Bog-Blight • Boneknapper Family • Boneshedder • Brute Boneknapper • Cryptic Collector • Dammen's Boneknapper • Defender Boneknapper • Ghaslit • Gobber's Nemesis • Grave Knapper • Purlossein • Skullcrown • Tomb Thief • Trained Glowing Boneknapper
Buffalord: Auroch King • Beezelord • Big Buff • Big Snuff • Bisonarch • Boarcharger • Brute Buffalord • Exotic Buffalord • Frostgnaw • Hearty Buffalord • Maeve's Buffalord • Mosster • Mudgut • Pufferfinch • Thicket Buffalord
Cavern Crasher: Exotic Cavern Crasher • Firecomb Crasher • Grotto Gutter • Schmoozer • Slimeball • Slimeslinger
Changewing: Baby Changewing • Captured Changewing • Chimerical Chamomeleon • Defender Changewing • Edgewing • Hidera • Incognito • Phantom • Snuffnut • Springwing • Stalker Changewing • Tuaterror • Tuffwing • Underwood Changewing
Chimeragon: Patch
Death Song: Exotic Death Song • Garffiljorg • Garff's Adoptive Father • Jestbelter • Sirenade
Dramillion: Bonnefire • Elder Dramillion • Fishlegs' Dramillion • Hurleqast • Marooned Mimiric • Myrkva the Immoral • Nattvig • Standard Dramillion • Titan Wing Dramillion
Flightmare: Defender Flightmare • Exotic Flightmare • Flaredawn • Hofferson's Bane • Injured Flightmare • Skystreaker • Trancemare • Viggo's Flightmare
Foreverwing: Guardian of the Forest
Hideous Zippleback: Barf and Belch • Defender Hideous Zippleback • Dread Zippleback • Barf and Belch's Mate • Barf and Belch's Offspring • Exiled Hideous Zippleback • Fart & Sniff • Hamfeist • Heel & Brak • Kandy & Kane • Muck and Tumble • Silverslash • Snort and Sniff • Snothead • Sparkle & Sparks • Sparks and Spew • Titan Wing Zippleback • Tricky Two-Heads • Valley Zippleback • Whip and Lash • Zesty Zippleback
Hobgobbler: Dreadgobbler • Droog • Rescued Hobgobbler • Smitten Hobgobbler
Prickleboggle: Helpful Prickleboggle • Krustler • Seedling Prickleboggle • Skypiercer • Thornforce
Sandbuster: Frostbiter • Marooned Mukchucker • Quicksand • Sawduster • Siltsmacker • Snowball • Wild Sandbuster
Silkspanner: Bayana's Silkspanners • Marooned Deathstrand
Slithersong: Bloomsang • Dazzlesing • Necronomodon
Slitherwing: Harmhug • Slinkling • Sweet-Stripe • Toksin
Smothering Smokebreath: Apneatic Archechoke • Defender Smothering Smokebreath • Dustbrawler • Exotic Smothering Smokebreath • Flutter-Fog • Gritpicker • Helpful Smokebreath • Rattling Smokebreath • Smogger
Snaptrapper: Brute Snaptrapper • Death & Chocolates • Death Race Snaptrapper • Defender Snaptrapper • Helpful Snaptrapper • Outsnapper • Snappy •Stormfly's Adopted Snaptrapper
Sweet Death: Defender Sweet Death • Exotic Sweet Death • Helpful Sweet Death • Masked Sweet Death • Seedling Sweet Death • Sqyrm
Sword Stealer: Broken Blade • Chillblade • Defender Sword Stealer • Exotic Sword Stealer • Forgefeist • Gleamer

Deadly Nadder: Ambered Nadder • Baby Nadder • Bork Week Nadders • Brush Nadder • Defender Deadly Nadder • Dread Nadder • Edge Nadder • Fireshrike • Flystorm • Hardychomper • Infected Deadly Nadders • Kingstail • Lethal Lancebeak • Nimble Nadder • Pincher • Scardian • Sick Deadly Nadder • Skyblade • Springshedder • Steelspike • Steeltrap • Stormfly • Stormfly's Adopted Deadly Nadder • Stormfly's Mate • Stormfly's Offspring • Vaynglory


Mudraker: Muddie
Rumblehorn: Arctic Rumblehorn • Defender Rumblehorn • Drago's Rumblehorn • Flank-Tanker • Grimtorn • Krogan's Rumblehorn • Poise the Vast • Rhineblow • Robust Rumblehorn • Rumblehorn Hatchlings • Seedling Rumblehorn • Skullcrusher • Snowcap • Son of Skullcrusher • Valiant Scarbearer
Snifflehunch: Pestbud • Primal Snifflehunch • Runter • Scentinel • Seedling Snifflehunch • Snifflestone
Submaripper: Belchfast • Deepkeeper • Mariner's Myth • Mopey-Slick • Primal Aquabeast • Shipsbane
Thunderclaw: Aurvandil • Bonesnarl • Defender Thunderclaw • Gyllentalon • Liberated Hardcast • Polar Thunderclaw • Rumpus • Sailback • Sturmundrang • Tundra Thunderclaw • Valiant Vingthor
Windgnasher: Arcane Kulingbiter • Auroara • Champion Windgnasher • Chinuke • Defender Windgnasher • Galegrinder • Gnarley • Gustnudger • Ironhide • Vindjakker • Woodland Windgnasher
Community content is available under
CC-BY-SA
unless otherwise noted.