'How to Train Your Dragon' Profile: Barf and Belch
Play Sound
Barf and Belch are Ruffnut and Tuffnut Thorston's Hideous Zippleback who first appeared in How to Train Your Dragon.
Official Description
"
Much like the twins who ride them, Barf & Belch spend more time bickering than working in concert.
The only time they do see eye-to-eye, however, is when enjoying a nice display of destruction — usually caused by Ruffnut & Tuffnut!
"
 
— Dragonpedia
 
| | | |
| --- | --- | --- |
| " | A truly twin-sane Dragon! They only seem to see eye-to-eye when surrounded by destruction... usually caused by Ruffnut and Tuffnut! | " |
|   | — Dragons: Rise of Berk |   |
| | | |
| --- | --- | --- |
| " | Like many twins, Barf and Belch spend most of their time bickering. The only time they do see eye-to-eye, however, is during a full display of destruction — they can bite their own tails and set themselves on fire, taking the form of a flaming wheel. | " |
|   | — Dragonpedia stat card |   |
"
Barf & Belch: the living example that two heads may not be better than one. Like their riders Ruffnut & Tuffnut Thorston, they are quarrelsome, silly, and far more intelligent than they let on. The twins first met Barf & Belch in a cloud of gas in the Berk Arena during training — before the Dragon War had ended. Unbeknownst to both duos, there would begin a long-lasting relationship of painful humor. Since that fateful meeting, it has been nearly impossible to determine which pair is more destructive: the six-thousand pound, sixty-six-foot long explosive dragon, or the five-foot-nine, blonde-haired maniacal set of twins.
Despite their brutal humor, frequent pranking, and the never-ending trail of chaos, this foursome has proven essential in protecting Berk. Don't tell them we said so, but they are well respected and valued members of the Berk Dragon Academy. Barf & Belch have saved the day more times than the twins can count (but that's not saying much), and have made the Zippleback the most sought-after species among young trainers addicted to chaos and carnage.
"
 
— Dragons: Titan Uprising
 
| | | |
| --- | --- | --- |
| " | If the year were a day, the first light heralding the sun's dawning would be just brightening the sky to the east. Icicles begin to drip and snow starts to melt. Early birds start arriving in the North after their long winter holidays. It is Spring, but not quite Spring. This is Barf and Belch's favorite time of year. While other Dragons are rubbing their eyes and yawning, Barf and Belch are up, wired, and looking for eggs. Barf and Belch are obsessed with eggs. Red ones. Blue ones. Yellow ones. Green ones. Any colored orb becomes prey to the hoarding instinct of these obstinate Dragons. But the Dragons do not eat these eggs. Their obsession is purely that of the collector. For the Children of Berk, curiosity drives a similar fascination. One year, these kids started following Barf and Belch on their egg hunting sojourns with increasing levels of hunger. So many eggs are collected by the two-headed Dragon that the children of Berk, famished after a long winter, came up with a clever way of stealing eggs from under the nose of the covetous Dragons. By poking holes in the eggs, the edible contents of the shell could be pushed out with a breath, and the egg replaced in the Dragons' hoard without them even noticing anything had changed. It was Gunnar who came up with the idea of painting the eggshells that had already been emptied so they wouldn't get confused. That year, the world record for giant omelettes was broken in Berk. | " |
|   | — Easter Barf and Belch in Dragons: Titan Uprising |   |
Biography

Click here to view the biography of Barf and Belch.
Physical Appearance
Barf and Belch have the appearance of a normal Zippleback. Despite the heads' resemblances towards each other, there are minor differences between them, such as the horn on Barf's nose is slightly more curved than Belch's, Barf's longest teeth are in the back of his jaw while Belch's are in front, and Barf's skin is also slightly lighter than Belch's. The skin color and tooth differences disappear by the time of the second film (from what has been seen in images, this is most likely a production goof). Barf and Belch are 66 feet long, have a 38 feet wingspan, and weigh about 6,036 pounds.
Personality
| | | |
| --- | --- | --- |
| " | They say two heads are better than one; which is often true, but four heads? Eh, that's a few heads too many. [src] | " |
|   | — Hiccup |   |
Barf and Belch have the personality of a normal Zippleback; however, they have a laughable sense of humor where they enjoy doing the tasks Ruffnut Thorston and Tuffnut Thorston tell them to do, but they are in a constant quarrel because they sometimes have to listen to two different commands they are unable to do. Despite this, they usually help the Twins with their pranks. Barf and Belch often get annoyed with their riders' constant bickering — which once led to them wandering around Berk after the Twins started issuing contradictory commands to each head — but both are willing to protect their riders at any cost. For example, when Torch first approached Tuffnut as an adult, although the dragon only stayed because Belch didn't want to leave him, both were willing to fight what appeared to be a wild Typhoomerang to protect him. They also left the cave that they were supposed to stay in during Astrid Hofferson's harsh training session to find Ruffnut, whom they felt was in danger. They are very in sync with their riders, mimicking several actions of them, such as their 'high-fives' and affectionate head-butts. They have also been seen fighting at the same time as their riders are bickering.
Abilities and Skills
Barf and Belch seem to have the normal abilities of a regular Zippleback, although some of their abilities and gain skills are heightened due to training under Ruffnut Thorston and Tuffnut Thorston.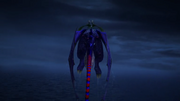 Strength: Barf and Belch are very strong as they have been seen to be able to lift heavy objects with their claws and both claws can lift the weight of two heavy grown adult Vikings. They didn't budge when Toothless tried dragging them off the roof (but Toothless eventually did get them off) and they can carry heavy Vikings on their neck, like Fishlegs Ingerman. Barf and Belch have strong jaws but can hold back their full strength as they are also able to carry the Titan Wing Dramillion with little effort and without the aid of other dragons. Their strength seems to rival Toothless as they seem to be on equal level of strength as shown in "Twinsanity" and "A Tale of Two Dragons".
Head-butt: Thanks to their long necks, Barf and Belch retract their heads then slam them into their opponents and they also use this to play "Bat the Nut," which is knocking their riders back and forth while they dangle from ropes. They are also able to knock down a massive Eruptodon statue to slow down lava from destroying the Defenders of the Wing's village. ("Defenders of the Wing, Part 2")
Speed and Agility: Barf and Belch have the speed of an average Zippleback, but they were also able to catch up with the Skrill, although the Skrill had been slowed down slightly by Stormfly and Toothless. Their speed was shown to be able to catch up Toothless when following their hero Hiccup ("The Zippleback Experience"). Due to their training with Ruffnut and Tuffnut Barf and Belch are able to catch up to other dragons on both land and in flight, despite their short legs and wings. This is seen in the battle against the Red Death when they manage to avoid sudden bursts of fire. Despite claiming that Zipplebacks are bad fliers, they are surprisingly agile. They have a very flexible body, but they can tangle their neck by accident.
Gas and Spark: Barf can breathe a large amount of green gas. This gas confuses and disorients people, except for the Thorston Twins. Belch can release an electric spark. When combined, they can make a large explosion depending on how much gas there is and how far it expanded. There can use this to make protection for Astrid Hofferson and Stormfly. Their fire seems to burn on ice without melting it.
Stealth: Barf lets out a green, thick gas, which they use to hide. From there, they sneak up on unexpected enemies or prey, attacking them.
Intelligence and Communication Skills: They always know when their riders have gone too far in fighting and often take charge if they are in trouble. But, like their riders, they often fight with one another. Despite having learned hand signals, they occasionally misunderstand it. Like all Academy dragons, including Torch, Barf and Belch are trained in the basics of hand signals. Although Barf will only obey Ruffnut's hand-signals and Belch will only obey Tuffnut's hand signals, though at first, it was hard for them, their trainers finally work as a team to become successful against their enemies. They also can send out distress signals. They have even thought of their own plan on how to save Hiccup and Toothless from the Outcasts by releasing a large amount of gas to spark it as to hold them long enough for Hookfang and Stormfly to save them as their owners were in shock of seeing this on their own. They could understand their owners' feelings about not being allowed to stop the flow of lava that was coming to the village of the Defenders of the Wing, as they used the statue of the Great Protector to hold it off for a short period as they wanted to make their owners feel proud for training them.
Endurance and Stamina: Endurance and stamina, as was demonstrated several times shown to be good for their kind. They are shown to still get up after getting hit by the Skrill and Night Fury combination attack from falling at high speed on a sea stack to be able to fly well. Even got back on their feet from getting hit by Typhoomerang from a distance.
Stone Carving: As shown in "Crash Course", Barf and Belch have been trained to gas and spark certain areas in rocks, carving faces, and other objects into rock walls.
Relationships
Main article: Ruffnut, Tuffnut and Barf and Belch's Relationship
They met for the first time in the Arena, where Barf and Belch attacked them just like the other teens. Later, Hiccup helped the two of them to train Barf and Belch, forging a strong bond between the four. In the television series, not many episodes are focused on the relationship between these three. However, it can be assumed they care greatly for one another. The Twins were bickering over who Barf and Belch belonged to. When they couldn't get to an agreement, they both decided to stop with anything dragon or sibling related. However, in "Twinsanity", when the gang told them Dagur the Deranged wanted to decapitate them to get their blood for the treaty, they were determined to save them. Tuffnut claimed Barf and Belch is his 'totally awesome dragon', which he shared with his 'totally not-awesome sister'.
Tuffnut once commented that he hated smart dragons, which is why he loves Belch. Despite each twin caring about their specific half of Barf and Belch, they do in fact care for both personalities of the dragon.
During the events of "In Dragons We Trust", the Twins are each shown hugging both Barf and Belch farewell after Mildew's trickery gets all dragons banished from Berk.
Hiccup met them for the first time in the Arena, where Barf and Belch were in front of him about to attack him, but they were afraid of the eel that Hiccup used as his defense against them. Hiccup used this eel to bring them back to their cage. Hiccup even tried to protect them from Dagur by hiding the Zippleback, but they wouldn't listen to him much at all. Hiccup was also able to get on both of their heads to free Tuffnut from the dragon trap, but he was unsuccessful in doing so.
In "The Zippleback Experience", Hiccup and Toothless save them from dying from falling off a cliff, for which the dragon owes Hiccup a life debt. Throughout the episode, they show a huge amount of loyalty to him by offering him fish and protecting him from harm until they repay their debt by saving his life.
Hookfang and Barf and Belch have been seen fighting several times, though for unknown reasons. Nevertheless, they have a good friendship with one another. Though the Twins have once stated that Barf and Belch had been cutting it close to saving them since they had been hanging around Hookfang too much.
Toothless mostly interacts with Barf and Belch by trying to stop them from doing something wrong. By biting on their tail when trying to make them stop misbehaving when Dagur was in Berk ("Twinsanity") or stop them from chasing after the dragon root. ("No Dragon Left Behind")
In "The Zippleback Experience", Barf and Belch are shown to have respect for Toothless when getting saved from falling off the cliff, as they are shown to give fish and lick him and help him to save Hiccup from the logs.
When Barf and Belch grow anxious when their riders have entered the lair of a Titan Wing Zippleback, Toothless comforts them by nuzzling their heads. ("A Gruff Separation")
Near the end of How to Train Your Dragon 2, Barf and Belch is among the countless dragons who acknowledged Toothless as the new Alpha Dragon by bowing down to him.
When Dagur came to the Isle of Berk to sign a peace treaty with Stoick, he claimed they needed dragon blood to sign it. This leads them to hunt Barf and Belch. Though Dagur tried to decapitate them, Barf and Belch escaped and defeated him with the aid of the other Riders and their Dragons. Barf and Belch later assisted Toothless in defeating Dagur's Skrill, trapping it in the ice once again.
Barf and Belch also defeated Dagur again three years later when he kidnapped Hiccup from Dragon's Edge. ("The Zippleback Experience")
Barf and Belch saved Snotlout when he became stuck on top of the Red Death. He tried to ride on Belch with Fishlegs on Barf when the dragon flew away after the Twins' fight in "Twinsanity" but found it to be difficult. Also, Snotlout tried to save this dragon from Dagur but he still believed that Dagur was still a cool guy, which Barf and Belch disliked what he said so attacked him.
When Snotlout thought he had lost Hookfang in "Total Nightmare" and the Riders suggested he replace his dragon he commented that he wouldn't ride a Zippleback because of the two heads. However, in "Maces and Talons, Part 1" when he accidentally swapped dragons with Ruffnut he enjoyed being a team with Tuffnut.
Meatlug was head-butted by Belch when they didn't have their owners for a while. But they have shown to like her when Ruffnut got married to Fishlegs by accident as they nudge her, thinking they're going to be a happy family.
In-game Statistics
Standard Barf and Belch
Statistics in

Easter Barf and Belch
Statistics in

Appearances
Trivia
Barf and Belch's names were first revealed in Dragons: Riders of Berk.
Barf and Belch were originally supposed to be ridden by Fishlegs, and he briefly rode on Barf after the dragon flew away without the Twins, along with Snotlout, who rode on Belch.
On some occasions, Belch is shown igniting Barf's gas in the process of it being spewed out, creating a flamethrower-like effect.
While the Zippleback can "zip" its necks together in flight, the Twins riding on Barf and Belch's necks prevent them from doing so.
In "The Next Big Sting", Barf is stung by the Speed Stinger and paralyzed, yet strangely Belch is unaffected and even displayed full control of the body (while Barf went completely limp and was dragged around spewing fumes). Only after Belch is stung by the Lead Stinger does the entire body become paralyzed.
While the dragon is male, Barf and Belch are commonly referred to as "them" or "it", most likely due to the two heads being individuals.
Belch's spark is portrayed variously in the series: sometimes it is a small burst of flame, sometimes it is two consecutive electrical sparks, and sometimes it is a prolonged, continuous firecracker-like spark (as seen when Belch lights Ruffnut's torch during "Macey's" Viking funeral).
Barf and Belch are one of the two only known Zipplebacks that has riders, this might be because you need two of them, in this case, Ruffnut and Tuffnut. The other one is the Zippleback Mulch and Bucket own. ("Team Astrid") This seems to be partially correct since Hiccup was able to ride Barf and Belch on the back where their necks start to seperate. ("The Zippleback Experience")
In How to Train Your Dragon, when they were approaching Hiccup, Barf and Belch spread their wings and start hissing, which is similar to the behavior of the Dilophosaurus in the Jurassic Park franchise. Barf and Belch are never seen doing this again.
Barf and Belch seem to chase their tails when they are bored.
Although Ruffnut and Tuffnut share Barf and Belch, Tuffnut seems to be closer to both heads overall; when he was briefly trapped with only Barf and Belch for company, Tuffnut expressed regret that he and Barf didn't socialize much, but in How to Train Your Dragon 2 Ruffnut actively shoved Belch away in favor of welcoming Barf back after Toothless defeated Drago's Bewilderbeast, even if she cares about the dragon as a whole as well as an individual.
Tuffnut said he disliked intelligent dragons, and that it was why he chose them.
Out of all the six Dragon Riders, Astrid is the only one who has not ridden Barf and Belch.
References
Dragon Characters of

Deathgripper: Defender Deathgripper • Dreadgripper • Executie • Fenrir's Eviscereaper • Glaivedriver • Grim Hornettle • Grimmel's Deathgrippers • Maelstrom • Marshland Deathgripper • Miasmic Deathgripper • Monarchic Murderfly • Sappheral • Slaughterdijk


Light Fury: Light Fury
Night Fury: Toothless
Skrill: Brute Skrill • Defender Skrill • Dread Skrill • Dynamojo • Frozen Skrill • Fryrir • Helpful Skrill • Hide-Fryer • Hunterbolt • Icebane • Invading Skrill • Joltalon • Marshland Skrill • Revenger • Shadow Skrill • Shrill Boltbeak • Skitterbugs • Sleigher • Spark Guard • Sparkheart • Thunder's Nemesis • Viggo's Skrill
Snow Wraith: Coldreign • Firntom • Frostfang • Frostfright's Big Bro • Frostfright's Lil Sis • Furtive Fleetsleet • Glazier • Gothi's Frostfright • Injured Snow Wraith • Skrill Chiller • Wild Wraith • Wood Wraith
Triple Stryke: Champion Triple Stryke • Common Triple Stryke • Deathstalker • Eclipser • Emperor Pandinus • Ketillkott • Marooned Manstinger • Nikora's Triple Stryke • Rosethorn • Slender Green Triple Stryke • Sleuther • Starstreak • Stone Mother • Syringaca • Thorntail • Triple Strype
Woolly Howl: Defender Woolly Howl • Frostfire • Fuzzbucket • Fuzzrir • Infected Woolly Howls • Mystic Wing • Wise Wind • Woodwind

Fireworm: Brightburn • Defender Fireworm • Enhanced Fireworm Queen • Ghostglow • Fearsome Flamellion • Flashfright • Homunculosa • Plain Fireworm Queen • Royal Fireworm • Snotlout's Fireworm Queen • Solar Flare • Verdigriff


Flame Whipper: Baby Flame Whipper • Kindlegarter
Gobsucker: Dijester • Gobstinker • Muddlehunt • Sparklestank • Sulfurous Snifflepharts
Green Death: Crimson Death • Red Death • Violet Death
Hobblegrunt: Borealis • Defender Hobblegrunt • Gruff • Primal Hobblegrunt • Staggrynte
Hobgobbler: Daffodelilah • Dreadgobbler • Droog • Rescued Hobgobbler • Smitten Hobgobbler
Large Shadow Wing: Alpha Shadow • Dawnstar • Grim Gamper • Marooned Greezer • Smog-bomber • Snogglewing • Splashboomer
Moldruffle: Exotic Moldruffle • Greenkeep • Dirt-Hurler • Jewelbilant • Rhinestorm • Turfraider
Monstrous Nightmare: Astrid's Monstrous Nightmare • Blazewing • Blazing Phoenixfire • Brisket, Saddle, Chuck, Rump, Loin, Scrag, Cutlet, Ham Hock, Sausages, Offal, Knuckle, and Pot Roast • Burlystorm • Cagecruncher • Cawmour • Charsoul • Defender Monstrous Nightmare • Dread Nightmare • Exiled Monstrous Nightmare • Fanghook • Fangmaster • Firescrapes • Flick • Girl Hookfang • Hookblazefang • Hookfang • Hookfang's Mate • Hookfang's Nemesis • Hookfang's Offspring • Hookfire • Liberated Whip-Wreck • Merciful Nightmare • Mountain Nightmare • Munchauser • Nidhogg • Stormfly's Adopted Monstrous Nightmare • Sven's Nightmare • Valka's Mercy • Viggo's Savior • Whip-Slash
Night Terror: Brood-blossom • Darkvarg • Hallucinerator • Hotshot • Nightwatch • Peggy • Sacred Terror • Seedling Night Terror • Smidvarg • Tarred Night Terror
Red Death: Red Death
Singetail: Ambered Singetail • Captured Singetail • Deathlout • Flamelout • Forest Singetail • Grovelout • Heatlout • Hotbelly Singetail • Hotlout • Infernier • Krogan's Singetail • Mother Singetail • Scorch • Sear • Stoick • Winterwick
Small Shadow Wing: Baited Breath • Obskewer • Prismarch • Spring's Shadow • Shimmerwing
Terrible Terror: Butt and Head • Defender Terrible Terror • Exiled Undersnuff • Gothi's Pet • Iggy • Infected Terrible Terror • Kick-off Terrors • Leopold • Nibbles • Pain • Sharpshot • Smudgeon • Sneaky • Sprite • Stormfly's Adopted Terrible Terror • Valka's Hatchling Terrors
Threadtail: Almondine • Duskgust • Foliander • Mildew's Strain • Sunsoak
Typhoomerang: Defender Typhoomerang • Forest Typhoomerang • Helpful Typhoomerang • Marooned Flambo • Overchill • Primal Broadguard • Pyre-Flier • Radiant Skyglow • Shroudburst • Skyfire • Tense Typhoomerang • That • Torch • Torch's Brother • Torch's Mother • Torch's Sister • Trap-phoomerang • Viggo's Typhoomerangs

Bewilderbeast: Berserker Bewilderbeast • Drago's Bewilderbeast • Vanaheim Bewilderbeast • Valka's Bewilderbeast


Luminous Krayfin: Lumie
Mist Twister: Wu and Wei
Ripwrecker: Bargemine • Derelicker • Exotic Ripwrecker • Gloomlurker • Rogue Submaripper • Seashine • Sinker-Claws
Sand Wraith: Claytrapper • Helpful Sand Wraith • Seedling Sand Wraith • Veiled Spectruf
Scauldron: Bonecrusher's Conquest • Breampunk • Bumble • Captured Scauldron • Defender Scauldron • Exotic Scauldron • Grim Sizzle • Mea • Mildew's Misery • Scauldy • Snorre's Scauldrons • Steam-spewer • Thunderfish
Seashocker: Bolt & Float • Covecharger • Defender Seashocker • Nikora's Seashocker • Rane & Shyne • Soaky and Wetty • Valka's Seashockers • Viggo's Seashockers • Wavewight • Whet and Wylde
Shellfire: Viggo's Shellfire
Shockjaw: Boltbite • Deepfreeze • Defender Shockjaw • Exotic Shockjaw • Snappy-Zappy-Sand-Zapper • Snazzolt
Sliquifier: Defender Sliquifier • Exotic Sliquifier • Grazefall • Marooned Seaslick • Splashspout • Surflurker • Toxispray
Submaripper: Belchfast • Deepkeeper • Mariner's Myth • Mopey-Slick • Nauticalamity • Primal Aquabeast • Shipsbane
Thunderdrum: Bam • Bing • Bludcrest • Boom • Champerone • Defender Thunderdrum • Earsplitter • Eret's Thunderdrum • Lil Lullaby • Reef Thunderdrum • Shifty Murklurker • Stormfly's Adopted Thunderdrum • Tectonic Thunderdrum • Thornado • Thunderdolt • Warcry • Waveshaker • Whirlwing • Wingburst
Tide Glider: Defender Tide Glider • Exotic Tide Glider • Grim Slipsmolder • Lake Skater • Mistmenace • Shoalrake
Windwalker: Galeguard • Mistroll • Seasail • Skykarver

Catastrophic Quaken: Aurum • Blawberry • Captured Quaken • Champion Catastrophic Quaken • Cryoconitemare • Enslaved Quakens • Four-Man • Glaciated Quaken • Ice-Tongue Quaken • Lethiferous Cromlech • Liberated Trolboulder • Melonquarry • Meltwater Kryal • Tormentor • Trained Catastrophic Quaken • Spikeback


Crimson Goregutter: Bulwark • Dread Goregutter • Eir's Crimson Goregutter • Grainfield Goregutter • Gruff Goregutter • Magnanimous Martyrium • Rescued Crimson Goregutter • Wapititan
Eruptodon: Coaldron • Defender Eruptodon • Great Protector • Helpful Eruptodon • Kilnkin • Magmadon • Magmic Eruptodon • New Protector • Strokkur • Tectonic Thorium • Volcanic Eruptodon • Volcanic Vethorm
Grapple Grounder: Defender Grapple Grounder • Exotic Grapple Grounder • Fierce Piercer • Floeshot • Foul Howler • Lurchador • Sour Grapple
Groncicle: Defender Groncicle • Primal Bewilderbreath • Rubeus • Sweetcicle • Wyrmafrost
Gronckle: Book Wyrm • Cheesemonger • Crubble • Defender Gronckle • Diamondgnaw • Dread Gronckle • Exiled Gronckle • Fighter Gronckle • Fishmeat • Gary • Gothi's Gronckle • Grove Gronckle • Injured Gronckle • Junior Tuffnut • Junior Tuffnut Junior • Meatlug • Meatlug's Cousin • Meatlug's Mate • Meatlug's Offspring • Molten Magmannette • Obsurdian • Phlegma's Gronckle • Rockwit • Rubblegrubber • Shattermaster • Slug • Snoggletog Dragon Tactics Gronckles • Stormfly's Adopted Gronckles • Thaw Fleet • Tuffnut Junior • Yawnckle
Hotburple: Basket Case • Beachcomber • Bedrock Terror • Blistering Belcher • Bush-Wacker • Chartooth • Defender Hotburple • Eir's Titan Wing Hotburple • Emberock • Floe Hotburple • Grump • Hearty Hotburple • Ill Hotburple • Varmtrykke
Screaming Death: Screaming Death • Trained Screaming Death
Sentinel: Bizarregoyle • Brute Timbertoast • Cinder • Defender Sentinel • Dreadel • Elder Sentinel • Halcyard • Mossguard • Silent Knight
Shovelhelm: Clawlifter • Damsail • Exotic Shovelhelm • Fiend Trowel • Gnawhelm • Guslout • Sky Piercer
Snafflefang: Brute-Wurst • Carnastial • Defender Snafflefang • Eggfang • Fendmender • Frosty Sparguard • Irontooth • Lump • Primal Snafflefang • Slough Snafflefang • Spitelout's Snafflefang • Stocky Snafflefang • Yakstacker
Thunderpede: Boulderbrute • Colorcrunch • Defender Thunderpede • Exotic Thunderpede • Furnace • Goliam • Sleet-Beater • Stonewall
Whispering Death: Bombwelter • Brisk Whisper • Death Ride • Defender Whispering Death • Exotic Whispering Death • Gravedigger • Gritty Sawmaw • Groundsplitter • Guarded Whisper • Helpful Whispering Deaths • Hiccup's Baby Whispering Death • Mawdrill • Screaming Death's Siblings • Sky-Pirate • Toothless' Nemesis • Trailtwister • Trained Glowing Whispering Death • Trained Titan Wing Whispering Death • Viperswish • Wrylite

Egg Biter: Chompers • Coppertop • Egg Blossom • Exotic Egg Biter • Nipper


Grim Gnasher: Dawnbite • Doom Bloomer • Emberquencher • Gnasteeze • Toadlich
Hackatoo: Cloudcarver • Defender Hackatoo • Exotic Hackatoo • Hackagift
Raincutter: Defender Raincutter • Dewdrop • Icecutter • Puddlemuck • Squall-caller • Thump
Razorwhip: Crimson Slash • Exotic Razorwhip • Fighter Razorwhip • Hailfate • Jade-Blade • Lashbane • Plated Razorwhip • Quarry Razorwhip • Sawtooth • Searing Seethsizzle • Slash-Dasher • Windshear • Wingnut
Scuttleclaw: Budbite • Defender Scuttleclaw • Gressjester • Helpful Scuttleclaw • Meatlug's Cheerleader • Muckruck • Scuttleclaw Hatchlings • Slushclaws
Shivertooth: Distemplar • Exotic Shivertooth • Flutterfang • Helpful Shivertooth • Sweet-Tooth
Speed Stinger: Corroderunner • Exotic Speed Stinger • Fighter Speed Stinger • Icebreaker • Lead Stinger • Liberated Floutscout • Mala's Speed Stingers • Seedling Speed Stinger • Speedy • Sweet-Sting
Stormcutter: Brute Stormcutter • Cloudjumper • Defender Stormcutter • Dimflight • Eir's Titan Wing Stormcutter • Exiled Stormcutter • Glitter Bomber • Gloomleer • Hurribane • Injured Stormcutter • Liberated Duskcutter • Marinecutter • Reignstorm • Serene Stormcutter • Tempestuous Scalestrom • Tripfire • Wingwary • Wonderclap • Woodland Stormcutter
Thornridge: Gloomshadow • Primal Thornridge • Sparknettle • Thornshade • Warywing
Timberjack: Axewing • Axewing the Second • Brute Timberjack • Dammen's Timberjack • Defender Timberjack • Driftcleaver • Freeweald • Lithe Loggerjammer • Lonewood • Seedling Saplinger • Soaring Sidekick • Stokehead • Stoneslice • Taxi • Tricky Timberjack • Wetland Timberjack
Windstriker: Boiling Billows • Chinooker • Defender Windstriker • Galesplitter • Grim Whirlwaft • Retired Windstriker • Snaggletooth • Winged Warden

Armorwing: Bandit • Battlewhip • Coldsnap • Fool's-Gold • Goldrush • Gresskarmor • Irongaze • Knocks • Liberated Haulmauler • Twist-Trapper


Boneknapper: Antiquarian Accumulator • Bludgeon Knapper • Bog-Blight • Boneknapper Family • Boneshedder • Brute Boneknapper • Cryptic Collector • Dammen's Boneknapper • Defender Boneknapper • Ghaslit • Gobber's Nemesis • Grave Knapper • Purlossein • Skullcrown • Tomb Thief • Trained Glowing Boneknapper
Buffalord: Auroch King • Beezelord • Big Buff • Big Snuff • Bisonarch • Boarcharger • Brute Buffalord • Exotic Buffalord • Frostgnaw • Hearty Buffalord • Maeve's Buffalord • Mosster • Mudgut • Pufferfinch • Thicket Buffalord
Cavern Crasher: Exotic Cavern Crasher • Firecomb Crasher • Grotto Gutter • Schmoozer • Slimeball • Slimeslinger
Changewing: Baby Changewing • Captured Changewing • Chimerical Chamomeleon • Defender Changewing • Edgewing • Hidera • Incognito • Morphaileron • Phantom • Snuffnut • Springwing • Stalker Changewing • Tuaterror • Tuffwing • Underwood Changewing
Chimeragon: Patch
Death Song: Dropplesounder • Exotic Death Song • Garffiljorg • Garff's Adoptive Father • Hare Raiser • Jestbelter • Sirenade
Dramillion: Bonnefire • Dramillionaire • Elder Dramillion • Fishlegs' Dramillion • Hurleqast • Marooned Mimiric • Myrkva the Immoral • Nattvig • Standard Dramillion • Titan Wing Dramillion
Featherhide: Feathers
Flightmare: Defender Flightmare • Exotic Flightmare • Flaredawn • Hofferson's Bane • Injured Flightmare • Skystreaker • Trancemare • Viggo's Flightmare
Foreverwing: Guardian of the Forest
Hideous Zippleback: Barf and Belch • Defender Hideous Zippleback • Dread Zippleback • Barf and Belch's Mate • Barf and Belch's Offspring • Exiled Hideous Zippleback • Fart & Sniff • Gobble & Grinder • Hamfeist • Heel & Brak • Kandy & Kane • Muck and Tumble • Silverslash • Snort and Sniff • Snothead • Sparkle & Sparks • Sparks and Spew • Titan Wing Zippleback • Tricky Two-Heads • Valley Zippleback • Whip and Lash • Zesty Zippleback
Hobgobbler: Daffodelilah • Dreadgobbler • Droog • Rescued Hobgobbler • Smitten Hobgobbler
Prickleboggle: Helpful Prickleboggle • Krustler • Seedling Prickleboggle • Skypiercer • Thornforce
Sandbuster: Frostbiter • Marooned Mukchucker • Quicksand • Sawduster • Siltsmacker • Snowball • Wild Sandbuster
Silkspanner: Bayana's Silkspanners • Marooned Deathstrand
Slithersong: Bloomsang • Dazzlesing • Necronomodon
Slitherwing: Defender Slitherwing • Harmhug • Slinkling • Sweet-Stripe • Toksin
Smothering Smokebreath: Apneatic Archechoke • Defender Smothering Smokebreath • Dustbrawler • Exotic Smothering Smokebreath • Flutter-Fog • Gritpicker • Helpful Smokebreath • Metal Meddler • Rattling Smokebreath • Smogger
Snaptrapper: Brute Snaptrapper • Death & Chocolates • Death Race Snaptrapper • Defender Snaptrapper • Grand Maw • Helpful Snaptrapper • Outsnapper • Snappy •Stormfly's Adopted Snaptrapper
Sweet Death: Defender Sweet Death • Exotic Sweet Death • Helpful Sweet Death • Masked Sweet Death • Seedling Sweet Death • Sqyrm • Sweet Heart
Sword Stealer: Broken Blade • Chillblade • Defender Sword Stealer • Exotic Sword Stealer • Forgefeist • Gleamer • Scimiterror • Verdigard

Deadly Nadder: Ambered Nadder • Baby Nadder • Bork Week Nadders • Brush Nadder • Defender Deadly Nadder • Dread Nadder • Edge Nadder • Fireshrike • Flystorm • Hardychomper • Infected Deadly Nadders • Kingstail • Lethal Lancebeak • Nimble Nadder • Pincher • Scardian • Seedling Stormpest • Sick Deadly Nadder • Skyblade • Springshedder • Steelspike • Steeltrap • Stormfly • Stormfly's Adopted Deadly Nadder • Stormfly's Mate • Stormfly's Offspring • Vaynglory • Vexclaw


Gembreaker: Plowhorn
Mudraker: Muddie
Rumblehorn: Arctic Rumblehorn • Defender Rumblehorn • Drago's Rumblehorn • Flank-Tanker • Grimtorn • Grunt Hunter • Krogan's Rumblehorn • Poise the Vast • Rhineblow • Robust Rumblehorn • Rumblehorn Hatchlings • Seedling Rumblehorn • Skullcrusher • Snowcap • Son of Skullcrusher • Valiant Scarbearer
Snifflehunch: Pestbud • Primal Snifflehunch • Runter • Scentinel • Seedling Snifflehunch • Snifflestone • Winkling
Submaripper: Belchfast • Deepkeeper • Mariner's Myth • Mopey-Slick • Primal Aquabeast • Shipsbane
Thunderclaw: Aurvandil • Bonesnarl • Defender Thunderclaw • Gyllentalon • Liberated Hardcast • Polar Thunderclaw • Rumpus • Sailback • Sturmundrang • Tundra Thunderclaw • Valiant Vingthor
Windgnasher: Arcane Kulingbiter • Auroara • Champion Windgnasher • Chinuke • Defender Windgnasher • Galegrinder • Gnarley • Gustnudger • Ironhide • Stargust • Vindjakker • Woodland Windgnasher

Bubblehorn: Nibbles